Research article
Open Access
Fgf receptor 3 activation promotes selective growth and expansion of occipitotemporal cortex
Neural Development
2009
4:4
Received: 25 August 2008
Accepted: 03 February 2009
Published: 03 February 2009
Abstract
Background
Fibroblast growth factors (Fgfs) are important regulators of cerebral cortex development. Fgf2, Fgf8 and Fgf17 promote growth and specification of rostromedial (frontoparietal) cortical areas. Recently, the function of Fgf15 in antagonizing Fgf8 in the rostral signaling center was also reported. However, regulation of caudal area formation by Fgf signaling remains unknown.
Results
In mutant mice with constitutive activation of Fgf receptor 3 (Fgfr3) in the forebrain, surface area of the caudolateral cortex was markedly expanded at early postnatal stage, while rostromedial surface area remained normal. Cortical thickness was also increased in caudal regions. The expression domain and levels of Fgf8, as well as overall patterning, were unchanged. In contrast, the changes in caudolateral surface area were associated with accelerated cell cycle in early stages of neurogenesis without an alteration of cell cycle exit. Moreover, a marked overproduction of intermediate neuronal progenitors was observed in later stages, indicating prolongation of neurogenesis.
Conclusion
Activation of Fgfr3 selectively promotes growth of caudolateral (occipitotemporal) cortex. These observations support the 'radial unit' and 'radial amplification' hypotheses and may explain premature sulcation of the occipitotemporal cortex in thanatophoric dysplasia, a human FGFR3 disorder. Together with previous work, this study suggests that formation of rostral and caudal areas are differentially regulated by Fgf signaling in the cerebral cortex.
Keywords
Cortical ThicknessVentricular ZoneRadial GliaCaudal RegionCell Cycle Exit
Background
The mammalian cerebral cortex consists of multiple cortical areas with specific functions, each of which connects to a specific area of the body and within the cortex [1]. Patterning and neurogenesis are two key events that influence cortical area formation. The cortical wiring is established based on the prospective area boundaries, the 'protomap', specified by combinations of transcription factors, such as Pax6 and Emx2, expressed in graded patterns in the cortical ventricular zone (VZ) [2–4]. Transcription factor expression gradients are modified by morphogens, expressed focally in the signaling centers during early forebrain development. Fgf8 is expressed in the rostral signaling center, and controls transcription factor expression gradients and area specification by its function in patterning. Concurrently, the cortex grows in size by controlled proliferation and differentiation of progenitor cells in the VZ and subventricular zone (SVZ). This process, neurogenesis, is also regulated by Fgf8, as well as by other Fgfs.
Fgf ligands comprise a family of 22 polypeptides that play a variety of roles during brain development [5]. Fgf8 and Fgf17 are expressed in the rostral-most region of the cortical primordium, and specify the frontal cortex and its subdivisions [6–9]. In addition, Fgf8 is shown to regulate the size of the forebrain, especially rostral regions [7, 8]. Likewise, Fgf2 knockout mice showed significant reductions of neuronal density and cortical thickness in rostral areas, indicating its important role in neurogenesis [10–12]. Furthermore, a recent study of Fgf15 knockout mice revealed a function of Fgf15 in the rostral signaling center influencing patterning in a fashion opposite of Fgf8, suppressing proliferation, and promoting differentiation of cortical progenitors [13]. In contrast, no specific role for Fgfs has been found in regulating formation of caudal cortical areas.
The effects of Fgfs are mediated by the four high-affinity receptor tyrosine kinases, Fgfrs [14, 15]. Signaling by Fgfrs was shown to be necessary for growth of rostral, as well as caudal, cortical regions [16]. However, current knowledge concerning the specific roles of individual receptors is limited, presumably due to functional redundancy. Nonetheless, some functions of Fgfrs have emerged. Forebrain-specific knockout of Fgfr1 (Foxg1-Cre;Fgfr1flox/flox) showed a loss of the olfactory bulb, mostly owing to a decrease in progenitor proliferation leading to a deficit in initial bulb evagination [17]. A subtle shift of Pax6 and Emx2 expressions also indicated an alteration in early patterning in this study. Changes in gene expression were more thoroughly assessed by microarray performed in developing cortex in this model at embryonic day (E)12.5, which confirmed the involvement of Fgfr1 signaling in the regulation of cortical patterning genes [18]. Dorso-ventral patterning defects were further demonstrated in a double knockout study, where deletion of both Fgfr1 and Fgfr3 resulted in a loss of neurogenesis in ventromedial regions, while deletion of both Fgfr1 and Fgfr2 led to a loss of ventral identities owing to dorsoventral patterning defects at E12.5 [19]. In addition, signaling via Fgfr1, but not Fgfr3, was shown to be required for growth of midline progenitor cell types at E14.5-E16.5 and formation of commissural axon tracts [20, 21].
In vitro assays have shown that Fgfr3 responds highly to Fgf8/17, and to Fgf2 [15, 22]. Fgfr3 is expressed in progenitor cells in the neuroepithelium from E9.5 and in the cortical VZ/SVZ throughout neurogenesis in mice [23], but is not expressed in postmitotic cortical plate neurons. Interestingly, Fgfr3 is expressed in a rostromedial-low, caudolateral-high gradient in the cortical primordium during E11.5-E13.5 [7, 24–26]. Fgfr3 knockout mice show skeletal overgrowth and deafness owing to inner ear defects, indicating the role of Fgfr3 in skeletal growth and hearing [27]. However, the role of Fgfr3 in brain development has been uncertain. In particular, Fgfr3 was reported to have no definite role in cortical patterning [28]. Also, deletion of Fgfr3 did not aggravate the effects of either Fgfr1 or Fgfr2 deletion in the dorsal cortex and the midline [19, 20]. However, the expected redundancy of Fgfr activities, and possible subtleties in the Fgfr3-/-brain phenotype, could mask Fgfr3 functions in cortical development.
A different perspective on the role of Fgfr3 in brain development has emerged from gain-of-function models. We previously showed that mice expressing a constitutively active mutant Fgfr3 allele displayed an enlarged cerebral cortex with increased cortical thickness and total cell number, mostly due to increased progenitor proliferation [26, 29]. Furthermore, the increase in progenitor proliferation in the cortical VZ was graded along the rostrocaudal axis, with the highest effect in caudal region during the early stages of neurogenesis at E11-E13 [26]. Downstream activation of MAPK in E11.5 temporal cortex was largely responsible for this effect. These conditional knock-in mouse models carry mutations substituting the amino acid Lys644 to glutamic acid (K644E) and to methionine (K644M) [30, 31]. The mutant allele is knocked-in to the endogenous Fgfr3 locus, allowing expression of the mutant allele in a fashion reflecting normal Fgfr3 expression domains and levels. K644 mutations highly activate Fgfr3 signaling in terms of kinase activity and autophosphorylation in vitro [31–33]. BaF3, mouse pro-B cell line expressing Fgfr3 with this mutation, shows a mitogenic response both in the absence of ligand (approximately 25% of full response) and in a concentration-dependent manner (an increasing response by a further addition of ligand) with an overall 2- to 10-fold increase of response compared to control [32].
The corresponding kinase-domain mutations in human FGFR3 are known to cause a severe and fatal form of achondroplasia, known as thanatophoric dysplasia (TD; OMIM#187601). The cerebral neocortex in TD is markedly enlarged (megalencephaly) and excessively convoluted, especially in temporal and occipital lobes, where sulcation begins prematurely [34]. In addition, TD brains show severe hippocampal dysplasia with rudimentary dentate gyrus, as well as numerous abnormalities of the brainstem and cerebellum [34]. Therefore, the study of Fgfr3 function presents a unique opportunity whereby its biological significance in cerebral cortical development can be directly compared in mice and humans.
In the present study, we hypothesized that Fgfr3 may play a role in formation of cortical areas by regulating patterning in addition to progenitor proliferation and focused to analyze cortical area formation and changes in cell cycle parameters. We found that mice carrying biochemically activating mutations in Fgfr3 presented a massive enlargement of the caudolateral cortex surface area in early postnatal stage, with relatively little change in the rostral cortex. The expression of transcription factors remained mostly normal, indicating that patterning of the cortex is influenced little by Fgfr3 activation. In contrast, cumulative bromodeoxyuridine (BrdU) labeling revealed that the length of the G1 phase (TG1) was 1.7 hours shorter in progenitors of the caudal mutant VZ compared to the wild type at E12.5. Therefore, the expansion of caudal cortex surface area likely reflected excessive proliferation of radial glia at early stages of neurogenesis. Finally, cortical thickness was increased in caudal areas of the Fgfr3 mutant mice, which may be explained by a significant increase of intermediate neuronal progenitors at late stages (E18.5), indicating a prolongation of neurogenesis. In summary, this study reveals a unique perturbation of cortical area formation with selective expansion of the caudal cortex surface area, caused by alteration of Fgf signaling along the Fgfr3 gradient.
Discussion
In the present study, we demonstrate that genetic models with biochemically activating kinase-domain mutations in
Fgfr3
(
Nestin-Cre;Fgfr3
+/K644E
and
Foxg1-Cre;Fgfr3
+/K644M
) show a massive surface area expansion of the caudolateral cortex, which is highly correlated with the gradient of Fgfr3 expression in the VZ at early stages of neurogenesis (summary in Figure
8a
). Is the cortical phenotype of the current Fgfr3 mutant model caused by a change in patterning or by size expansion of the caudal region? Little effect was observed on frontal area size (Figures
1
and
2
, and Tables
1
and
2
) or transcription factor gradients in the mutant cortex (Figure
3
), suggesting that cortical patterning was not significantly influenced by increased Fgfr3 activity. In contrast, shortening of Tc and T
G1
(Figure
4
and Table
3
) at E12.5, and augmentation of BrdU incorporation at E18.5 (Figure
6
) were observed selectively in the caudal region of the Fgfr3 mutant cortex, supporting the idea that the relative 'rostral shift' resulted from size expansion of the caudal region mostly owing to the cell proliferative effects.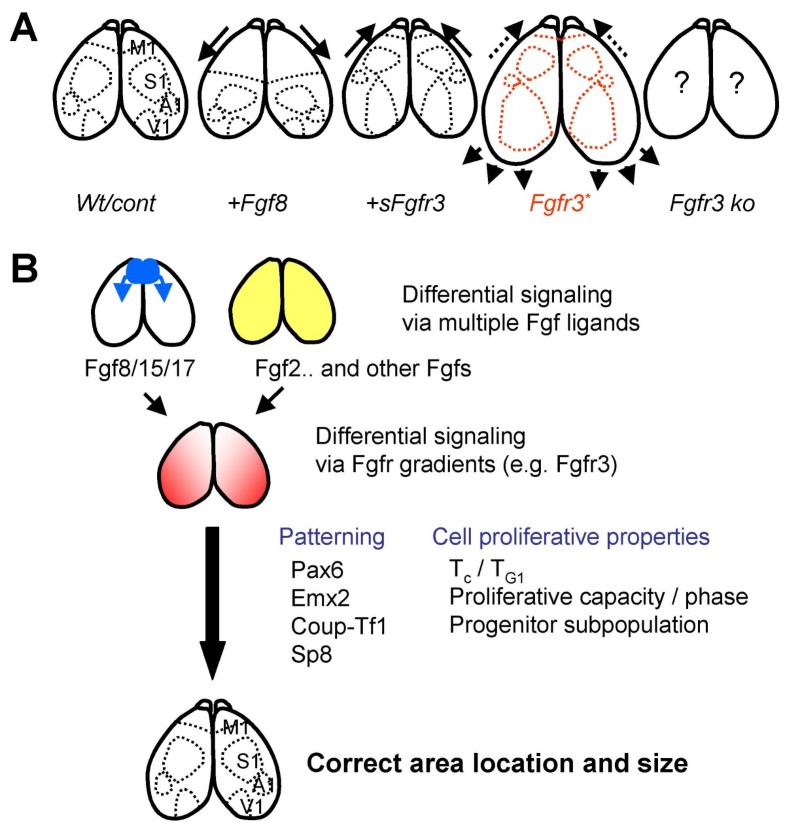 Conclusion
We demonstrate that activation of Fgfr3 selectively promotes growth of the caudolateral (occipitotemporal) cortex, similar to the cortical malformation observed in human TD. We provide evidence that activation of Fgfr3 alters caudal-specific cell proliferative properties, namely shortening of the cell cycle length and prolongation of neurogenesis, without altering cell cycle exit. Few changes were observed in early patterning events. Being expressed in a unique graded pattern at the outset of neurogenesis, Fgfr3, together with other Fgf receptor members, may regulate formation of cortical areas.
Materials and methods
Mice
All procedures were performed in accordance with the Project Licence under Home Office Animal (Scientific Procedures) Act 1986. Mice heterozygous with the Fgfr3 mutation and with one copy of the Cre gene, including EIIa-Cre;Fgfr3+/K644E, Nestin-Cre;Fgfr3+/K644Eand Foxg1-Cre;Fgfr3+/K644M, were produced by crossing either Fgfr3+/K644Eneo[30] or Fgfr3+/K644Mneo[31] with EIIa-Cre [30], Nestin-Cre [36], or Foxg1-Cre [37], respectively. Fgfr3+/K644Eneo, Fgfr3+/K644Mneo, and Nestin-Cre colonies were maintained in C57BL/6. The backgrounds of EIIa-Cre and Foxg1-Cre were 129;FBV/N and 129Svj, respectively. Animals were genotyped using the K644 mutation site [30] and the presence of Cre. In all experiments, littermates with genotypes of +/+; Fgfr3+/+, +/cre; Fgfr3+/+, or +/+; Fgfr3+/K644E/Mneo, were used as controls.
Analysis of the cortical area position
Mice were perfused by 4% (w/v) paraformaldehyde in phosphate-buffered saline (PBS). After cryoprotection, cortices were flat-frozen using the weight of a microscopic slide. Tangential sections (50 μm) were subjected to immunohistochemistry with anti-mouse 5-hydroxy-tryptamine (5-HTT; 1:2000; Calbiochem, Nottingham, UK) [59] or cytochrome C oxidase histochemistry [38]. Sections were incubated in reaction mix containing 40 mg/ml sucrose, 0.15 mg/ml cytochrome C (C-2506; Sigma, Dorset, UK), 0.5 mg/ml DAB (D-3001, Sigma) in 0.1 M phosphate buffer, at 37°C for 3 hours to overnight. The measurement of the barrel location was performed by Image J (NIH).
Cumulative BrdU labeling
Average length of total cell cycle duration (Tc), length of the S phase (Ts), and growth fraction (GF) were determined according to published protocols [43, 60, 61]. Mice were time-mated and the day of the vaginal plug was counted as E0.5. At E12.5, mice were injected intraperitoneally with BrdU in PBS at 50 μg/g body weight. Subsequent injections were performed at a maximum interval of 3 hours, with a final BrdU injection 0.5 hour prior to termination. Embryos were collected at 8 survival points, 0.5, 2.0, 3.5, 5.0, 6.5, 8.0, 9.5 and 11.0 hours after the initial injection. Morphological landmarks based on plates 1 and 6 at E12.5 [62] were used to identify sections at the rostral and caudal levels, respectively. A 25 μm channel spanning the dorsal VZ was used for counting BrdU-labeled cells. The LI was calculated as the proportion of BrdU-labeled cells to total cells. A least-squares curve fit was generated in the graphs of LI versus survival time post-BrdU injection using a Microsoft Excel spreadsheet kindly provided by Professor Richard Nowakowski [42]. The GF was calculated as the maximum LI value attained over the experimental period. Tc and Ts were calculated using the following equations [61]: y-intercept = GF × Ts/Tc; Time to reach maximum LI = Tc - Ts.
To determine the combined lengths of G2 and M (TG2+M) phases, a single-injection BrdU-labeling protocol was used [61]. TG2+M was calculated as the length taken to label all cells in the M phase (mitotic cells) with BrdU. Within each 100 μm channel in the dorsomedial cortex, the percentage of BrdU+pHH3+ cells was determined. MI was calculated by dividing the number of mitotic cells by the total number of cells within a 50 μm channel in the dorsomedial cortex. The duration of M phase (TM) was then calculated using the following equations: MI = Total number of mitotic cells/Total number of cells; TM = Tc × MI. TG2 and TG1 were calculated using the following equations: TG2 = (G2 + M) - TM; TG1 = Tc - Ts - (TG2+M).
Immunohistochemistry
Coronal sections (10 μm) were deparaffinised and rehydrated. Antigen retrieval was achieved by boiling in 10 mM citrate buffer (pH 6.4) for 30 minutes. Endogenous peroxidase activity was quenched by 3% (v/v) hydrogen peroxide for 10 minutes. Blocking was in 10% normal goat serum in PBS. Incubation with the anti-BrdU antibody (B-44, 1:75; BD Biosciences, Oxford, UK) was performed overnight at 4°C. The secondary antibody was applied for 1 hour (mouse Immpress Kit, VectorLabs, Peterborough, UK). Immunoreactivity was detected by 3,3'-diaminobenzidine (DAB) and counterstained in haematoxylin Harris (Surgipath, Peterborough, UK). For mitotic index, pHH3 rabbit polyclonal antibody (1:200; Upstate, Millipore, Herts, UK) and rabbit secondary antibody (rabbit Immpress Kit, VectorLabs) was used. For double immunohistochemistry, sections were incubated in 2 mol/dm3 HCl for 1 hour at 37°C after antigen retrieval. Blocking solution was 10% (v/v) normal goat serum, 2% bovine albumin, 0.1% (v/v) Triton-X100 in PBS. Antibodies used were: anti-Tbr2 (rabbit polyclonal, 1:2000; Chemicon, Nottingham, UK); anti-Pax6 (rabbit polyclonal, 1:500; Covance, Cambridge BioScience, Cambridge, UK); anti-Ki67 (rabbit polyclonal, 1:1000; Novocastra, New Castle upon Tyne, UK); goat anti-mouse AlexaFluor 488, and goat-anti-rabbit AlexaFluor 594 (1:200; Invitrogen, Paisley, UK). Sections were mounted in VectaSield (VectorLabs) containing 4',6-diamidino-2-phenylindole (DAPI).
In situ hybridization
Riboprobe templates were kindly provided by Drs Gail Martin (Fgf8), John Rubenstein (Coup-Tf1), David Price (Pax6), Shinichi Aizawa (Emx2), and Wnt2b (Thomas Theil). Embryos were fixed in 4% (w/v) paraformaldehyde/PBS overnight. Embryos were dehydrated and stored in methanol at -20°C until genotyped. Embryos were rehydrated in methanol/PBS with 0.1% (v/v) Tween-20 (PTW). Treatment with 10 μg/ml Proteinase K/PTW was performed at room temperature for exactly 5 (E9.5) or 15 minutes (E11.5 and E13.5) and the reaction was stopped by incubation in 4% (w/v) paraformaldehyde, 0.1% glutaraldehyde in PBS. Embryos pre-incubated in hybridization buffer (50% (v/v) deionized formamide, 5 × SSC, 0.8% (v/v) Tween-20, 50 μg/ml heparin, 1 mg/ml yeast tRNA, 5 mM EDTA, 0.1% (w/v) CHAPS, 2% (w/v) Blocking Reagent, Roche, Welwyn, UK) at 65°C for 1 hour. Riboprobes were diluted 1:300 in the hybridization buffer and denatured at 80°C for 10 minutes. Hybridization was performed at 65°C overnight. Embryos were washed with post-hybridization buffer (50% (v/v) formamide, 1 × SSC, 0.1% (v/v) Tween-20) at 65°C, then with Tris-buffered saline (TBS) with 0.1% (v/v) Tween-20 (TBST) at room temperature. Embryos were blocked in 2% (w/v) Blocking Reagent solution (Roche) with 20% (v/v) Sheep serum (S2263, Sigma) for 2 hours before incubation with anti-DIG antibody (1:1500; Roche) at 4°C overnight. After washes with TBST, color reaction was performed with Nitroblue tetrazolium (NBT) and 5-bromo-4-chloro-3-indolyl phosphate (BCIP) in NTMT (100 mM Tris, pH 9, 100 mM NaCl, 50 mM MgCl2, 1% (v/v) Tween-20).
Cortical thickness
Comparable regions of EIIa-Cre;Fgfr3+/K644Eand wild type littermates were selected using morphological landmarks consistent with plates 4 and 12 at E18.5 [62]. Using Image J, five lines were drawn from the ventricular to the basal surface and an average was calculated from the length measured. Three embryos were used per genotype.
Statistics
Student's t-test was performed to test the significance of difference in numerical data for two-sample unequal variance with a two-tailed distribution. A standard deviation is used for presentation of data.
Abbreviations
BrdU:

bromodeoxyuridine
E:

embryonic day
Fgf:

fibroblast growth factor
Fgfr:

Fgf receptor
GF:

growth fraction
IPC:

intermediate progenitor cell
LI:

labeling index
MI:

mitotic index
P:

postnatal day
PBS:

phosphate-buffered saline
pHH3:

phospho-histone H3
SVZ:

subventricular zone
TD:

thanatophoric dysplasia
VZ:

ventricular zone.
Declarations
Acknowledgements
We thank Drs David Price, Kate Storey, colleagues and core facility staff of the Beatson Institute for Cancer Research for their continuous support and encouragement. This work was supported by grants BBS/B08736 from the Biotechnology and Biological Science Research Council and Neurosciences Foundation, Glasgow, UK, and the start-up fund from University of Glasgow.
Authors' Affiliations
(1)
Division of Cancer Sciences and Molecular Pathology, University of Glasgow, Beatson Laboratories for Cancer Research, Glasgow, UK
(2)
Centre for Integrative Physiology, University of Edinburgh, Edinburgh, UK
(3)
Department of Neurological Surgery and Pathology, University of Washington School of Medicine, Washington, USA
Copyright
© Thomson et al; licensee BioMed Central Ltd. 2009
This article is published under license to BioMed Central Ltd. This is an Open Access article distributed under the terms of the Creative Commons Attribution License (http://creativecommons.org/licenses/by/2.0), which permits unrestricted use, distribution, and reproduction in any medium, provided the original work is properly cited.