Research article
Open Access
Multidendritic sensory neurons in the adult Drosophila abdomen: origins, dendritic morphology, and segment- and age-dependent programmed cell death
Neural Development
2009
4:37
Received: 22 April 2009
Accepted: 2 October 2009
Published: 2 October 2009
Abstract
Background
For the establishment of functional neural circuits that support a wide range of animal behaviors, initial circuits formed in early development have to be reorganized. One way to achieve this is local remodeling of the circuitry hardwiring. To genetically investigate the underlying mechanisms of this remodeling, one model system employs a major group of Drosophila multidendritic sensory neurons - the dendritic arborization (da) neurons - which exhibit dramatic dendritic pruning and subsequent growth during metamorphosis. The 15 da neurons are identified in each larval abdominal hemisegment and are classified into four categories - classes I to IV - in order of increasing size of their receptive fields and/or arbor complexity at the mature larval stage. Our knowledge regarding the anatomy and developmental basis of adult da neurons is still fragmentary.
Results
We identified multidendritic neurons in the adult Drosophila abdomen, visualized the dendritic arbors of the individual neurons, and traced the origins of those cells back to the larval stage. There were six da neurons in abdominal hemisegment 3 or 4 (A3/4) of the pharate adult and the adult just after eclosion, five of which were persistent larval da neurons. We quantitatively analyzed dendritic arbors of three of the six adult neurons and examined expression in the pharate adult of key transcription factors that result in the larval class-selective dendritic morphologies. The 'baseline design' of A3/4 in the adult was further modified in a segment-dependent and age-dependent manner. One of our notable findings is that a larval class I neuron, ddaE, completed dendritic remodeling in A2 to A4 and then underwent caspase-dependent cell death within 1 week after eclosion, while homologous neurons in A5 and in more posterior segments degenerated at pupal stages. Another finding is that the dendritic arbor of a class IV neuron, v'ada, was immediately reshaped during post-eclosion growth. It exhibited prominent radial-to-lattice transformation in 1-day-old adults, and the resultant lattice-shaped arbor persisted throughout adult life.
Conclusion
Our study provides the basis on which we can investigate the genetic programs controlling dendritic remodeling and programmed cell death of adult neurons, and the life-long maintenance of dendritic arbors.
Keywords
Dendritic ArborBaseline DesignAdult NeuronAfter Puparium FormationTotal Branch Length
Background
The development of the nervous system is not complete at the end of embryogenesis; instead, it involves a series of progressive events. During the postembryonic phase, the nervous system is reorganized at multiple structural levels to strengthen, elaborate, and/or modify already acquired functions, and even add novel ones. This reorganization of initial neural circuits formed during early development is critical to support a wide range of animal behaviors under a variety of environmental contexts [1, 2]. One cellular mechanism of this reorganization is the disposal of a subset of early-born neurons and replacement of those cells with later-born ones. Another is 'recycling,' which is accomplished by pruning of axons or dendrites without loss of parental neurons and concomitant or subsequent growth of these processes in spatially distinct patterns [3–5].
Both these cellular mechanisms are observed dramatically in the neural and motor systems of insects that undergo complete metamorphosis (holometabolous insects), which is necessary for the generation of stage-specific behaviors. Nerve and muscle cells that are required for larval behaviors, such as crawling and feeding, must either be replaced or re-specified to allow adult walking, flight, mating, and egg-laying [2, 6]. This conversion from larva to adult behaviors is manifested, at least in part, by the remodeling of dendritic arbors. For example, in the early pupae of Manduca, an identified motoneuron forms additional dendritic branches, accepting new excitatory synapses from stretch receptors [7]. Therefore, remodeling of stage-specific dendritic patterns is an essential process to realize the proper function of the nervous system.
To genetically investigate underlying mechanisms of axon and dendrite remodeling, researchers have used two major model systems,
Drosophila
mushroom body neurons for axons and dendritic arborization (da) neurons for dendrites [
4
,
8
,
9
]. da neurons are born in the embryo, being constituent members of the peripheral nervous system, and generate two-dimensional dendrites underneath the epidermis and on the musculature during late embryonic and larval stages (Figure
1A
) [
10
–
12
]. The 15 da neurons identified in each abdominal hemisegment are classified into four categories - classes I to IV - in order of increasing size of their receptive fields and/or arbor complexity at the mature larval stage (Figure
1B
) [
8
,
12
]. In each hemisegment, the three class IV neurons develop the most complicated and expansive arbors with space-filling capability, whereas the three class I neurons generate sparse comb-like dendritic arbors [
13
,
14
]. The shaping of these class-specific dendritic arbors is controlled through the expression of a group of transcription factors in the post-mitotic neurons [
15
–
21
]. In the sense of physiological function, distinct subclasses appear to be responsible for sensation of proprioception and muscle contractions, which control larval crawling, and that of nociception, which protects larvae from parasitoid wasp attacks [
22
–
24
].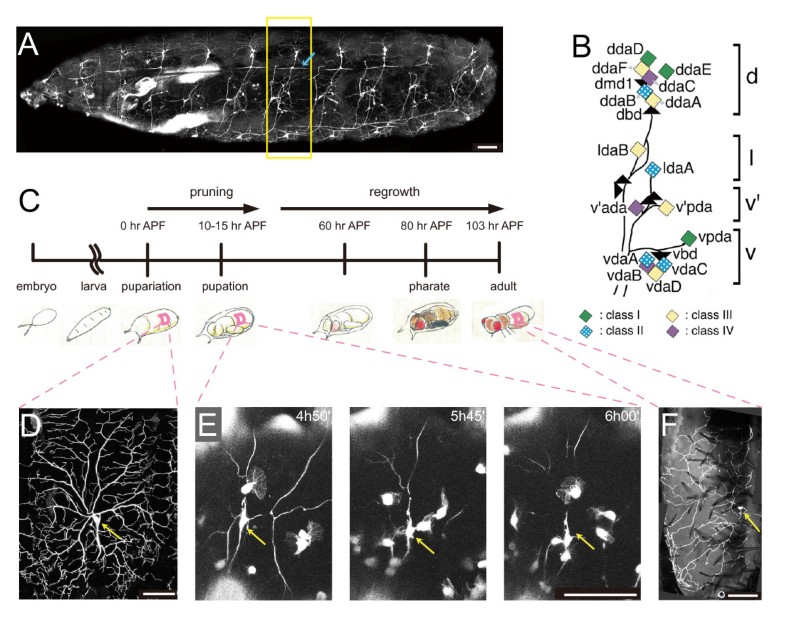 It has been reported that a subset of da neurons persists during the pupal transition and that they exhibit large-scale pruning and subsequent regeneration while keeping their axons superficially intact (Figure 1C-F) [25–28]. It is proposed that phagocytic blood cells scavenge neuronal debris and attack intact branches (Figure 1E; Additional file 1) [27]. Two out of the three larval class IV neurons in the hemisegment and one class I neuron, ddaE, are known to be survivors; the dendritic remodeling and migration of ddaE have been described [26, 29]. At the molecular level, dendrite-specific pruning requires at least ecdysone signaling, ubiquitin-proteasomes, matrix metalloproteases, the I-κB kinase-related kinase IK2, and a member of the Katanin family of microtubule-severing proteins [29–32]. Nevertheless, our knowledge regarding both the anatomical and molecular bases of the entire remodeling is still fragmentary. Although the soma of persistent larval sensory neurons have been identified [25], the dendritic arbor of each has not been described in the adult, and determination of the one-cell-to-one-cell relationship before and after the remodeling has not been completed either, except for the three neurons described above.
To establish the entire map of adult da neurons, we identified candidates of all survivors in pupae and adults, in both fixed dissected specimens and live whole-mount animals. We also genetically marked individual da neurons and traced the same cells at larval and adult stages. Altogether, our results identified six da neurons in the abdominal hemisegment 3 or 4 (A3/4) of the pharate adult and in the adult just after eclosion; all of these, except for one, were persistent larval da neurons. This 'baseline design' of A3/4 was modified in a segment-dependent and age-dependent manner. Our study provides the anatomical and developmental bases for genetically hunting for mutations that affect remodeling of dendritic arbors or control of the life-long maintenance of differentiated neurons.
Discussion
Comparisons with previous reports regarding origins of pupal and adult multidendritic sensory organs
In our study, we identified all multidendritic neurons in the abdomens of the pharate adult and the adult, visualized dendritic arbors of the individual neurons, and attempted to clarify their larval origins. Specifically, we revealed one-to-one relationships between the five larval da neurons and five out of the six da neurons identified in the adult abdomen. Our conclusion regarding ddaC, ddaE, and v'ada agrees with two previous reports that describe those neurons at pupal stages [26, 29]. It is reported that larval class I ddaD escapes death and that its dendrites are pruned in prepupa [27]; however, its subsequent fate through to the adult stage was not described. Our result shows that the most dorsally located da neuron with a single dendritic root in the adult abdomen was derived from larval ddaD.
In addition to those studies cited above, embryonically derived sensory neurons are identifiable at pupal and pharate adult stages by using a lineage tracer, although this cell-labeling method does not visualize entire dendritic arbors [25]. That paper reported that class II ldaA is one of the persistent larval sensory neurons, which is consistent with our result. The above paper also describes that class III v'pda is a persistent neuron; however, we found that none of the ten v'pda larval clones persisted in the adult (Table 1) and that it was class IV v'ada in the same v' cluster that survives metamorphosis.
Segmental differences in the timing of programmed cell death
ddaE neurons in all of the abdominal hemisegments executed programmed cell death (PCD) at pupa to young adult stages, and they showed segmental differences in the execution time window. ddaE in A2 to A4 died within 1 week after eclosion, whereas PCD of ddaE in the more posterior segments took place at the midpupal stage. It should be noted that this segmental difference in the PCD is correlated with the spatiotemporal profile of the breakdown of dorsal internal oblique muscle (DIOM)3, on which ddaE is located (asterisk in Figure 8B-G) [43]. DIOM3 in A5 to A6 dies at 16 to 20 hours after puparium formation (APF), whereas the PCD of DIOM3 in A1 to A4 takes place within 1 day after eclosion. It remains to be studied how the PCD of these two cell types is related, what the physiological significance of the spatiotemporally distinct PCD is and, more fundamentally, what the function of ddaE in pupae and young adults is. We have found strains in which ddaE in A2 to A4 persisted for at least 2 weeks with complete penetrance (KS, KK, and TU, unpublished data). Such strains would be helpful to reveal the underlying mechanisms responsible for the relatively late PCD of ddaE in A2 to A4.
Pupal and/or adult da neurons provide models whereby we can study intrinsic and extrinsic mechanisms of dendritic morphogenesis and life-long maintenance
In addition to the investigation on the control of PCD described above, pupal and/or adult da neurons provide appropriate models to address other questions regarding arbor-shaping mechanisms. In the sense of a cell-intrinsic mechanism that involves class-selective transcription factors, there were three intriguing findings in pharate adults. First, the class IV neurons (ddaC and v'ada), which had hardly expressed Kn at the mature larval stage, restarted expressing it when they were regenerating complex and expansive arbors. Second, ddaC and v'ada also expressed Ct, as they do in embryonic and larval class IV neurons. Third, class I ddaE transformed its simple comb-like arbor at the larval stage into a highly bushy one without expressing the class I-selective transcription factor Ab. Whether this transcription factor-mediated control plays pivotal roles in dendritic remodeling at pupal stages or not should be tested by either knocking down kt or ct in the class IV neurons or misexpressing ab in class I ddaE neurons selectively during the remodeling phase and then examining the effects on arbor shape. On the other hand, the radial-to-lattice remodeling of the v'ada arbor during post-emergence branch growth implies the possibility that the branch growth is guided by an extrinsic cue(s). One candidate of this cue would be fibers of the lateral tergosternal muscles, which run along the dorsal-ventral axis in the pleura of each segment and become thinner after eclosion [43]. The potential contributions of the intrinsic transcriptional control and the extrinsic cue should be examined, and it should be eventually addressed how critical arbor shape is for ddaE or v'ada to mediate cell type-specific sensory inputs.
Once the lattice arbors of v'ada neurons were generated they persisted throughout adult life, which is 50 days on average. A previous study on class IV neurons showed a pivotal role for the signaling cascade including the Ste-20-related tumor suppressor kinase Hippo (Hpo) in the establishment and subsequent maintenance of dendritic fields during larval development [44, 45]. Although dendritic arbors of adult da neurons have to persist for a much longer period than larval development (a total of 5 days), it deserves to be examined whether the larval and adult neurons share the same mechanism to maintain their dendrites or not. The mechanisms that maintain dendritic arbors have been a subject of intense investigation because defective maintenance precedes pathological conditions such as cell death in neurodegeneration [46–48]. One group of gene products responsible for neurodegeneration is associated with mitochondria, and dysfunction of mitochondria in v'ada led to the development of a sparse lattice, which degenerated progressively (A Tsubouchi, TT, and TU, submitted). Therefore, the adult da neuron would provide a novel tractable model for a systematic search for neurodegenerative mutations.
Long-term in vivo time-lapse recordings of pupal da neurons
It has been recently demonstrated in larvae that several organelles and cargos of motor proteins play critical roles in shaping dendritic arbors of da neurons, including Golgi outposts, RNA particles, and endosomes [49–53]. Unfortunately, data collection on organelle behaviors is limited in larval da neurons due to technical difficulties in keeping da neurons in mounted larvae healthy for an hour or even for 10 minutes [54]. Consequently, we have few data on the organelle behaviors that underlie the dynamics of branch elongation, sprouting, and retraction from budding of primary branches to maturation of entire dendritic arbors. One prominent advantage of observing pupal da neurons is that they are accessible to long-term in vivo time-lapse recordings. Regrowth and elaboration of the ddaE dendrite can be tracked for up to nearly 2 days ([26]; this study). Simultaneous and long-term tracking of organelles and branches in pupae, and hopefully in adults as well, would allow much more quantitative analysis to determine cause-and-effect relationships between intracellular dynamics and dendrite morphogenesis. One ultimate goal might be to compare all those data on distinct neuronal types such as ldaA and v'ada to understand neuronal type-specific dendritic morphogenesis.
Conclusion
Our study provides systematic anatomical and developmental descriptions of multidendritic neurons in the adult Drosophila abdomen. Knowledge from this study, together with future genetic and physiological studies, will help to reveal the in vivo molecular mechanisms governing dendritic remodeling as well as de novo dendrite formation, PCD of the adult neuron, and the life-long maintenance of dendritic arbors, and how each of these mechanisms is under the control of neuronal activity.
Abbreviations
Ab:

Abrupt
APF:

after puparium formation
Ct:

Cut
da:

dendritic arborization
dbd:

dorsal bipolar dendrite
DIOM:

dorsal internal oblique muscle
DSHB:

Developmental Studies Hybridoma Bank
es:

external sensory
EGFP:

enhanced GFP
GFP:

green fluorescent protein
HRP:

horse radish peroxidase
Kn:

Knot
PCD:

programmed cell death.
Declarations
Acknowledgements
The Developmental Studies Hybridoma Bank at the University of Iowa, the Bloomington Stock Center, and the Drosophila Genetic Resource Center at Kyoto Institute of Technology provided the antibodies and fly stocks. We thank K Emoto, K Yasunaga, and YN Jan for communicating data prior to publication. We are also grateful to YN Jan, B Yi, Y Zhang, S Sheperd, CL Hughes, A Moore, D Williams, M A Crozatier, and T Tabata for providing other fly strains and reagents. We thank very much T Tanimura, T Inoshita, A Tsubouchi, and D Satoh for their critical advice and encouragement; and Y Miyake, K Shimizu, T Nomura, and M Futamata for their technical assistance. This work was supported by grants from the programs Grants-in-Aid for Scientific Research on Priority Areas-Molecular Brain Science (17024025 to TU) of the MEXT of Japan.
Authors' Affiliations
(1)
Laboratory of Cell Recognition and Pattern Formation, Graduate School of Biostudies, South Campus Research Building (Building G), Kyoto University, Kyoto, Japan
(2)
Laboratory of Neural Development, Graduate School of Biostudies,Kyoto University, Kyoto, Japan
(3)
Laboratory of Cell Function Dynamics, Advanced Technology Development Group, Brain Science Institute,RIKEN, Wako, Japan
(4)
Hokkaido University of Education, Sapporo Campus, Sapporo, Japan
Copyright
© Shimono et al; licensee BioMed Central Ltd. 2009
This article is published under license to BioMed Central Ltd. This is an Open Access article distributed under the terms of the Creative Commons Attribution License (http://creativecommons.org/licenses/by/2.0), which permits unrestricted use, distribution, and reproduction in any medium, provided the original work is properly cited.