Netrin1/DCC signaling promotes neuronal migration in the dorsal spinal cord
Neural Development
2016
11:19
Received: 11 August 2016
Accepted: 17 October 2016
Published: 26 October 2016
Abstract
Background
Newborn neurons often migrate before undergoing final differentiation, extending neurites, and forming synaptic connections. Therefore, neuronal migration is crucial for establishing neural circuitry during development. In the developing spinal cord, neuroprogenitors first undergo radial migration within the ventricular zone. Differentiated neurons continue to migrate tangentially before reaching the final positions. The molecular pathways that regulate these migration processes remain largely unknown. Our previous study suggests that the DCC receptor is important for the migration of the dorsal spinal cord progenitors and interneurons. In this study, we determined the involvement of the Netrin1 ligand and the ROBO3 coreceptor in the migration.
Results
By pulse labeling neuroprogenitors with electroporation, we examined their radial migration in Netrin1 (Ntn1), Dcc, and Robo3 knockout mice. We found that all three mutants exhibit delayed migration. Furthermore, using immunohistochemistry of the BARHL2 interneuron marker, we found that the mediolateral and dorsoventral migration of differentiated dorsal interneurons is also delayed. Together, our results suggest that Netrin1/DCC signaling induce neuronal migration in the dorsal spinal cord.
Conclusions
Netrin1, DCC, and ROBO3 have been extensively studied for their functions in regulating axon guidance in the spinal commissural interneurons. We reveal that during earlier development of dorsal interneurons including commissural neurons, these molecules play an important role in promoting cell migration.
Keywords
Neuronal migration
Netrin1
DCC
ROBO3
Spinal cord neurons
Background
During spinal cord development, neuroprogenitors are born in the superficial layer of the ventricular zone (VZ) and undergo radial migration toward the lateral spinal cord [1–3]. Upon neurogenesis, neuroprogenitors exit the cell cycle and migrate out of the VZ. The post-mitotic neurons continue to migrate along both mediolateral and dorsoventral axes as they differentiate into mature neurons. Different classes of interneurons, including contralateral- and ipsilateral-projecting neurons, are generated from progenitors in the dorsal spinal cord. Additional populations of interneurons as well as motor neurons arise from neuroprogenitors in the ventral half. Discrete neuronal populations that are located at different dorsoventral and mediolateral positions have stereotypical axonal projections and specific synaptic partners later during development [1–3]. Given the importance of the migration in building the spinal cord circuitry, it is critical to identify the molecular mechanisms that regulate the radial and tangential migration of spinal cord neurons.
Recently, we found that in the knockout (KO) mice of the Dcc (deleted in colorectal carcinoma) receptor, the radial migration of dorsal progenitors and the tangential migration of differentiated dorsal interneurons are both delayed [4]. These migration defects may contribute to the axonal growth and guidance defects in the mutant during later stages of development [4]. In addition, Dcc KO has been previously shown to reduce the ventral migration of several classes of dorsal spinal cord interneurons [5]. These findings together prompted us to identify the molecular pathway that DCC acts upon during the migration.
The secreted Netrin proteins are conserved ligands for DCC from C. elegans to mammals [6]. Netrin/DCC are important for various neurodevelopmental processes, including axon guidance, neuronal migration, and synapse formation [7–9]. Within the contralateral-projecting commissural axons, Netrin1/DCC signaling induces axonal outgrowth and promotes axonal attraction [10–12]. By immunohistochemistry using specific antibodies, Netrin1 protein has been shown to be enriched at the ventral midline and at the lateral margin of the spinal cord in both chickens and mice [13, 14]. The enrichment of Netrin1 at the ventral spinal cord is consistent with its role in attracting DCC-expressing commissural axons to the midline [13, 14]. The presence of Netrin1 at the dorsal lateral margin confines central axons within the CNS [15], and also inhibits abnormal entry by periphery sensory axons [16]. Whether Netrin1 can also attract the lateral and ventral migration of spinal cord neurons remains unknown.
ROBO3 is a member of the ROBO (roundabout) family of receptors for the SLIT proteins. While mammalian ROBO1 and ROBO2 mediate repulsion in commissural axons, ROBO3 inhibits ROBO1/2 and thus represses repulsion as commissural axons approach the midline [17]. In addition, ROBO3 has been shown to interact with DCC and function as a Netrin1 coreceptor to potentiate commissural axonal outgrowth and attraction [18]. Thus, ROBO3 is critically important for commissural axon guidance. We wondered if ROBO3 is also involved in the earlier migration process.
In this study, we examined neuronal migration in Ntn1 and Robo3 KOs, in direct comparison with Dcc mutants. Using pulse labeling of the dorsal spinal cord progenitors, we found that the radial migration of these cells is delayed in Ntn1 and Robo3 KOs, as found previously in Dcc KOs. In addition, using immunohistochemistry of interneuron markers, we found that the tangential migration of dorsal interneurons is also delayed in all three mutants. Our data suggest that the Netrin1 ligand functions through DCC and ROBO3 receptors to promote the migration of the dorsal spinal cord neurons.
Results
By in situ hybridization and immunohistochemistry, Dcc expression is observed in interneurons and motor neurons, as well as in neuroprogenitors [4, 5, 27, 28]. Robo3 expression is more specific and mostly within commissural interneurons [20, 23]. Using specific antibodies, we found that ROBO3 protein is also present on the periphery of dorsal progenitors (Additional file 1: Figure S1). Therefore, Dcc and Robo3 are most likely to function cell-autonomously within progenitors and interneurons during migration, as they do during axon guidance.
Discussion
Neuronal migration is one of the early and critical steps of neural development. It is a complex cellular process involving many classes of molecules, including extracelluar ligands and transmembrane receptors, intracellular signaling molecules, cytoskeletal and motor proteins, and transcriptional factors [
29
–
32
]. Within the developing spinal cord, the molecular mechanism underlying the migration of neuroprogenitors and differentiated neurons is mostly uncharacterized. The Reelin/VLDLR/ApoER2 pathway has been shown to regulate the migration of certain populations in the ventral spinal cord [
33
]. Our previous study reveals that DCC is important for the migration of the dorsal neuroprogenitors and interneurons [
4
]. DCC has also been shown to promote the ventral migration of several classes of dorsal spinal cord interneurons [
5
]. Built upon these findings, we extended the study to the Netrin1 ligand and the ROBO3 coreceptor, which act together with DCC to mediate axonal attraction. Interestingly, the loss of any of these three molecules reduces the radial migration of neuroprogenitors and the tangential migration of dorsal interneurons. In contrast, loss of the UNC5C receptor does not cause such a delay. Given the enrichment of Netrin1 at the lateral and ventral margin of the spinal cord [
13
,
14
], our results support a model that Netrin1/DCC signaling also attracts the migration of the dorsal spinal cord progenitors and neurons (Fig.
8
).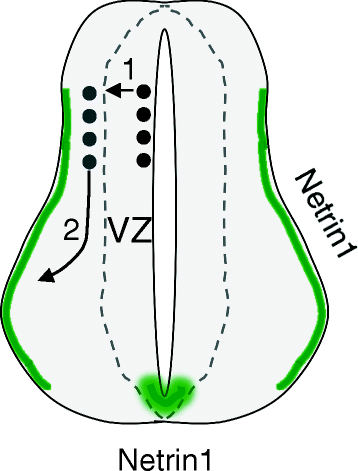 Our experimental approach does not allow us to efficiently target the ventral spinal cord progenitors in cultured mouse embryos. We thus cannot determine if Netrin1/DCC also acts in the ventral populations. Within the ventrally located motor neurons, Netrin1/DCC as well as the SLIT/ROBO pathway have been shown to be important for the dorsoventral positioning of the cell bodies relative to the midline [34]. The loss of the Netrin1/DCC signaling leads to motor neurons positioning in a more dorsal position than normal [34]. Therefore, Netrin1/DCC is likely to be involved in the migration of additional spinal cord neurons. Robo3 is not expressed in the ventral spinal cord, except in the ventral most V3 interneurons [20, 23], and is thus unlikely to play a role in most ventral neurons.
The fact that in Ntn1, Dcc, and Robo3 KOs, neuronal migration is delayed but not completely blocked suggests that there may be additional molecules at play. In addition, although the early-born dorsal interneurons (generated from E10 to around E11.5) migrate predominantly ventrally, late-born populations (generated around E12) migrate dorsally [1, 2]. It is thus likely that a distinct pathway directs the dorsal migration. Additional studies are warranted to unveil the identity of these molecules.
Abbreviations
ApoER2:

Apolipoprotein E receptor 2
DCC:

Deleted in colorectal carcinoma
KO:

Knockout
Ntn1:

Netrin1
Robo:

Roundabout
Unc:

Uncoordinated
VLDLR:

Very low density lipoprotein receptor
VZ:

Ventricular zone
WT:

Wild type
Declarations
Acknowledgements
We thank Daniel Morales and Dr. Artur Kania for providing the Unc5c KO embryos, and Caleb Anderson for technical support.
Funding
This work was supported by the National Institutes of Health (NIH) R01EY024261 (to HJJ), R21DC014916 (to LVG), and F31DC014603 (to ARY), and by the Boettcher Foundation (to ZC).
Availability of data and material
The original data and quantification analyses in this study are available from the corresponding authors upon request.
Authors' contributions
H.J.J. and Z.C. designed the study. Z.C. performed the experiments. A.R.Y. and L.V.G. provided reagents. Z.C. analyzed the data. H.J.J. and Z.C. wrote the paper with contributions from the other authors. All authors read and approved the final manuscript.
Competing interests
The authors declare that they have no competing interests.
Consent for publication
Not applicable.
Ethics approval
All experimental manipulations and care of mice have been approved by the University of Colorado Boulder Institutional Animal Care and Use Committee (protocol number 1310.02).
Open AccessThis article is distributed under the terms of the Creative Commons Attribution 4.0 International License (http://creativecommons.org/licenses/by/4.0/), which permits unrestricted use, distribution, and reproduction in any medium, provided you give appropriate credit to the original author(s) and the source, provide a link to the Creative Commons license, and indicate if changes were made. The Creative Commons Public Domain Dedication waiver (http://creativecommons.org/publicdomain/zero/1.0/) applies to the data made available in this article, unless otherwise stated.
Authors' Affiliations
(1)
Department of MCDB, University of Colorado, Boulder, USA
(2)
Department of Neurobiology, Harvard Medical School, Boston, USA