Research article

Open Access
The chromatin remodeling factor Bap55 functions through the TIP60 complex to regulate olfactory projection neuron dendrite targeting
Neural Development
2011
6:5
Received: 30 October 2010
Accepted: 1 February 2011
Published: 1 February 2011
Abstract
Background
The Drosophila olfactory system exhibits very precise and stereotyped wiring that is specified predominantly by genetic programming. Dendrites of olfactory projection neurons (PNs) pattern the developing antennal lobe before olfactory receptor neuron axon arrival, indicating an intrinsic wiring mechanism for PN dendrites. These wiring decisions are likely determined through a transcriptional program.
Results
We find that loss of Brahma associated protein 55 kD (Bap55) results in a highly specific PN mistargeting phenotype. In Bap55 mutants, PNs that normally target to the DL1 glomerulus mistarget to the DA4l glomerulus with 100% penetrance. Loss of Bap55 also causes derepression of a GAL4 whose expression is normally restricted to a small subset of PNs. Bap55 is a member of both the Brahma (BRM) and the Tat interactive protein 60 kD (TIP60) ATP-dependent chromatin remodeling complexes. The Bap55 mutant phenotype is partially recapitulated by Domino and Enhancer of Polycomb mutants, members of the TIP60 complex. However, distinct phenotypes are seen in Brahma and Snf5-related 1 mutants, members of the BRM complex. The Bap55 mutant phenotype can be rescued by postmitotic expression of Bap55, or its human homologs BAF53a and BAF53b.
Conclusions
Our results suggest that Bap55 functions through the TIP60 chromatin remodeling complex to regulate dendrite wiring specificity in PNs. The specificity of the mutant phenotypes suggests a position for the TIP60 complex at the top of a regulatory hierarchy that orchestrates dendrite targeting decisions.
Keywords
Projection Neuron
Antennal Lobe
Single Cell Clone
Lateral Horn
Bap55 Mutant
Background
The stereotyped organization of the Drosophila olfactory system makes it an attractive model to study wiring specificity. The first olfactory processing center is the antennal lobe, a bilaterally symmetric structure at the anterior of the Drosophila brain. It is composed of approximately 50 glomeruli in a three-dimensional organization. Each olfactory projection neuron (PN) targets its dendrites to one of those glomeruli to make synaptic connections with a specific class of olfactory receptor neurons. Each PN sends its axon stereotypically to higher brain centers [1–3].
During development, the dendrites of PNs pattern the antennal lobe prior to axons of olfactory receptor neurons [4]. The specificity of PN dendrite targeting is largely genetically pre-determined by the cell-autonomous action of transcription factors, several of which have been previously described [5–8]. Furthermore, chromatin remodeling factors have been shown to play an important role in PN wiring [8], although very little is currently known about their specific functions. We report here a genetic screen for additional factors that regulate PN dendrite wiring specificity, and identify Brahma associated protein 55 kD (Bap55) as a regulator of PN dendrite wiring specificity as part of the TIP60 chromatin remodeling complex.
Bap55 is an actin-related protein, the majority of which physically associates with the Brahma (BRM) chromatin remodeling complex in
Drosophila
embryo extracts [
9
] (Figure
1A
). There are two distinct BRM complexes: BAP (Brahma associated proteins; homologous to yeast SWI/SNF) and PBAP (Polybromo-associated BAP; homologous to yeast RSC), both of which contain Brahma, Bap55, and Snf5-Related 1 (Snr1) [
10
]. The human homologs of the BAP and PBAP complexes are called the BAF (Brg1 associated factors) and PBAF (Polybromo-associated BAF) complexes, respectively. The BRM/BAF complexes are members of the SWI/SNF family of ATP-dependent chromatin-remodeling complexes, and have been shown to both activate and repress gene transcription, in some cases, of the same gene [
11
–
14
].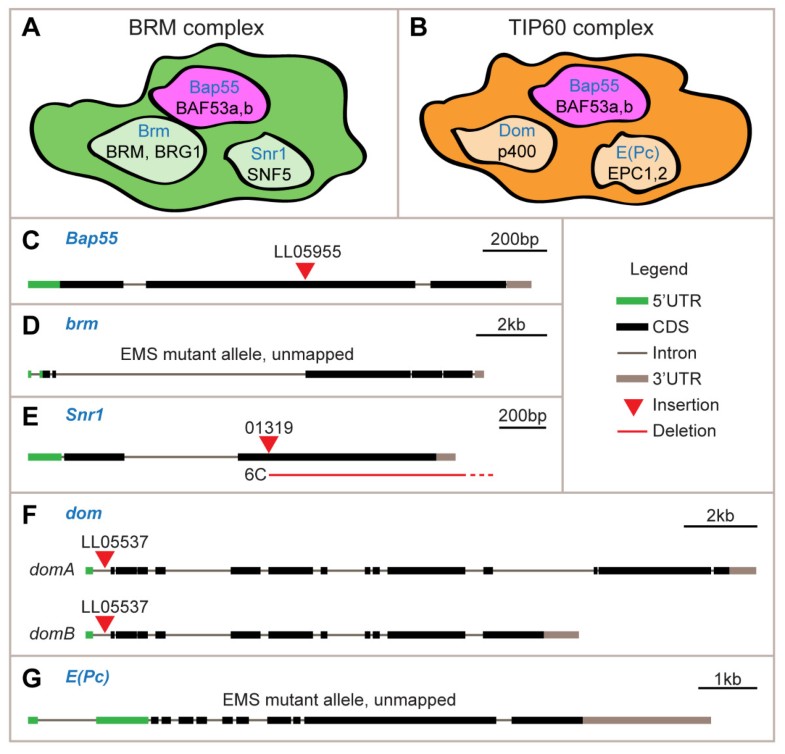 In Drosophila, RNA interference knockdown of Bap55 in embryonic class I da neurons revealed dendrite misrouting phenotypes and reduced arborization [15]. The human homologs of Bap55 are BAF53a and BAF53b, with approximately equal homology. BAF53a is important for maintaining embryonic stem cell self-renewal and pluripotency as a part of the BAF complex found in embryonic stem cells (esBAF) [16]. BAF53b is important for dendritic outgrowth as a part of the BAF complex found in postmitotic neurons (nBAF) [17]. However, previous experiments have not clearly distinguished whether Bap55/BAF53b acts exclusively as a part of the BRM/BAF complex in regulating dendrite development.
In experiments purifying proteins in complex with tagged Drosophila Pontin in S2 cells, Bap55 was also co-purified as a part of the TIP60 complex, as determined by mass spectrometry [18] (Figure 1B). The TIP60 histone acetyltransferase complex has been shown to be involved in many processes, including both transcriptional activation and repression [19]. The complex contains many components, including Bap55, Domino (Dom), and Enhancer of Polycomb (E(Pc)) [18]. Dom, homologous to human p400, is the catalytic DNA-dependent ATPase; its ATPase domain is highly similar to Drosophila Brahma and human BRG1 ATPase domains [20]. E(Pc) is homologous to human EPC1 and EPC2 and is an unusual member of the Polycomb group; it does not exhibit homeotic transformations on its own, but rather enhances mutations in other Polycomb group genes [21].
We provide evidence that Bap55 functions as a part of the TIP60 complex rather than the BRM complex in postmitotic PNs to control their dendrite wiring specificity.
Discussion
In this study, we demonstrate a similar role for three members of the TIP60 complex in olfactory PN wiring. We find that the TIP60 complex plays a very specific role in controlling dendrite wiring specificity, with a precise mistargeting of the dendrite mass in Bap55, dom, and E(Pc) mutants (Table 1). This specific DL1 to DA4l mistargeting phenotype has only been seen in these three mutants, out of approximately 4,000 other insertional and EMS mutants screened in our laboratory (unpublished data), supporting the conclusion that the TIP60 complex has a specific function in controlling PN dendrite targeting. We find that TIP60 complex mutants show discrete glomerular mistargeting, rather than randomly distributed dendrite spillover to different glomeruli. In contrast, perturbation of individual cell surface receptors often leads to variable mistargeted dendrites that do not necessarily obey glomerular borders [37, 38], possibly reflecting the combinatorial use of many cell surface effector molecules. Even transcription factor mutants yield variable phenotypes [5, 8]. Interestingly, BRM complex mutants yield non-stereotyped phenotypes in PNs. We do not see a stereotyped glomerular targeting for brm or Snr1 mutant dendrites; each PN spreads its dendrites across different glomeruli. Our data suggest that different chromatin remodeling complexes play distinct roles in regulating neuronal differentiation. The uni- or bi-glomerular targeting to specific glomeruli implies that the TIP60 complex sits at the top of a regulatory hierarchy to orchestrate an entire transcriptional program of regulation.
Our study suggests a function for Bap55 in Drosophila olfactory PN development as a part of the TIP60 complex rather than the BRM complex. Another possibility could be that Bap55 also serves as the interface between the BRM and TIP60 complexes. While loss of core BRM complex components results in a more general defect, loss of Bap55 could specifically disrupt interactions with the TIP60 complex but maintain other BRM complex functions, causing a more specific targeting phenotype mimicking loss of TIP60 complex components.
Interestingly, both human BAF53a and b can significantly rescue the Bap55 -/- phenotype. Though in mammals BAF53a is expressed in neural progenitors and BAF53b is expressed in postmitotic neurons [17], they can perform the same postmitotic function in Drosophila PNs. Further, both can function with the TIP60 complex in PNs to regulate wiring specificity. These data suggest that the functions for BAF53a and b (in neural precursors and postmitotic neurons, respectively) diverge after the evolutionary split between vertebrates and insects.
The discrete glomerular states of the mistargeting phenotypes may suggest a role for the TIP60 complex upstream of a regulatory hierarchy determining PN targeting decisions. It is possible that disrupting various components changes the composition of the complex. Additionally, overexpression of Bap55 in various mutant backgrounds might alter the sensitive stoichiometry of the TIP60 complex, resulting in targeting to different but still distinct glomeruli.
Studies in our laboratory have identified several mutants that cause DL1 PNs to mistarget to areas near the DM6 glomerulus [8] (Table 1 and unpublished results). Interestingly, WT DM6 PNs have the most similar lateral horn axon arborization pattern to DL1 PNs [2]. We hypothesize that the transcriptional code for DM6 is similar to that of DL1, which is at least partially regulated by the TIP60 complex. The genes described in this manuscript are the only mutants that have yielded specific DA4l mistargeting to date. It is possible that the targeting 'code' for DA4l, DL1, and DM6 may be most similar, such that perturbation of the TIP60 complex might result in reprogramming of dendrite targeting. PNs have previously been shown to be pre-specified by birth order [1]. Yet DA4l is born in early embryogenesis, DL1 is born in early larva, and DM6 is born in late larva [39]. This implies that the TIP60 transcriptional code does not correlate with PN birth order. The mechanisms by which the TIP60 complex specifies PN dendrite targeting remain to be determined.
Conclusions
In this study, we characterize PN phenotypes of mutants in the BRM and TIP60 complexes, with a focus on Bap55, which is shared by the two complexes. We find that the TIP60 complex plays a very specific role in regulating PN dendrite targeting; mutants mistarget from the DL1 to the DA4l glomerulus. This specific mistargeting phenotype suggests that TIP60 controls a transcriptional program important for making dendrite targeting decisions.
Abbreviations
BAC:

bacterial artificial chromosome
BAF:

Brg1 associated factors
Bap55:

Brahma associated protein 55kD
BRM:

Brahma
Dom:

Domino
E(Pc):

Enhancer of Polycomb
GFP:

green fluorescent protein
PN:

projection neuron
WT:

wild type.
Declarations
Acknowledgements
We thank the Developmental Studies Hybridoma Bank for antibodies; the Bloomington Drosophila Stock Center and JA Simon for fly stocks; the Drosophila Genomics Resource Center and GR Crabtree for DNA; O Schuldiner, D Berdnik, and JM Levy for collaboration on the piggyBac screen; D Luginbuhl for technical assistance; YH Chou, GR Crabtree, L Liang, and TJ Mosca for comments on the manuscript. This work was supported by an NIH grant to LL (R01-DC005982) and a fellowship from the National Science Foundation (JST). LL is a Howard Hughes Medical Institute Investigator.
Authors' Affiliations
(1)
Howard Hughes Medical Institute, Department of Biology, Neurosciences Program, Stanford University, Stanford, USA
Copyright
© Tea and Luo; licensee BioMed Central Ltd. 2011
This article is published under license to BioMed Central Ltd. This is an Open Access article distributed under the terms of the Creative Commons Attribution License (http://creativecommons.org/licenses/by/2.0), which permits unrestricted use, distribution, and reproduction in any medium, provided the original work is properly cited.