Research article
Open Access
Slit and Netrin-1 guide cranial motor axon pathfinding via Rho-kinase, myosin light chain kinase and myosin II
Neural Development
2010
5:16
Received: 23 March 2010
Accepted: 22 June 2010
Published: 22 June 2010
Abstract
Background
In the developing hindbrain, cranial motor axon guidance depends on diffusible repellent factors produced by the floor plate. Our previous studies have suggested that candidate molecules for mediating this effect are Slits, Netrin-1 and Semaphorin3A (Sema3A). It is unknown to what extent these factors contribute to floor plate-derived chemorepulsion of motor axons, and the downstream signalling pathways are largely unclear.
Results
In this study, we have used a combination of in vitro and in vivo approaches to identify the components of floor plate chemorepulsion and their downstream signalling pathways. Using in vitro motor axon deflection assays, we demonstrate that Slits and Netrin-1, but not Sema3A, contribute to floor plate repulsion. We also find that the axon pathways of dorsally projecting branchiomotor neurons are disrupted in Netrin-1 mutant mice and in chick embryos expressing dominant-negative Unc5a receptors, indicating an in vivo role for Netrin-1. We further demonstrate that Slit and Netrin-1 signalling are mediated by Rho-kinase (ROCK) and myosin light chain kinase (MLCK), which regulate myosin II activity, controlling actin retrograde flow in the growth cone. We show that MLCK, ROCK and myosin II are required for Slit and Netrin-1-mediated growth cone collapse of cranial motor axons. Inhibition of these molecules in explant cultures, or genetic manipulation of RhoA or myosin II function in vivo causes characteristic cranial motor axon pathfinding errors, including the inability to exit the midline, and loss of turning towards exit points.
Conclusions
Our findings suggest that both Slits and Netrin-1 contribute to floor plate-derived chemorepulsion of cranial motor axons. They further indicate that RhoA/ROCK, MLCK and myosin II are components of Slit and Netrin-1 signalling pathways, and suggest that these pathways are of key importance in cranial motor axon navigation.
Keywords
Growth ConeMyosin Light Chain KinaseExit PointMotor AxonFloor Plate
Background
Developing axons are guided by a range of molecules, including diffusible chemorepellents [1–3]. In the developing vertebrate hindbrain, the initial trajectory of cranial motor axons depends on repulsion from the ventral midline floor plate [4]. Both dorsally projecting branchiomotor and visceral motor (BM/VM) neuron subtypes and ventrally projecting somatic motor (SM) neuron subtypes respond to floor plate repulsion.
In vitro experiments have shown that the diffusible chemorepellents Netrin-1, Slit-1 and -2 and Semaphorin3A (Sema3A) repel BM/VM axons, whereas SM axons respond only to Sema3A [5–7]. Both Netrin-1 and Slits, but not Sema3A, are expressed by the hindbrain floor plate at times of early motor axon extension [7–11]. Slit-2 is also expressed by the rhombic lip, which borders BM/VM axon pathways dorsally [7, 12]. Thus, Netrin-1 and the Slits are prime candidates to mediate BM axon repulsion in vivo. Our hypothesis is that floor plate repulsion drives BM axons away from the midline, whereas a dorsal domain of repulsion might 'hem them in' to dorsal exit points. Consistent with this idea, BM neurons express Unc5a (also known as UNC5H1) and Robo1/2 receptors, which are required to mediate the repellent effects of Netrin-1 and Slits, respectively [7, 13–15]. Whereas a role for Slit-Robo signalling in cranial motor axon repulsion has been demonstrated in vivo [7], the extent of Netrin-1's contribution has been less clear. In this study, we therefore first examined the possible role of Netrin-1, and then determined the relative contribution of the putative molecular components of floor plate repulsion.
We have also investigated the signalling pathways involved in BM/VM (which we will now refer to as BM) axon guidance decisions, of which little is known. A key process in repellent growth cone decisions is actin retrograde flow, driven by myosin molecular motors, and in particular, myosin II (reviewed by [16]). Myosin II function is positively regulated by the phosphorylation of its regulatory light chain (MRLC) by myosin light chain kinase (MLCK) and negatively regulated by myosin light chain phosphatase. Both MLCK and RhoA kinase (ROCK) phosphorylate MRLC, while ROCK also indirectly activates myosin II by inhibiting myosin light chain phosphatase. Thus, RhoA acts via ROCK to control actin retrograde flow [17, 18]. However, there is as yet no evidence to suggest that myosin II operates downstream of Netrin-1 or Slits, and it has not been shown to play a role in vertebrate axon pathfinding in vivo.
In this study we have used a floor plate-motor axon deflection assay, and present evidence that both Netrin-1 and Slit chemorepellents contribute to BM axon deflection. We also analysed Netrin-1 mutant mice [19], and chick embryos in which a dominant negative form of the Netrin receptor Unc5a was electroporated into cranial motor neurons. In both cases cranial motor axon trajectories were altered in a manner consistent with a role for Netrin-1 in their pathfinding. We then used a combination of in vitro assays and in vivo electroporations in chick embryos to investigate whether Netrin-1 and Slit signalling in cranial motor neurons depends on ROCK, MLCK and myosin II. Inhibitors of ROCK, MLCK or myosin II abrogated or strongly attenuated cranial motor neuron growth cone collapse, and produced pathfinding errors in explant cultures. Electroporation of dominant-negative forms of RhoA and MRLC, and of a constitutively active form of MRLC also resulted in cranial motor axon pathfinding defects in vivo. Taken together, these data suggest that cranial motor axon repulsion by Slit and Netrin-1 is of crucial importance in governing axon pathfinding in the hindbrain, and is mediated by ROCK, MLCK and myosin II.
Discussion
In this paper we have demonstrated that both Slits and Netrin-1 contribute to floor plate chemorepulsion of cranial motor axons, and that Netrin-1 plays a role in this process
in vivo
. Repulsive responses of cranial motor axons to Slit and Netrin-1 require the activity of ROCK, MLCK and myosin II, pinpointing actin retrograde flow as a key executor of cranial motor neuron repulsion. Within the intact hindbrain,
in vitro
or
in vivo
, inhibition of RhoA/ROCK and inhibition or over-activation of MLCK/myosin II pathways led to reproducible defects in axon pathfinding (Figure
8
). Inhibition of these candidate molecules led to the ectopic positioning of cell bodies and axons in the floor plate, and the failure of axons to project or to target exit points correctly. All of these defects are consistent with a loss of repulsion by the floor plate and/or the dorsal neuroepithelium, and closely resemble defects resulting from attenuation of Slit or Netrin-1 signalling. Therefore, Slits and Netrin-1 play key roles in BM axon repulsion, acting via ROCK, MLCK and myosin II to regulate the growth cone cytoskeleton.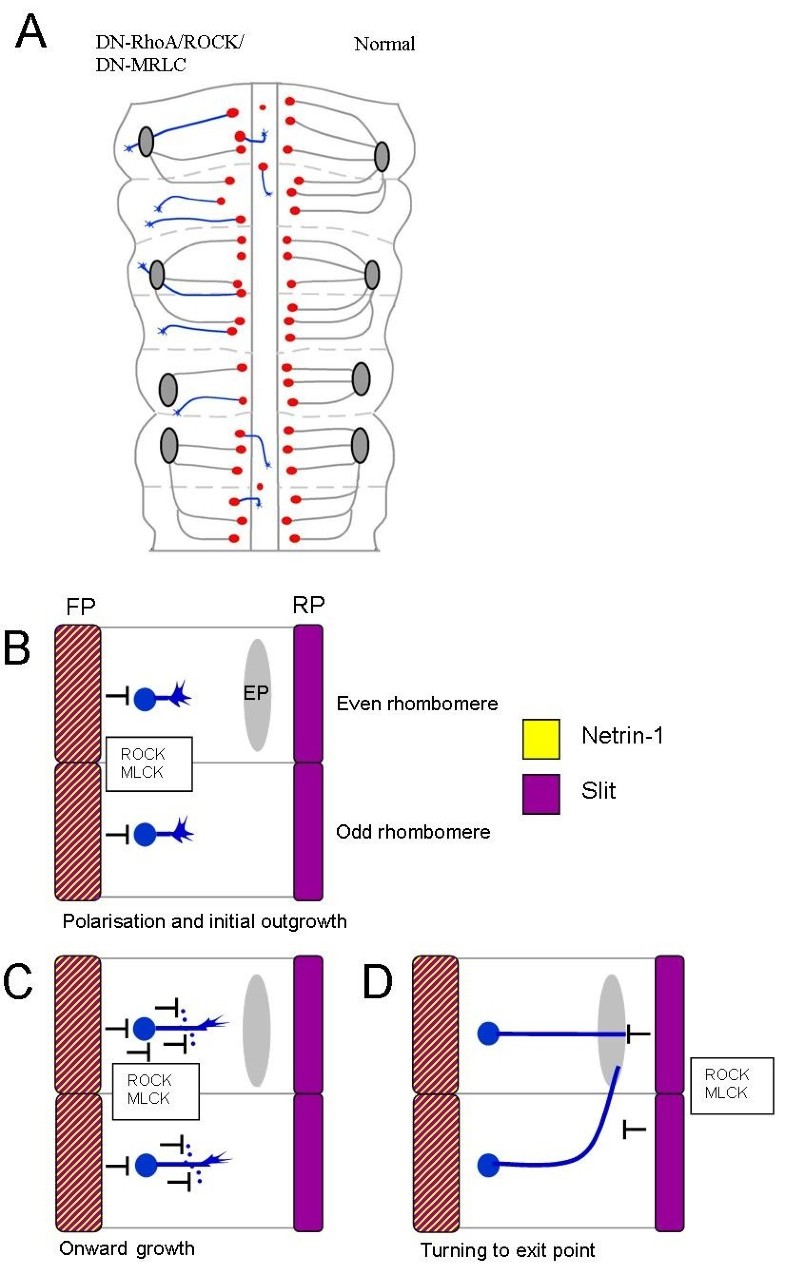 Slits and Netrin-1 collaborate in floor plate repulsion
The results of BM axon deflection assays suggest that both Slits and Netrin-1 but not Sema3A play a role in floor plate repulsion. Abrogation of either Slit or Netrin-1-dependent mechanisms was sufficient to block repulsion. Supportive evidence that both mechanisms participate comes from attenuating repulsive function in Slit1/2 double mutants, Robo1 or 2 single mutants or Netrin-1 mutants ([7] and this study). In all cases, phenotypes appear to reflect a partial elimination of floor plate repulsion. There is a discrepancy, therefore, between the presence of defects in single mutants, apparently reflecting an additive effect of Slit and Netrin-1 repulsion, and the redundancy of both mechanisms in our floor plate deflection assay. We think that this might reflect technical limitations of the deflection assay, and indeed in this system blocking both Netrin-1 and Slit signalling produces the strongest effect.
It would be challenging to abrogate both Slit and Netrin repulsive mechanisms genetically. But in view of the fact that we previously found that Slit-3 was not repulsive [7], analysis of Slit-1/Slit-2/Netrin-1 triple mutants would therefore be very interesting. Although we found that Sema3A did not play a role in floor plate repulsion, it remains possible that Sema3A derived from the notochord might contribute to cranial motor axon repulsion from outside the central nervous system [10]. Floor plate-derived SM axon repellents remain to be identified, as neither Slits nor Netrin-1 repel these axons [6, 7].
Our finding that antibodies to Unc5a and Robo1/2 block BM axon repulsion, and that Unc5a loss-of-function produces pathfinding defects, implicates these receptors in responses to Netrin-1 and Slits, respectively. While Robo1 and 2 have previously been established as responding to Slits in BM neurons, Netrin-1 signalling via Unc5a is less well understood. Whereas DCC (Deleted in colorectal cancer) alone can mediate Netrin-dependent attraction, Unc5a can function alone or with DCC to mediate repulsion [28–30]. We have previously shown that in the rat, Unc5a is expressed early during cranial motor axon projection away from the midline, while DCC is expressed later [13]. This suggests that Unc5a alone mediates the initial phase of cranial motor axon outgrowth; however, we have not formally tested the role of DCC.
Slit and Netrin-1-mediated growth cone collapse requires MLCK, ROCK and myosin II
Our experiments show that ROCK (and by implication RhoA) is required for both Netrin-1 and Slit-dependent motor neuron growth cone collapse. RhoA has been proposed to be involved in repulsive signalling in several systems (reviewed in [17, 18]) - for example, in Robo-dependent repulsive signalling at the midline in Drosophila [31] and in growth cone collapse [32]. Sema3A-dependent growth cone collapse in dorsal root ganglion neurons was found to be partially blocked by inhibition of ROCK [24]. However, a role for ROCK downstream of Netrin-1 and Slit in growth cone collapse has not previously been demonstrated. ROCK phosphorylates and activates MRLC [33, 34], and our results implicating both ROCK and myosin II in growth cone collapse suggest that MRLC is an important target of ROCK phosphorylation in our system. However, ROCK can also phosphorylate LIM kinase and thence affect the activity of cofilin, which is involved in actin severing/depolymerisation (reviewed in [18]). Indeed, cofilin has been implicated as a target of Slit signalling in Xenopus retinal axons [26], and it remains an interesting question as to whether cofilin is involved in the repulsive guidance events downstream of Slit in BM neurons. Our evidence for the roles of MLCK and myosin II in Slit and Netrin-1 signalling is consistent with studies in Drosophila suggesting that MLCK acts downstream of both Netrin and Slit-dependent axon pathfinding decisions at the midline [35].
RhoA, ROCK, MLCK and myosin II regulate cranial motor neuron pathfinding in vivo
Taken together, data from explant cultures and in vivo experiments suggest a crucial role of RhoA acting via ROCK and MLCK/myosin II in BM pathfinding decisions. In explants or in vivo, attenuation of either ROCK or MLCK function led to reproducible pathfinding errors that bore a close resemblance to axon pathfinding defects produced by attenuation of Slit-Robo signalling [7] (Figure 8A) and in Netrin-1 mutant/DN-Unc5a-expressing embryos. Inhibition of myosin II led to a loss of projections away from the midline, suggesting that myosin II is a crucial target of ROCK and MLCK to regulate cranial motor axon outgrowth and guidance (Figure 8).
RhoA/ROCK and MLCK/myosin II pathways thus ensure segregation of cranial motor neurons and their axon projections ipsilateral to the floor plate during normal development. Turning errors of r3/r5 axons were observed following attenuation of MLCK or MRLC function in vitro or in vivo, and axons overshot exit points. We speculate, therefore, that ROCK and MLCK act via myosin II to ensure axon deflection at the dorsal side of the neuroepithelium. Indeed, it has previously been shown that actin retrograde flow mediated by myosin II is required to suppress inappropriate protrusions on the side facing away from an attractant cue during growth cone turning [36]. Experiments demonstrating a role for MLCK and myosin II in dorsal root ganglion axons turning at borders between a laminin substratum and a non-permissive substratum support this idea [23]. Our interpretation is that BM axon turning towards exit points depends on localised repulsion at the dorsal edge of the neuroepithelium, possibly dependent on a narrow domain of Slit expression, which hems axons in to their exit points [7, 12, 34]. Indeed, when isolated from its adjacent mesenchyme, the dorsal tissue of the hindbrain acts as a source of chemorepulsion [37]. We cannot formally exclude, however, that attenuation of ROCK/MLCK/myosin II function blocks responses to exit point-derived chemoattraction [21]. However, the nature of such putative chemoattraction is unknown, and the most likely source, the boundary cap cells [38], are absent from our explant cultures. We also found that expression of CA-MRLC produced defects in BM axon guidance, including axons that overshot their exit points and branched ectopically. Fine regulation of MRLC activity therefore appears to be required for accurate BM axon guidance.
Conclusions
Model of repellent signalling pathways in cranial motor axon guidance
Our model, based on the current and previously published data, can be summarised as three phases of axon pathfinding during the dorsal projection of BM hindbrain motor neurons (Figure 8B-D). In the initial phase, Slit and Netrin-1 signalling from the floor plate, acting via RhoA/ROCK and MLCK/myosin II, would act to polarise the initial projection of motor axons away from the midline, and to exclude their axons and cell bodies from this region (Figure 8B). Secondly, the gradient of repulsion would steer axons away from the midline and suppress inappropriate branches (Figure 8C). Thirdly, a repellent border of Slit dorsally, acting via ROCK and MLCK, would mediate turning of axons in odd-numbered rhombomeres towards their exit point, and ensure the correct termination of both odd- and even-numbered axons at the correct dorsoventral level of the exit point (Figure 8D). An exit point-derived chemoattractant and/or anteroposterior polarisation of the neuroepithelium is required to explain the rostral (rather than caudal) projection. Nevertheless, key features of cranial motor axon navigation appear to depend on repulsive signalling mechanisms.
Abbreviations
BM:

branchiomotor
CA:

constitutively active
DCC:

DCC, Deleted in colorectal cancer
DN:

dominant-negative
E:

embryonic day
GFP:

green fluorescent protein
MLCK:

myosin light chain kinase
MRLC:

myosin regulatory light chain
myr-GFP:

myristylated GFP
r:

rhombomere
ROCK:

RhoA kinase
Sema3A:

Semaphorin3A
SM:

somatic motor
VM:

visceral motor.
Declarations
Acknowledgements
Thanks to Britta Eickholt for her help and advice during this project. This work was funded by a Wellcome Trust Project grant to SG and UD and a BBSRC PhD studentship to AM.
Authors' Affiliations
(1)
MRC Centre for Developmental Neurobiology, London, UK
Copyright
© Murray et al; licensee BioMed Central Ltd. 2010
This article is published under license to BioMed Central Ltd. This is an Open Access article distributed under the terms of the Creative Commons Attribution License (http://creativecommons.org/licenses/by/2.0), which permits unrestricted use, distribution, and reproduction in any medium, provided the original work is properly cited.