Research article

Open Access
Analysis of a zebrafish dync1h1mutant reveals multiple functions for cytoplasmic dynein 1 during retinal photoreceptor development
Neural Development
2010
5:12
Received: 23 November 2009
Accepted: 22 April 2010
Published: 22 April 2010
Abstract
Background
Photoreceptors of the retina are highly compartmentalized cells that function as the primary sensory neurons for receiving and initiating transmission of visual information. Proper morphogenesis of photoreceptor neurons is essential for their normal function and survival. We have characterized a zebrafish mutation, cannonball, that completely disrupts photoreceptor morphogenesis.
Results
Analysis revealed a non-sense mutation in cytoplasmic dynein heavy chain 1 (dync1h1), a critical subunit in Dynein1, to underlie the cannonball phenotypes. Dynein1 is a large minus-end directed, microtubule motor protein complex that has been implicated in multiple, essential cellular processes. In photoreceptors, Dynein1 is thought to mediate post-Golgi vesicle trafficking, while Dynein2 is thought to be responsible for outer segment maintenance. Surprisingly, cannonball embryos survive until larval stages, owing to wild-type maternal protein stores. Retinal photoreceptor neurons, however, are significantly affected by loss of Dync1h1, as transmission electron microscopy and marker analyses demonstrated defects in organelle positioning and outer segment morphogenesis and suggested defects in post-Golgi vesicle trafficking. Furthermore, dosage-dependent antisense oligonucleotide knock-down of dync1h1 revealed outer segment abnormalities in the absence of overt inner segment polarity and trafficking defects. Consistent with a specific function of Dync1h1 within the outer segment, immunolocalization showed that this protein and other subunits of Dynein1 and Dynactin localized to the ciliary axoneme of the outer segment, in addition to their predicted inner segment localization. However, knock-down of Dynactin subunits suggested that this protein complex, which is known to augment many Dynein1 activities, is only essential for inner segment processes as outer segment morphogenesis was normal.
Conclusions
Our results indicate that Dynein1 is required for multiple cellular processes in photoreceptor neurons, including organelle positioning, proper outer segment morphogenesis, and potentially post-Golgi vesicle trafficking. Titrated knock-down of dync1h1 indicated that outer segment morphogenesis was affected in photoreceptors that showed normal inner segments. These observations, combined with protein localization studies, suggest that Dynein1 may have direct and essential functions in photoreceptor outer segments, in addition to inner segment functions.
Keywords
Enhance Green Fluorescent ProteinOuter SegmentPhotoreceptor CellPhotoreceptor Outer SegmentCytoplasmic Dynein
Background
Photoreceptors are highly polarized sensory neurons that require intense protein trafficking through a narrow connecting cilium to optimize phototransduction in the light sensitive outer segment [1, 2]. As part of its normal physiology, the outer segment turns over about 10% of its length every day through a process called disc shedding. Disc shedding is compensated for by new outer segment assembly to maintain its length. The synthetic machinery supporting outer segment turnover is in the inner segment. In this compartment, newly synthesized outer segment proteins such as rhodopsin and phospholipids are delivered to the base of the connecting cilium in a vesicular fraction derived from the trans-Golgi [3, 4]. The inner segment also supports the highly dynamic synaptic compartment via a short axon.
Microtubule based motors are thought to play a significant role in each of the major compartments of the photoreceptor. For example, axonal transport by both dynein and kinesin motors is necessary to support proper ribbon synapse formation and maintenance [5, 6], and recent observations in zebrafish indicate that Dynactin1 is required for nuclear positioning in zebrafish [7]. Furthermore, Golgi and endoplasmic reticulum positioning and post-Golgi trafficking generally involve microtubule based motors [8, 9], and outer segment turnover is now known to depend on intraflagellar transport using kinesin and dynein motors along the axoneme of the outer segment [1]. Thus, photoreceptors utilize multiple microtubule based motors in diverse cellular processes to facilitate normal development, maintenance, and function.
Dynein1 is a multi-subunit complex that consists of two 530 kDa heavy chains, responsible for force production, a group of 74 kDa intermediate chains, 53 to 57 kDa light intermediate chains, and 8 to 21 kDa light chains [10]. In photoreceptors, Dynein1 has been implicated in post-Golgi trafficking of rhodopsin because Dynlt1 (formerly Tctex-1), a dynein1 light chain subunit, binds to the carboxy-terminal domain of rhodopsin and can translocate rhodopsin-containing vesicles on microtubules [11]. However, Dynein1 has also been implicated in multiple cellular functions, including the positioning of the Golgi apparatus, endosomes, lysosomes, nuclei, centrosomes and mitotic spindles as well as retrograde axonal transport in neurons [9, 12–15].
Another multi-subunit protein complex, Dynactin, serves as an adaptor and confers additional functions to Dynein1 by expanding the range of its cargo and increasing its motor processivity [13, 14, 16]. In a recent report, zebrafish embryos carrying a mutation (mikre oko or mok) in dynactin1a (dctn1a; previously called p150) failed to position photoreceptor nuclei to the proper layer without affecting the overall cell morphogenesis or the transport of opsins to the outer segment [7]. In the same study, the over-expression of another Dynactin component, Dctn2 (formerly p50/dynamitin), a manipulation known to dissociate the Dynein1/Dynactin complex, phenocopied mok. These results suggest that nuclear positioning in photoreceptor cells is carried out by a Dynein1/Dynactin dependent pathway.
To date, the precise cellular function(s) of Dynein1 in vertebrate photoreceptors remains poorly understood and recent studies have provided limited insight towards defining its role in trafficking and organelle positioning within the inner segment. In addition, potential Dynein1 functions within the outer segment have not been investigated. However, a second cytoplasmic Dynein, Dynein2, has been localized prominently in bovine photoreceptor outer segments along the connecting cilium, with expression also in the inner segment [17]. Functional insight for Dynein2 comes from knock-down studies in zebrafish where morpholinos directed against Dynein2 subunits resulted in short and disorganized photoreceptor outer segments [18]. Interestingly, the loss of Dynein2 function did not affect opsin trafficking, suggesting that Dynein2 plays a role in a transport pathway different from that proposed for Dynein1. Previous studies in Chlamydomonas and Caenorhabditis elegans, have clearly established a role for Dynein2 in the retrograde translocation of proteins from distal tips of ciliary axonemes to the base near the cell body [19–26]. This process, referred to as intraflagellar transport (IFT), requires a complex of at least 17 proteins for movement in the 'retrograde' direction. Indeed, in the study from Krock et al. [18], one anterograde IFT particle, IFT88, accumulated distally within photoreceptor outer segments of Dynein2 morphants, suggesting a failure in retrograde IFT.
Here we report the identification of a new zebrafish mutant, cannonball (cnb), which affects the dynein cytoplasmic 1 heavy chain 1 (dync1h1) locus. Using cnb, we studied the roles of Dynein1 in developing photoreceptor neurons. This mutant showed severe defects in photoreceptor organelle organization and outer segment formation. With regard to outer segment function, we present evidence that Dynein1 localizes along the connecting cilium and is detected in detergent extracted fractions enriched with axonemes of isolated outer segments. Finally, we used different concentrations of anti-sense morpholinos against dync1h1 to study dosage-dependent loss-of-function phenotypes. Embryos injected with a high dose of dync1h1 morpholino phenocopied cnb defects. Interestingly, lower concentrations of morpholino revealed specific outer segment defects. Overall, we provide support for multiple roles of Dynein1 in photoreceptor development, including organelle positioning, post-Golgi vesicle trafficking, and essential function(s) within the outer segment.
Discussion
In contrast to the early embryonic lethality observed in mice lacking
dync1h1
[
9
], the presence of residual wild-type maternal protein in zebrafish
cnb
mutants and
dync1h1
morphants permitted extensive analysis of phenotypes associated with photoreceptor development. Diminished Dynein1 function caused by either genetic mutation or morpholino knock-down resulted in severe photoreceptor defects without dramatic consequences on the development of the organism in general. Figure
14
summarizes the dose-dependent defects of
cnb
and
dync1h1
morphant photoreceptors that we observed. In the cell body, the nucleus had a rounded appearance and the inner segment rarely developed a normal elongated shape. These two phenotypes were previously described in embryos carrying mutations in
dynactin1
(
mok
) and
dynactin2
(
ale oko
), subunits of the Dynein1-interacting protein complex Dynactin [
7
,
33
,
34
]. Additional phenotypes in those dynactin mutants included moderate effects on neurogenesis and aberrant Müller glia cell polarity [
34
,
39
]. In our study, we focused on photoreceptors and found that strong loss of Dynein1 function resulted in a total failure of outer segment formation in both rods and cones. In contrast to
mok
and
ale oko
mosaic retinas, outer segment formation in
cnb
cells was not rescued when mutant cells were transplanted in a wild-type environment, indicative of a cell-autonomous function for Dynein1 in outer segment development. However, we cannot exclude non-autonomous influences for more subtle phenotypes associated with loss of
dync1h1
, such as the synaptic differentiation defects.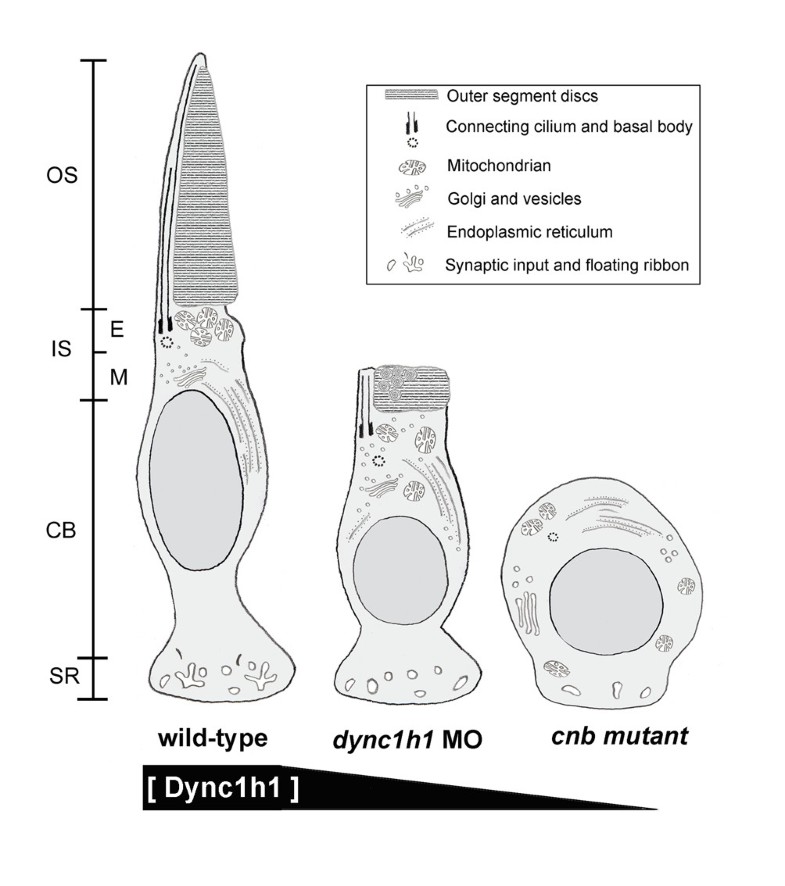 Since photoreceptors appeared to be dose-sensitive to reduced Dynein1 content, titration of dync1h1 morpholino allowed us to inspect photoreceptor cells that had outer segment development. These hypomorphic Dynein1 photoreceptors showed inner segment defects characterized by the abnormal accumulation of vesicles in the ellipsoid region and around the basal body, suggesting post-Golgi trafficking defects. Centrioles were often positioned further from the base of the connecting cilium, which may reflect a generalized disorganization of inner segment polarity. Polarization defects were also indicated by altered localization of multiple organelles, including Golgi and mitochondria. The lack of normal polarization could also be responsible for the failure to form proper synaptic terminals, but could also reflect defects in innervating cell types. Because peripheral cnb cells presented the strongest phenotype, a polarization defect could explain the overall rounded shape of these later-born photoreceptors, which are predicted to have the least amount of maternal Dync1h1 protein.
Interestingly, the lowest doses of dync1h1 morpholino allowed for outer segment development, but often resulted in significant disorganization of outer segment discs and accumulation of vesicle-like structures. This phenotype also occurred in wild-type cells, but at a lower proportion and to a greater severity (Table 2, Figure 9). We are not sure of the basis for this vesiculation phenotype, but several scenarios are possible. It may be that developing photoreceptors are sensitive to fixation artifacts or simply progress through a disorganized state before assuming a more regular, mature morphology. In this scenario, loss of Dynein1 function may simply delay outer segment development, increasing the proportion of artifacts or developmental disorganization. Alternatively, Dynein1 may be required in the inner segment for trafficking of essential outer segment components. Indeed, enlarged abnormal outer segments were previously reported in mice deficient in Rom-1 and Peripherin [41, 42], two proteins required to form and maintain the disc rim structures. Several lines of evidence indicate that an imbalance in the composition of these components in mature discs, and presumably their transport, result in the disruption of disc maintenance. In our prior studies of loss of KIF17, an anterograde IFT motor, we found similar outer segment defects, including accumulation of vesicle-like material in the outer segment [43, 44].
A third possible explanation for the outer segment disorganization is that Dynein1 may function directly within the outer segment for maintenance purposes. This possibility is also consistent with outer segment localization of Dynein1. Based on loss of function studies in Chlamydomonas and C. elegans, as well as subcellular localization studies in mammals, Dynein2 has been proposed as the 'retrograde' IFT motor [17, 19, 22]. Recent studies of zebrafish embryos lacking Dynein2 function showed cilia defects consistent with a block in retrograde IFT, but in photoreceptor cells the phenotype was relatively normal [18]. One intriguing possibility is that both Dynein1 and Dynein2 function in retrograde transport to maintain photoreceptor outer segments. Finally, it is also possible that a combination of these direct and indirect effects conspire to yield the outer segment phenotypes associated with partial loss of Dynein1 function.
Irrespective of the exact mechanism, our data support an essential (direct or indirect) role for Dynein1 in outer segment development and maintenance. We have shown that Dync1h1 localizes to the ciliary axoneme of outer segments and hypomorphic loss of function conditions showed specific outer segment defects. These data are consistent with both inner and outer segment roles for Dynein1. Intriguingly, the outer segment requirement of Dynein1 appears to be independent of Dynactin function as knock-down of both dynactin1a/1b subunits resulted in relatively mild phenotypes. Loss of Dynactin 1a/1b resulted solely in mild inner segment polarity and organelle positioning defects. Together, our results support a Dynactin-dependent role for Dynein1 in mitochondria, endoplasmic reticulum/Golgi and centriole positioning within the inner segment and a Dynactin-independent role for Dynein1 in outer segment function. A lack of effect on outer segment development with total loss of Dynactin1 was surprising in light of our finding that Dynactin1, like Dynein1, localized to the ciliary axoneme of the outer segment, in addition to the well-characterized inner segment expression. Potentially, Dynactin1 may normally augment Dynein1 functions in the outer segment, but its presence is not essential for Dynein1 function in this compartment of the photoreceptor.
Conclusions
In this study we show that the zebrafish cnb mutation is due to a nonsense, loss-of-function mutation in the dync1h1 gene. Analysis of photoreceptor development implicates cytoplasmic Dynein1 in multiple cellular functions, including organelle positioning, post-Golgi vesicle trafficking, and proper outer segment morphogenesis. Interestingly, titrated knock-down of dync1h1 indicated that outer segment morphogenesis was affected in some photoreceptors that showed normal inner segments. These data, combined with localization of Dynein1 components to outer segment axonemes, suggest that Dynein1 may have direct and essential outer segment functions. Our studies provide strong rationale for detailed analyses of microtubule-based motors in photoreceptor development and disease.
Methods
Animal husbandry
Zebrafish embryos were raised at 28.5°C and staged according to criteria described by Kimmel and colleagues [45]. Phenylthiourea was applied to embryos to prevent melanization when necessary. All experiments were approved and conducted in accordance with the guidelines set forth by the Institutional Animal Care and Use Committee of the Medical College of Wisconsin.
Transgenic and mutant lines
Transgenic and mutant lines included:cannonball/dync1h1mw20 (this study); hi3684 (direct data submission to The Zebrafish Model Organism Database [46]); Tg(Xlrho:EGFP)fl1 [27]; and Tg(1.3xops:xRhoCT44-GFP)a125 [40].
Antibodies
Antibodies included: mouse monoclonal anti-acetylated-α-tubulin (Sigma-Aldrich, St Louis, MO, USA); rabbit polyclonal anti-human Dync1h1 (amino-terminal 321 amino acids; serum #46, gift from Dr Richard Vallee, Columbia University); rabbit polyclonal anti-human Dync1h1 (carboxy-terminal 400 amino acids; 12345-1, ProteinTech, Chicago, IL, USA); rabbit polyclonal anti-rat Dync1h1 (amino acids 4,320 to 4,644; Dynein HC, R-325: sc-9115, Santa Cruz Biotechnology, Santa Cruz, CA, USA); rabbit polyclonal anti-Dync1i1 (gift from Dr Richard Vallee, Columbia University); rabbit polyclonal anti-Dynct1/p150 antibody (gift from Dr Kevin Vaughan, University of Notre Dame); mouse monoclonal anti-SV2 (Developmental Studies Hybridoma Bank).
Morpholino knockdown
Morpholino oligonucleotides (GeneTools, Inc., Philomath, OR) were targeted to splice site junctions (SP) or the translation start site (ATG) for dync1h1 or dnct1b: dync1h1 ATG MO, 5'-CGCCGCTGTCAGATTTCCTACAC-3'; dnct1b ATG MO 5'-TCTGAACTCATTCTGCTGCTGCCGC-3'; dnct1b SP MO, 5'-TCTATAACCATGTTTGACCTTGCTG-3'. Morpholinos were injected into one- to two-cell stage embryos at 10 nl volumes. Specific amounts injected varied from 2 to 10 ng total morpholino per embryo and are described in the text.
Light microscopy
Embryos were dechorionated and fixed overnight at 4°C in 2.5% gluteraldehyde/1% paraformaldehyde in phosphate buffered sucrose, pH7.4. The next morning embryos were dehydrated and infused with Epon. Transverse sections 1 μm thick were heat-mounted on gelatin coated glass slides, and stained with 1% toluidine blue. Images were captured using a Nikon5700 digital camera mounted on a Nikon E600 compound microscope.
Transmission electron microscopy
Fish were fixed in primary fixative and washed as for light micorscopy. Specimens were then post-fixed with 1% osmium tetroxide on ice for 1 hour to preserve membranes. Fish were dehydrated through a methanol series and acetonitrile and infiltrated with EMbed-812/Araldyte resin mixture. Ultrathin sections (60 to 70 nm) were collected on coated grids and stained with uranyl acetate and lead citrate for contrast. Images were captured digitally using Hitachi H600 TEM.
Transmission electron microscopy morphometrics
For quantitative TEM analysis, 5,000× magnification images were collected in the central and peripheral regions of the retina. Central was defined as the 50% middle arc length and the periphery as the 25% arc lengths at each retinal edge from where the marginal zone ended and cellular differentiation was evident. For each condition a minimum of three fields of view from each eye was evaluated and at least three eyes (from three different embryos) were scored. For each field of view the total number of photoreceptor cells was counted and total photoreceptor area as well as outer segment area was measured. All cell areas were measured using the Region Measurement function in MetaMorph software (MDS Analytical Technologies, Toronto, Canada). Finally, each cell was scored for outer segment vesiculation, depolarization (rounded shape, inappropriate organelle positioning), or as being apoptotic (condensed nuclei).
Western blotting and inner/outer segment extract preparation
The DEPC fraction was prepared from dark adapted bovine retinae as previously described [47].
For zebrafish extracts, embryos were terminally anesthetized and lysed using a plastic dounce fitted to a 1.8 ml microfuge tube. Embryos were homogenized in 200 to 400 μL of lysis buffer (1% Triton X-100/phosphate-buffered saline with 1× Protease Inhibitor Cocktail (Sigma, Cat#P8340)). A small aliquot of the homogenate was taken for protein concentration estimation and the rest added to an equal volume of sample buffer (2× Laemmli buffer). Samples were then boiled for 5 minutes and stored at -20°C until being subjected to PAGE using a 4 to 12% gradient SDS Ready gel (Bio-Rad, Hercules, CA, USA), Following PAGE, proteins were transferred to PVDF membrane using a semi-dry transfer apparatus. Blots were probed through standard methodology.
Immunolabeling
Adult zebrafish isolated inner segment/outer segment preparations and immunolabelings were performed as described previously using -20°C methonal:acetone (1:1) as the fixative [43]. Specimens for cryosections were fixed with 4°C, 4% paraformaldehyde and processed as previously described [48]. All images were obtained using confocal microscopy.
Mosaic analysis
Blastulae transplantation was performed as previously described to generate chimeric embryos [48]. Four separate experiments were carried out to achieve n = 10 embryos for both wild-type donor/wild-type host and cnb donor/wild-type host.
Generation of -3.2 kb gnat2:Man2a(1-100aa)-GFP construct
Gateway cloning technology (Invitrogen, Carlsbad, CA) was used in tandem with the Tol2 kit [49] to generate a 5 prime entry clone containing a previously characterized cone-specific photoreceptor promoter sequence (-3.2 kb of gnat2) [50]. A middle entry clone was then generated by PCR to incorporate the first 100 codons of zebrafish mannosidase2A, which is known to localize specifically to the Golgi apparatus [51]. Finally, a 3 prime entry clone containing GFP was used to add an in-frame carboxy-terminal fusion with the fluorescent protein.
Abbreviations
cnb :

cannonball
dfp:

days post-fertilization
dctn1a :

dynactin1a
DEPC:

detergent-extracted photoreceptor cytoskeleton
dync1h1 :

cytoplasmic dynein heavy chain 1
EGFP:

enhanced green fluorescent protein
IFT:

intraflagellar transport
TEM:

transmission electron microscopy.
Declarations
Acknowledgements
This project was supported by an NIH training grant in Vision Sciences T32EY014536 (CI and LMB) and NIH grants R01EY03222 (JCB) and R01EY014167 (BAL) as well as a National Eye Institute Core Facilities grant P30EY001931. The cnb allele was isolated in a genetic screen conducted in John E Dowling's laboratory (Harvard University). Initial genomic linkage was carried out by the mapping facility at the University of Louisville and directed by Ronald G Gregg. We thank James M Fadool (Florida State University) for sharing the ID1 antibody and the Tg(X1rho:EGFP)fl1 line and Susan E Brockerhoff (University of Washington) for sharing the gnat2 promoter entry clone. We also thank Richard Vallee (Columbia University) and Kevin Vaughn (University of Notre Dame for sharing dynein and dynactic antibodies, Clive Wells for assistance with TEM studies, and Brian D Perkins (Texas A&M University) for sharing reagents and critically reading early versions of this manuscript.
Authors' Affiliations
(1)
Department of Cell Biology, Neurobiology and Anatomy, Medical College of Wisconsin, Milwaukee, USA
(2)
David H Koch Institute for Integrative Cancer Research, Massachusetts Institute for Technology, Cambridge, USA
Copyright
© Insinna et al; licensee BioMed Central Ltd. 2010
This article is published under license to BioMed Central Ltd. This is an Open Access article distributed under the terms of the Creative Commons Attribution License (http://creativecommons.org/licenses/by/2.0), which permits unrestricted use, distribution, and reproduction in any medium, provided the original work is properly cited.