Research article

Open Access
Steroid-triggered, cell-autonomous death of a Drosophila motoneuron during metamorphosis
Neural Development
2011
6:15
Received: 1 October 2010
Accepted: 27 April 2011
Published: 27 April 2011
Abstract
Background
The metamorphosis of Drosophila melanogaster is accompanied by elimination of obsolete neurons via programmed cell death (PCD). Metamorphosis is regulated by ecdysteroids, including 20-hydroxyecdysone (20E), but the roles and modes of action of hormones in regulating neuronal PCD are incompletely understood.
Results
We used targeted expression of GFP to track the fate of a larval motoneuron, RP2, in ventral ganglia. RP2s in abdominal neuromeres two through seven (A2 to A7) exhibited fragmented DNA by 15 hours after puparium formation (h-APF) and were missing by 20 h-APF. RP2 death began shortly after the 'prepupal pulse' of ecdysteroids, during which time RP2s expressed ecdysteroid receptors (EcRs). Genetic manipulations showed that RP2 death required the function of EcR-B isoforms, the death-activating gene, reaper (but not hid), and the apoptosome component, Dark. PCD was blocked by expression of the caspase inhibitor p35 but unaffected by manipulating Diap1. In contrast, aCC motoneurons in neuromeres A2 to A7, and RP2s in neuromere A1, expressed EcRs during the prepupal pulse but survived into the pupal stage under all conditions tested. To test the hypothesis that ecdysteroids trigger RP2's death directly, we placed abdominal GFP-expressing neurons in cell culture immediately prior to the prepupal pulse, with or without 20E. 20E induced significant PCD in putative RP2s, but not in control neurons, as assessed by morphological criteria and propidium iodide staining.
Conclusions
These findings suggest that the rise of ecdysteroids during the prepupal pulse acts directly, via EcR-B isoforms, to activate PCD in RP2 motoneurons in abdominal neuromeres A2 to A7, while sparing RP2s in A1. Genetic manipulations suggest that RP2's death requires Reaper function, apoptosome assembly and Diap1-independent caspase activation. RP2s offer a valuable 'single cell' approach to the molecular understanding of neuronal death during insect metamorphosis and, potentially, of neurodegeneration in other contexts.
Keywords
Programme Cell DeathPropidium Iodide StainingControl NeuronVentral GanglionLarval Salivary Gland
Background
Metamorphosis of the fruit fly, Drosophila melanogaster, entails the transformation of a crawling, feeding larva into an adult capable of flight and reproduction. During this process the larval nervous system is reorganized to accommodate new adult-specific behaviors through neuronal remodeling, the development of previously quiescent adult-specific imaginal neurons, and the elimination of obsolete larval neurons by programmed cell death (PCD) [1, 2]. Neuronal death likewise accompanies embryogenesis, but the extent to which underlying causes and mechanisms of neuronal PCD are shared during these two periods, or with PCD in other cell types, is largely unexplored [3, 4].
Metamorphosis is regulated in large part by steroid hormones termed ecdysteroids, including the active metabolite, 20-hydroxyecdysone (20E). 20E exerts its actions via three isoforms of the ecdysteroid receptor (EcR): EcR-A, EcR-B1 and EcR-B2 [
5
]. The specific sequence of hormonal changes that drive metamorphosis in
Drosophila
are shown in Figure
1
. A 'late larval pulse' transforms the wandering larva into a white prepupa at puparium formation. A smaller 'prepupal pulse' approximately 10 hours after puparium formation (h-APF) initiates pupation, whose hallmark, head eversion, occurs at approximately 12 h-APF. A prolonged 'pupal pulse' beginning at approximately 24 h-APF drives the remaining development of the adult fly. As adult eclosion (emergence) approaches, ecdysteroids decline and remain low or absent during early adult life [
6
,
7
].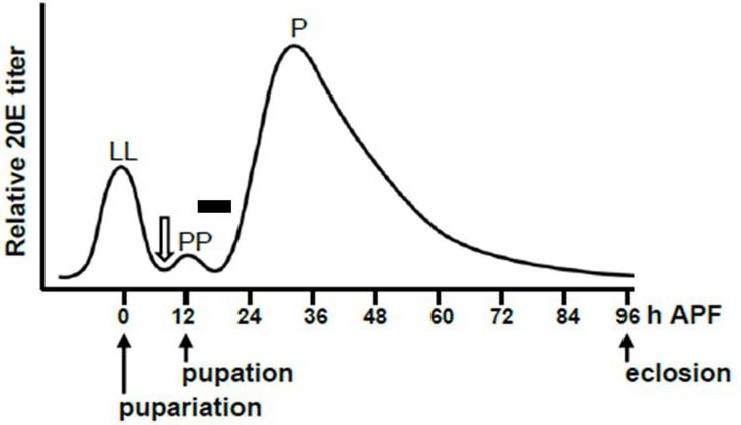 A role for ecdysteroids in postembryonic neuronal remodeling and PCD has been demonstrated in Drosophila and in another well-studied insect species, the hawkmoth Manduca sexta [1]. In Drosophila, the remodeling of larval motoneurons, mushroom body neurons and FMRFamide-expressing thoracic ventral neurons is regulated by the late larval pulse and pupal pulse of ecdysteroids [8–16]. The PCD of a subset of larval ventral neurons that express the neuropeptide Corazonin (vCrz) appears to be triggered by the late larval pulse, via EcR-B isoforms [17]. In Manduca, the remodeling or death of larval abdominal motoneurons is regulated by the prepupal and pupal pulses of ecdysteroids [18–23]. The decline in ecdysteroids at the end of the pupal stage in both Drosophila and Manduca triggers PCD of neurons not needed during the adult stage[2, 24, 25]. Drosophila neurons in this category include 'type II' neurons identifiable by their strong EcR-A expression, and a subset of neurons that express the neuropeptide crustacean cardioactive peptide [26, 27]. The death of type II and crustacean cardioactive peptide neurons requires both an ecdysteroid decline and an unidentified descending signal [25–28]. Manduca likewise has neurons that require these two cues to initiate PCD after eclosion [29, 30].
In Drosophila, PCD has been shown to be controlled through a balance between death-activating and death-inhibiting proteins. The core cell death machinery includes effector caspases which, following their activation by initiator caspases, degrade cellular proteins [31]. In Drosophila, the initiator caspase Dronc (Drosophila Nedd2-like caspase) likely governs most PCD [32–36]. Dronc autoprocessing and activation requires recruitment into an apoptosome formed by the Drosophila Apaf-1-related killer (Dark) protein [37–40]. Animals carrying dark mutations show PCD defects similar to those seen in dronc mutants [41–43]. Caspases are normally inhibited by the Drosophila inhibitor of apoptosis protein (Diap1) through ubiquitination [44–48]. The canonical cell death pathway involves the inactivation and degradation of Diap1 by proteins encoded by the genes reaper, hid, and grim [49–51]. The inactivation of Diap1 by Reaper, Hid or Grim allows Dronc to accumulate and be recruited into apoptosomes [38, 44, 52, 53].
In Manduca, the most detailed information regarding ecdysteroid-induced neuronal PCD has come from the segment-specific death of larval accessory planta retractor (APR) motoneurons during metamorphosis [20]. The death of a segmental subset of APRs at pupation is triggered directly and cell-autonomously by the rise in ecdysteroids during the prepupal peak, as demonstrated by placing the motoneurons in cell culture and exposing them to appropriate changes in 20E levels [54–56]. Likewise, PCD of the remaining APRs, which occurs following eclosion, is a direct, cell-autonomous response to the decline of ecdysteroids at the end of the pupal stage [24].
Delineation of molecular pathways by which ecdysteroids activate postembryonic PCD ideally requires an experimental system in which neurons of interest are direct targets of ecdysteroids, genes/proteins involved in PCD are known, and the EcRs and death genes can be genetically manipulated. The APRs of Manduca fulfill the first criterion but largely lack the other features. In contrast, Drosophila offers the latter two features but lacks identified neurons whose deaths unambiguously result from direct ecdysteroid action. The present experiments made use of RP2 motoneurons, which have been studied extensively in other contexts [57–59]. We found that a segmental subset of RP2s, located in abdominal neuromeres A2 to A7, undergoes PCD at the onset of metamorphosis in direct response to the rise in ecdysteroids during the prepupal pulse, and that EcRs and previously identified death genes participate in RP2's demise. This experimental system provides an opportunity to investigate the chain of events linking steroid hormone action to the PCD of an individually identified neuron during postembryonic development.
Discussion
Previous work in Manduca used a combination of in vivo and cell culture methods to establish that the segment-specific PCD of APR motoneurons during metamorphosis is triggered directly by ecdysteroids [20]. However, the relative lack of genetic tools available in Manduca motivated us to seek a comparable experimental system in Drosophila. After investigating a variety of potential reporters, we selected the even-skipped gene combined with other constructs (see Materials and methods) to drive GFP expression in two patterns that allowed us to track neuronal fates: RP2/aCC-enhanced and RP2-enhanced (Figure 2B). The lack of restriction of GFP expression to RP2s had advantages and disadvantages: one advantage is that the survival of aCCs under all conditions provided a powerful positive control for the death of RP2s in neuromeres A2 to A7. A disadvantage is that, even when using animals with the RP2-enhanced GFP labeling pattern, cell cultures contained some GFP-labeled neurons that were not RP2s. However, despite this complication, we readily detected 20E-induced PCD in culture (Figures 7 and 8). Further refinement of the reporter lines and genetic constructs could likely remedy these current limitations. The present study establishes RP2 motoneurons as tractable and informative subjects for investigating hormonally triggered PCD during Drosophila metamorphosis, in individually identified neurons of known function.
A segmental subset of RP2s is eliminated by programmed cell death
During Drosophila metamorphosis, many larval motoneurons are remodeled or undergo PCD. We determined that the segmental subset of RP2s in neuromeres A2 to A7 dies during the larval-pupal transformation, with PCD beginning at approximately 14 to 16 h-APF, based on the disappearance of GFP-labeled RP2s in ventral ganglia (Table 1; Figure 3A). That the disappearance of GFP-labeled RP2s resulted from death rather than other causes (for example, cessation of GFP expression) was confirmed first by the presence of TUNEL labeling (indicating DNA fragmentation) in RP2s during the same time period (15 h-APF; Figure 3B) and, secondly, by the finding that genetic manipulations of known Drosophila PCD genes could block RP2's death (Figures 4 and 5; see below). Not all RP2s were TUNEL-positive at 15 h-APF, likely due to minor temporal variability in the PCD pathway within and between animals, also seen during motoneuron death in Manduca [77]. In all experimental conditions, aCC motoneurons in A1 to A7, and the RP2s in A1, survived this period of development (see Results).
The involvement of programmed cell death genes and proteins in RP2s
It was beyond the scope of the present study to test the potential involvement of even a major fraction of genes implicated in Drosophila PCD. We instead focused on a small subset of representative genes. In Drosophila, the death-activating genes reaper, hid, and grim collectively or independently activate PCD, in many cases by antagonizing Diap1 [49–53]. Death of RP2s may depend exclusively on Reaper, as perturbation of reaper but not hid function impaired their deaths (Figure 4). We did not test the role of Grim directly but the finding that RP2 death was impaired in reaper mutants, despite one intact copy of grim, suggests that Grim is unnecessary. This is supported by studies suggesting that PCD in the developing central nervous system is normal in grim mutants [78].
In contrast to salivary glands[62, 67], we were unable to block the death of RP2s by ectopic expression of Diap1 (Figure 5A2). Likewise, in th SL homozygotes in which Reaper cannot inactivate Diap1, RP2 death was normal (Figure 5A3). Thus, Reaper-mediated PCD may be Diap1-independent in RP2s as well as vCrz neurons [17]. Reaper is multi-functional, including a role in mitochondrial permeabilization[79, 80], which has been shown to be required for some developmental PCD [81]. Regardless of the involvement of Diap1, caspase activation appears necessary for RP2 death in A2 to A7, as shown by the ability of the viral caspase inhibitor p35 to preserve these neurons (Figure 5C). Also consistent with the role of caspases, RP2 death was blocked in animals with mutations in dark (Figure 5D), whose gene product is a key component of the apoptosome, where caspases are activated.
These results are consistent with a general requirement for H99 proteins, caspases and apoptosome function for embryonic and postembryonic PCD in the nervous system and other tissues of Drosophila[41, 51], although cell-specific variation is observed [82]. For instance, both reaper and hid participate in death of larval salivary glands while only reaper is required for PCD of vCrz neurons [17, 53]. Likewise, as discussed above, the role of Diap1 may vary in different situations.
20E activates the programmed cell death pathway in RP2s
Several independent lines of evidence suggest that the rising phase of the prepupal pulse of ecdysteroids triggers the death of RP2s in A2 to A7: the RP2s have nuclear EcRs at this time (Figure 6A, B), genetic disruption of EcR function by overexpression of a dominant-negative receptor blocks RP2 death (Figure 6C) and, in cell culture, 20E treatment delivered at the time of the prepupal pulse promotes selectively the death of putative RP2s (Figures 7 and 8). The requirement for EcR function is consistent with the overall role of ecdysteroids in driving metamorphosis [7], with different isoforms often associated with different developmental events. The EcR-A isoform mediates the PCD of type II neurons at the end of metamorphosis when ecdysteroids decline [27], whereas EcR-A is not required for RP2 death (Figure 6D). One or both EcR-B isoforms must therefore be responsible, but distinguishing between them was beyond the scope of this study. In Drosophila, EcR-B isoforms are implicated in many cases of neuronal remodeling [13–15] and neuronal death, including that of vCrz neurons in response to the late larval pulse of ecdysteroids [17]. It is notable that both doomed RP2s and persisting aCCs had qualitatively similar patterns of EcR-B1 expression (Figure 6A, B), so the simple presence or absence of receptor cannot account for their different fates. Molecular players other than EcR, including EcR's heterodimerization partner, ultraspiracle (USP)[83, 84], and nuclear hormone co-regulators [85], are likely important for regulating neuron- and segment-specific actions of ecdysteroids.
The prepupal pulse of ecdysteroids begins at about 10 h-APF (Figure 1) and the death of RP2s begins between 14 and 16 h-APF (Table 1; Figure 3). This delay is consistent with typical latencies for EcR-induced cellular changes mediated via gene transcription [86]. We tested the hypothesis that the rise in the prepupal pulse of ecdysteroids triggers RP2 death by preparing neuronal cultures at 8-h APF and maintaining them with or without 20E for 48 or 72 h (Figures 7 and 8). In the absence of a reporter line that restricted GFP expression to RP2s, we used animals with the RP2-enhanced GFP labeling pattern in which most but not all GFP-labeled neurons were RP2s. Furthermore, due to variation in the exact site of the cut made to separate the thoracic and abdominal regions of the ventral ganglion before dissociating neurons, some RP2s from neuromere A1 may have been included in some cultures. Both of these factors could potentially impair the ability to detect a 20E effect. However, the ability of 20E to induce PCD of putative APRs was robust in each of the four independent experiments shown in Figures 7C2 and 8C2; in all cases, significantly more putative RP2s died in the presence than in the absence of 20E. Furthermore, this effect was specific to these neurons as 20E had no significant effect on the survival of control neurons in the same culture dishes. Results were essentially identical when using morphological criteria or PI staining to score neurons as alive or dead (Figure 8). Importantly, given that 20E exposure was maintained for the entire culture period, the rise in ecdysteroids during the prepupal pulse appears sufficient to trigger RP2 death, without requiring a subsequent decline in ecdysteroids. The same result was obtained for cultured Manduca motoneurons [56].
Some experimental limitations should be noted. Even after a 72-h exposure to 20E, some putative RP2s failed to degenerate (Figures 7 and 8); because the percentage of dying neurons increased between 48 and 72 hours, a longer culture period may have allowed more neurons to die. Conversely, some putative RP2s died when cultured in the absence of 20E; although all cultures were prepared at 8 h-APF, it is possible that some RP2s were already committed to PCD due to asynchrony when the prepupal pulse began. The identical phenomena were observed in Manduca, even with unambiguous identification of specific motoneurons by retrograde fluorescent labeling from their target muscle[24, 54, 56].
The present study identified the hormonal trigger and a few of the intermediate steps required for RP2's death during metamorphosis, but further experiments are required to determine to what extent the specific pathway for ecdysteroid-activated PCD in RP2s matches that in other Drosophila cells and tissues. Ecdysteroids and ecdysteroid-regulated early genes up-regulate Reaper and Dronc in larval midgut and salivary glands [87–91] and transcriptional co-activators or repressors that operate outside of EcR signaling (for example, Forkhead and Med24) may also be critical for the timing and execution of PCD [92, 93]. One intriguing but unanswered question is how segmentally iterated neurons such as RP2 exhibit segment-specific responses to a generalized hormonal cue.
Conclusions
This study introduces RP2 motoneurons as a useful model for investigating how ecdysteroids regulate postembryonic PCD in Drosophila in neurons of known function. Data from in vivo and cell culture experiments suggest that the rise in ecdysteroids during the prepupal pulse acts directly, via EcR-B isoforms, to activate PCD in RP2s in abdominal neuromeres A2 to A7, while sparing RP2s in A1. Genetic manipulations suggest that RP2's death requires Reaper function, apoptosome assembly and Diap1-independent caspase activation. RP2s offer a valuable 'single cell' approach to the molecular understanding of neuronal death during insect metamorphosis and, potentially, of neurodegeneration in other contexts [94].
Abbreviations
20E:

20-hydroxyecdysone
aCC:

anterior corner cell
APR:

accessory planta retractor
Dark:

Drosophila Apaf-1 related killer
DDM2:

Drosophila defined medium
Diap1:

Drosophila inhibitor of apoptosis protein 1
Dronc:

Drosophila Nedd2-like caspase
EcR:

ecdysone receptor
GFP:

green fluorescent protein
h-APF:

hours after puparium formation
PBS:

phosphate buffered saline
pCC:

posterior corner cell
PCD:

programmed cell death
PI:

propidium iodide th thread
TUNEL:

terminal deoxynucleotidyl transferase mediated dUTP nick end labeling
vCrz:

ventral corazonin.
Declarations
Acknowledgements
We thank Drs Kristin White and Michael Bender for generously providing fly stocks, Drs Chris Doe and Judith Eisen for critical reading of the manuscript and Dr Michelle Arbeitman for providing laboratory space for some experiments. This research was supported by an American Psychological Association Diversity Program in Neuroscience Predoctoral Fellowship and NIH DBTG 5-T32-HD007348 training support (AW), and grants from the Oregon Medical Research Foundation and Oregon Partnership for Alzheimer's Research (JCW).
Authors' Affiliations
(1)
Department of Biology, Institute of Neuroscience, University of Oregon Eugene, USA
(2)
Section of Molecular and Computational Biology, Department of Biological Sciences, University of Southern California, Los Angeles, USA
Copyright
© Winbush and Weeks; licensee BioMed Central Ltd. 2011
This article is published under license to BioMed Central Ltd. This is an Open Access article distributed under the terms of the Creative Commons Attribution License (http://creativecommons.org/licenses/by/2.0), which permits unrestricted use, distribution, and reproduction in any medium, provided the original work is properly cited.