Research article
Open Access
Rhombomere-specific analysis reveals the repertoire of genetic cues expressed across the developing hindbrain
Neural Development
2009
4:6
Received: 14 August 2008
Accepted: 10 February 2009
Published: 10 February 2009
Abstract
Background
The Hox family of homeodomain transcription factors comprises pivotal regulators of cell specification and identity during animal development. However, despite their well-defined roles in the establishment of anteroposterior pattern and considerable research into their mechanism of action, relatively few target genes have been identified in the downstream regulatory network. We have sought to investigate this issue, focussing on the developing hindbrain and the cranial motor neurons that arise from this region. The reiterated anteroposterior compartments of the developing hindbrain (rhombomeres (r)) are normally patterned by the combinatorial action of distinct Hox genes. Alteration in the normal pattern of Hox cues in this region results in a transformation of cellular identity to match the remaining Hox profile, similar to that observed in Drosophila homeotic transformations.
Results
To define the repertoire of genes regulated in each rhombomere, we have analysed the transcriptome of each rhombomere from wild-type mouse embryos and not those where pattern is perturbed by gain or loss of Hox gene function. Using microarray and bioinformatic methodologies in conjunction with other confirmatory techniques, we report here a detailed and comprehensive set of potential Hox target genes in r2, r3, r4 and r5. We have demonstrated that the data produced are both fully reflective and predictive of rhombomere identity and, thus, may represent some the of Hox targets. These data have been interrogated to generate a list of candidate genes whose function may contribute to the generation of neuronal subtypes characteristic of each rhombomere. Interestingly, the data can also be classified into genetic motifs that are predicted by the specific combinations of Hox genes and other regulators of hindbrain anteroposterior identity. The sets of genes described in each or combinations of rhombomeres span a wide functional range and suggest that the Hox genes, as well as other regulatory inputs, exert their influence across the full spectrum of molecular machinery.
Conclusion
We have performed a systematic survey of the transcriptional status of individual segments of the developing mouse hindbrain and identified hundreds of previously undescribed genes expressed in this region. The functional range of the potential candidate effectors or upstream modulators of Hox activity suggest multiple unexplored mechanisms. In particular, we present evidence of a potential new retinoic acid signalling system in ventral r4 and propose a model for the refinement of identity in this region. Furthermore, the rhombomeres demonstrate a molecular relationship to each other that is consistent with known observations about neurogenesis in the hindbrain. These findings give the first genome-wide insight into the complexity of gene expression during patterning of the developing hindbrain.
Keywords
Homeotic TransformationFacial Motor NucleusRhombomere BoundaryCranial Motor NeuronCyp1B1 Transcript
Background
Appropriate specification of body axes during development requires the precise control of a co-ordinated system of positional cues. How this is achieved by the diverse members of the animal kingdom has been the subject of much research and more speculation for many years. Significant progress came from the discovery of mutations in the Hox family of homeobox genes in Drosophila, where each Hox gene is expressed in a discrete domain along the anteroposterior (AP) axis, its activity confering a distinct identity on that region. Loss of function of a particular Hox gene leads to a predictable change in identity of the region in which the Hox gene was expressed. Defined as 'homeotic transformation', these findings clearly identified Hox genes as key regulators of positional identity [1–3].
Hox genes code for transcriptional regulators with a highly conserved 180 base-pair homeobox sequence that encodes a 60 amino acid DNA binding domain known as the homeodomain [4–6]. In Drosophila, the Hox genes are located in a single complex (HOM-C) that comprises two clusters of genes, the Antennapedia (ANT-C) and Bithorax (BX-C) complexes [2, 7]. To further underline their pivotal role in directing body patterning, Hox genes have been discovered in virtually all metazoans studied to date [8]. In the mouse, the Hox complex is made up of 39 genes distributed in paralogous clusters on four chromosomes (Hox A-D) [9]. In addition, it has been estimated there are >150 further 'non-clustered' homeobox containing genes [10–13]. Understanding the exact mechanism by which Hox genes exert their effects during development represents a key goal to deciphering the regulatory network underlying morphogenesis of the body plan.
One proposed mechanism for Hox gene action is that they act as 'selectors' whose homeodomain proteins subsequently activate a battery of 'effector' or 'realizator' genes that implement the effect on cellular identity [14]. Presumably, the existence of overlapping Hox expression domains would further promote the activation of a unique set of effectors. The complement of effectors that are activated or repressed may be further divided into those directly recognised by binding of the Hox protein (primary regulation) and those regulated by the effectors themselves (indirect or secondary regulation). The final readout of Hox activity on tissue patterning is likely to be a combination of both processes across a wide range of cellular machinery. Despite this being the prevailing view of Hox-driven cellular patterning, relatively few direct or indirect targets of Hox genes have been identified [15, 16]. Although some studies have established direct Hox targets in specific systems, they are insufficient to account for the ability of Hox proteins to direct homeotic transformations [17–19].
A key feature of both Drosophila and vertebrate Hox clusters is spatial co-linearity where, although there are exceptions, the expression of each Hox gene along the AP axis of the embryo is reciprocal to their order along the chromosome [20, 21]. The most striking parallel between vertebrate and Drosophila Hox gene function can be seen in the development of the hindbrain and spinal cord [15, 22–26]. It is now well established that the hindbrain is patterned by the combinatorial action of the Hox transcription factor code. The developing vertebrate hindbrain is transiently patterned into a series of metameric units called rhombomeres (r) that are cell-lineage restricted compartments. This characteristic series of morphological segments prefigures the ordered establishment of several neuronal populations in the hindbrain, including motor, reticulospinal and second-order sensory neurons [24, 25, 27–29].
Within the hindbrain region of the neural plate (initially defined as Gbx 2 positive), the Hox code is first set up under the influence of AP signals such as retinoic acid (RA) [23, 30, 31]. Given the distribution of Hox transcripts and their ability to act in a co-operative fashion, it has been suggested that individual rhombomere identity is conferred by a combinatorial code of the Hox proteins [25]. Functional evidence for the role of Hox genes in hindbrain patterning comes from interference studies on the Hoxb1 gene, which is normally highly expressed only in r4. Disruption of the Hoxb1 gene in mice leads to transformation of the r4 territory into an r2-like state [32], whereas retroviral-mediated over-expression of Hoxb1 in r2 causes homeotic transformation of r2 to r4-like in chick [33]. These and other examples suggest the loss of function of a Hox gene converts the territory it is normally expressed in to the identity usually associated with the remaining set of Hox genes [23, 26, 34–37]. The 'executive' function of Hox genes has also been described during neuronal specification along the AP axis of the spinal cord. Here, where Hox genes are also expressed at distinctive AP positions, they have been shown to regulate the establishment of the columnar and pool specification of motor neurons at both the brachial [38–40] and lumbar [41–43] levels [44].
Evidence is also emerging about some of the factors that act upstream of Hox genes to activate them at appropriate AP levels within the hindbrain. As well as an early influence of RA and cross-regulation between the Hox genes, upstream regulators include Mafb and Egr2. In addition to controlling segmentation of the neuroepithelium, these factors act in a parallel but related process to regulate the Hox genes. Thus, Mafb directly modulates expression of paralogue group 3 Hox genes in r5 [45, 46], and Egr2 is a direct activator of both Hoxa 2 and Hoxb 2 and a repressor of Hoxb1 [47–50].
Whilst Hox proteins have been shown to determine the assignment of neuronal identity in the developing neural tube and some of the up- and downstream regulatory components are known, we have sought to expand the identity of the set of genes that show regionally restricted expression across the hindbrain. These differentially expressed genes may be part of the downstream effectors responsible for Hox patterning. We reasoned that the developing hindbrain represents the ideal model system to investigate the genetic controls underlying the emergence of fine distinctions in rhombomere identity and motor neuronal diversity, as manifested by such properties as selective growth cone navigation and cell body migration. For example, each rhombomere is morphologically distinct and thus accessible and there is a precise correspondence between the rhombomeres and domains of Hox gene expression. Accordingly, the set of genes activated in each rhombomere can be linked with one Hox combination (that is, r2 with Hoxa2 alone, r4 with Hoxa2, Hoxb2 and Hoxb1). As well as activating a set of downstream effectors, Hox genes are known to contribute to the maintenance of their expression domains via both auto- and cross-regulatory interaction. Furthermore, there are numerous reports of functional redundancy between members of the Hox gene family. Taken together, these factors can potentially complicate the search for the downstream effectors by genetic intervention and candidate screening approaches. For these reasons, we have chosen to generate a set of candidate genes from individual rhombomeres expressing their normal repertoire of Hox genes.
Using microarray and bioinformatic methodologies in conjunction with other confirmatory techniques, we report here a detailed and comprehensive set of potential Hox target genes in r2, r3, r4 and r5. These data are used to address several questions about the patterning of the developing hindbrain. First, what set of genes is significantly differentially expressed between r2–r5 of the developing hindbrain? Second, can these sets of genes be classified into genetic motifs that logically correspond to Hox-driven patterning? Third, can we derive insights from this dataset to enhance our understanding of the observed pattern of neurogenesis in the segmental hindbrain?
Materials and methods
Microarray experiments
Neural tubes from stage-matched embryonic day (E)9.5 CD1 mouse embryos were isolated from surrounding ectoderm and mesoderm as described in [
51
]. Individual rhombomeres (r2–5) were isolated by cutting precisely along the characteristic rhombomere boundaries (Figure
1A
). To obtain sufficient total RNA for a microarray experiment, number-matched rhombomeres were collected in pools (Figure
1B
). Total RNA was isolated from each pool as described in [
51
]. Tissue samples collected by the above criteria but on different occasions by the same operator were designated as biological replicates. Each rhombomere is represented by triplicate pools (denoted as sets 1–3) and the number in each set is given in Figure
1B
. Labelled extracts were generated from 10 μg of total RNA by the Enzo (New York, NY, USA) T7-based 1 cycle protocol and hybridised to Affymetrix (Santa Clara, CA, USA) MOE430A GeneChips as per the manufacturer's instructions. The representation and efficacy of the labelled extract conversions was monitored by hybridization to Test 3 GeneChips prior to further use (data not shown).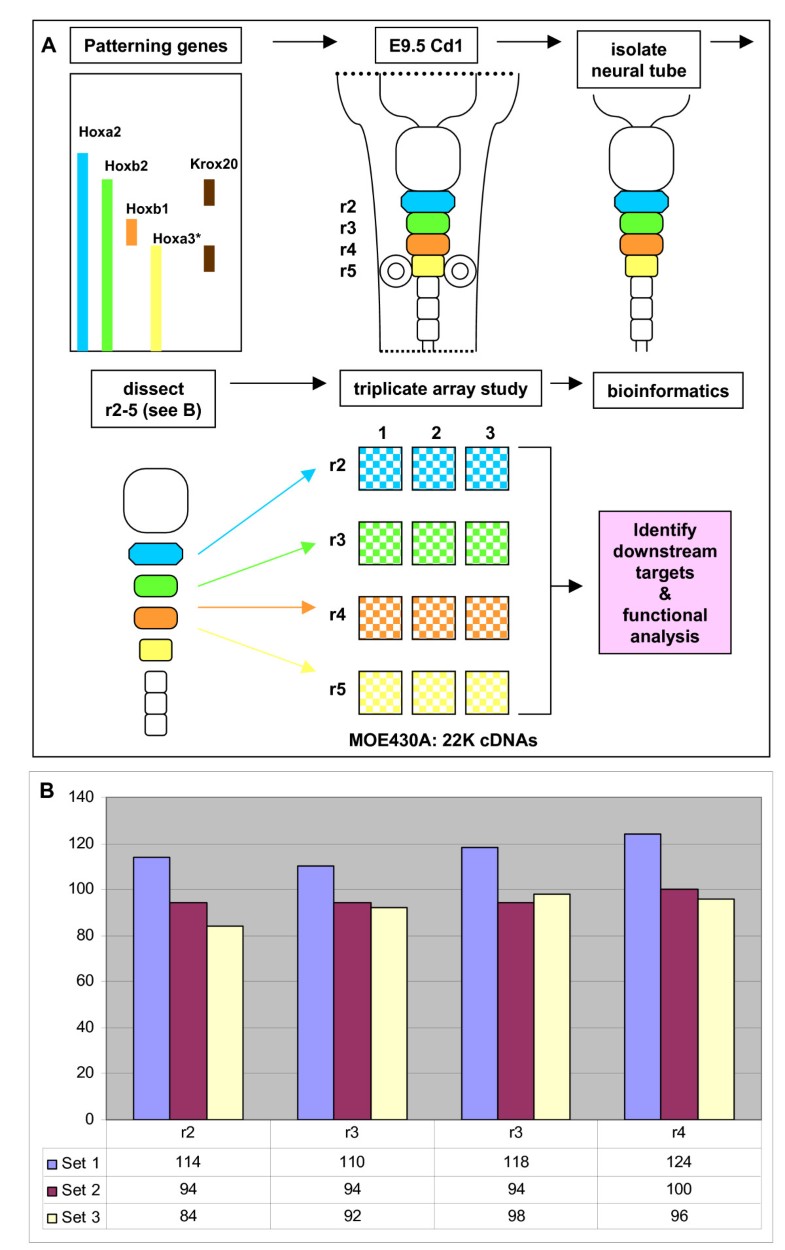 Bioinformatics
Probe level values were calculated from the raw data using the MAS5 algorithm embedded into the GCOS suite (version 1.2; Affymetrix). Data were analysed using the GeneSpring package (version 7.3.1; Agilent Technologies, Wokingham, Berkshire, UK). The suitability of the expression data sets for inclusion in the analysis and the overall relationship between and within the biological replicates was assessed using quantile plots, principle components analysis (PCA) and hierarchical clustering, respectively (data not shown and Additional file 1A,B). Differential expression between samples was determined by the application of a multi-step process. Samples were first normalised to the 50th percentile (median) across the entire expression dataset and then each gene was normalised to the median of its own expression across each rhombomere. Thus, gene expression profiles are scaled and centred about 1, where 1 represents the median of a gene's expression across the experiment. In this way, a gene expression value greater than 1 is classified as enriched whereas a value of less than one is depleted (or absent) in a particular rhombomere with respect to the median level of that gene's expression across the whole experiment. Prior to statistical analysis, genes classed as being not expressed (that is, absent in three of three biological replicates) or not varying their expression above a twofold level in any of the rhombomere samples after averaging their expression in the same rhombomere were removed from the analysis (defined here as 'non-changing' genes). Genes with low raw values across all of the rhombomeres (between 0.01 and 20) were also removed prior to statistical analysis. Using the remaining set of genes (defined here as 'changing and reliable' genes), genes whose expression levels differ significantly between each rhombomere were determined by one-way analysis of variance (ANOVA; p = 0.05). Statistically different genes were functionally classified using a combination of Gene Ontology (GO) criteria and other molecular descriptions derived from UniGene, GenBank and Entrez Gene databases. Genes were clustered into potentially co-regulated groups using both unsupervised and supervised approaches including self-organising maps.
Molecular analyses
Whole mount in situ hybridisation with digoxigenin-labelled riboprobes was performed as described in [51]. Embryos analysed by sectioning were embedded in 20% gelatin and fixed in 4% paraformaldehyde/phosphate-buffered saline for at least 3 days. Sections were cut at 40 μm on a vibratome and mounted in 80% glycerol/phosphate-buffered saline before being photographed using a digital camera. Reverse transcription PCR was performed as described [51].
Plasmids
Plasmids were obtained from the ImaGene resource centre (Berlin, Germany) by matching their unique Affymetrix identifier to the corresponding sequence-verified cDNA.
Discussion
Hox genes encode evolutionarily conserved homeodomain-containing transcription factors that have profound importance in the acquisition of regional and cell identity during development. However, the set of instructions encoded by a single or a combination of Hox proteins remains incomplete. We have established that the compartments associated with the developing hindbrain, whose identity is governed by the Hox code, show considerable differences in their transcriptional profiles. The set of genes defined as being differentially expressed across the hindbrain provide a large database of potential Hox effectors. These findings and their implications are discussed below.
Conclusion
Since the development of whole genome approaches to surveying gene expression, several studies have now described a systematic approach to defining the cascade of Hox downstream targets. This raises the possibility that in the future a consensus may emerge of the core set of genes regulated by Hox proteins. However, the extent to which Hox genes are used throughout development with respect to tissue and time suggests that in each context Hox genes activate a unique repertoire of targets. Due to the influence of cofactors and other modifying proteins, the set of targets derived from a single Hox gene in one tissue may be wholly unrelated to those regulated by the same gene in another tissue. Comparative analysis of datasets such as that described with other related screens [78] will significantly help address this issue. Furthermore, there is currently a significant research effort to direct the differentiation of neural stems towards a defined identity (for example, [79]). Together with other similar studies [19], the dataset described here provides a comprehensive set of genes that can be used to validate the appropriate activation of genetic programs for establishment of neuronal cell type associated with hindbrain patterning (for example, Hoxb1-dependent patterning in r4).
Abbreviations
ANOVA:

analysis of variance
AP:

anteroposterior
E:

embryonic day
GO:

Gene Ontology
PCA:

principle components analysis
r:

rhombomere
RA:

Retinoic acid, SEM: standard error ot the mean.
Declarations
Acknowledgements
The authors wish to thank Richard Wingate for many useful discussions and suggestions on the manuscript. The hybridisations and original scans of the GeneChip experiments were performed at the CSC/IC Microarray Centre (Hammersmith Campus, UK). The work was funded by a Wellcome Trust Functional Genomics Development Initiative grant to A Lumsden and by a Centre grant from the MRC.
Authors' Affiliations
(1)
MRC Centre for Developmental Neurobiology, King's College London, Guy's Campus, London, UK
(2)
Infogen Bioinformatics Ltd, Uphall, UK
Copyright
© Chambers et al.; licensee BioMed Central Ltd. 2009
This article is published under license to BioMed Central Ltd. This is an open access article distributed under the terms of the Creative Commons Attribution License (http://creativecommons.org/licenses/by/2.0), which permits unrestricted use, distribution, and reproduction in any medium, provided the original work is properly cited.