Research article
Open Access
Normal ventral telencephalic expression of Pax6 is required for normal development of thalamocortical axons in embryonic mice
Neural Development
2009
4:19
Received: 04 February 2009
Accepted: 05 June 2009
Published: 05 June 2009
Abstract
Background
In addition to its well-known expression in dorsal telencephalic progenitor cells, where it regulates cell proliferation and identity, the transcription factor Pax6 is expressed in some ventral telencephalic cells, including many postmitotic neurons. Its functions in these cells are unknown.
Results
We generated a new floxed allele of Pax6 and tested the consequences of a highly specific ventral telencephalic depletion of Pax6. We used the Six3 A1A2 -Cre allele that drives production of Cre recombinase in a specific region of Pax6-expression close to the internal capsule, through which thalamic axons navigate to cerebral cortex. Depletion in this region caused many thalamic axons to take aberrant routes, either failing to turn normally into ventral telencephalon to form the internal capsule or exiting the developing internal capsule ventrally. We tested whether these defects might have resulted from abnormalities of two structural features proposed to guide thalamic axons into and through the developing internal capsule. First, we looked for the early pioneer axons that project from the region of the future internal capsule to the thalamus and are thought to guide thalamocortical axons to the internal capsule: we found that they are present in conditional mutants. Second, we examined the development of the corridor of Islet1-expressing cells that guides thalamic axons through ventral telencephalon and found that it was broader and less dense than normal in conditional mutants. We also examined corticofugal axons that are thought to interact with ascending thalamocortical axons, resulting in each set providing guidance to the other, and found that some are misrouted to lateral telencephalon.
Conclusion
These findings indicate that ventral telencephalic Pax6 is important for formation of the Islet1-expressing corridor and the thalamic and cortical axons that grow through it. We suggest that Pax6 might affect thalamic axonal growth indirectly via its effect on the corridor.
Keywords
Internal CapsulePax6 ExpressionWhite ArrowheadDorsal ThalamusVentral Telencephalon
Background
The cerebral cortex receives most of its sensory innervation via thalamocortical axons, which start to form at about embryonic day 12.5 (E12.5) in mice. Thalamic axons initially grow antero-ventrally through the diencephalon before turning sharply laterally, avoiding ventral diencephalic regions containing the hypothalamus and forming the internal capsule in ventral telencephalon. After exiting the internal capsule, axons turn dorsally to reach cortex from about E13.5 [1, 2]. Previous studies have indicated two major mechanisms likely to guide advancing thalamic growth cones into and through ventral telencephalon [3–9]. First, several studies have suggested that a transient group of ventral telencephalic neurons project pioneer axons to the thalamus by E12.5, providing guidance for reciprocal thalamocortical axons [4, 6, 8–14]. Second, work by Lopez-Bendito et al. [15] showed that cells migrate from the lateral ganglionic eminence (LGE) to form a ventral telencephalic permissive corridor marked by expression of the transcription factor Islet1, through which thalamocortical axons grow.
Many transcription factors well-known for their functions in early patterning of the developing nervous system also have important functions in subsequent regulation of axonal navigation, by influencing the responses of growing axons and/or the deployment of guidance cues [16–18]. Pax6 is one such factor. In mice lacking Pax6, thalamic axons fail to navigate correctly in the ventral telencephalon and a normal internal capsule does not form [12, 19–21]. The mechanism of action of Pax6 in thalamocortical axonal development is unknown.
A critical step towards understanding how Pax6 regulates thalamocortical development is to define its site(s) of action. Comparing Pax6's spatio-temporal pattern of expression with the timetable of thalamocortical tract formation indicates that Pax6 could influence guidance by actions at the origin of the tract and/or in its target and/or in intermediate tissue [1, 2, 4–6, 19, 22–24]. Pax6 is expressed in the embryonic thalamus before thalamic axons develop [19, 20, 23–28]. Previous experiments using a co-culture approach have indicated that Pax6 is required in the thalamus for thalamocortical axons to navigate through ventral telencephalon [20]. Pax6 is expressed in the cerebral cortex from before the time when thalamic axons reach it [27, 29, 30]. A recent study by Pinon et al. [31] reported normal thalamocortical tract development following targeted deletion of Pax6 specifically in cerebral cortex from before the time of thalamocortical development, suggesting that Pax6 is not required in the cortex for thalamic axonal guidance. Pax6 is expressed by some ventral telencephalic cells in the vicinity of the internal capsule at the time when thalamocortical axons are navigating through this intermediate region [19, 27, 32, 33]. Its functions in these ventral cells are unknown; a logical extension of previous work is to investigate whether Pax6 in this region contributes to the generation of normal thalamocortical projections and, if so, how. These issues form the focus of the present study.
We addressed the possibility that normal expression of Pax6 in ventral telencephalic cells around the internal capsule is required for normal thalamocortical development. We generated a new floxed allele of Pax6 and crossed it with a strain of mice in which Cre recombinase expression is restricted to a very specific Pax6-expressing region of ventral telencephalon around the future internal capsule from before E12.5. This resulted in an early depletion of Pax6-expressing cells in this region and caused many thalamic axons to take aberrant routes. We tested possible mechanisms for these axonal defects and found that the Islet1-expressing corridor that normally guides thalamocortical axons failed to develop normally in conditional mutants.
Discussion
In the telencephalon, Pax6 is considered a major regulator of early dorsal patterning and development and its functions in ventral telencephalon, where it is less widely expressed, are obscure [
27
,
42
,
46
–
49
]. Our work indicates that ventral telencephalic Pax6 expression plays an important part in the development of the corridor that guides thalamic axons through the ventral telencephalon towards the cerebral cortex. Depletion of ventral telencephalic Pax6-expressing cells causes a diluted and broadened distribution of corridor cells and misrouting of some thalamic axons, both around their region of entry into the corridor and along its length. Our main findings are summarized in Figure
9
.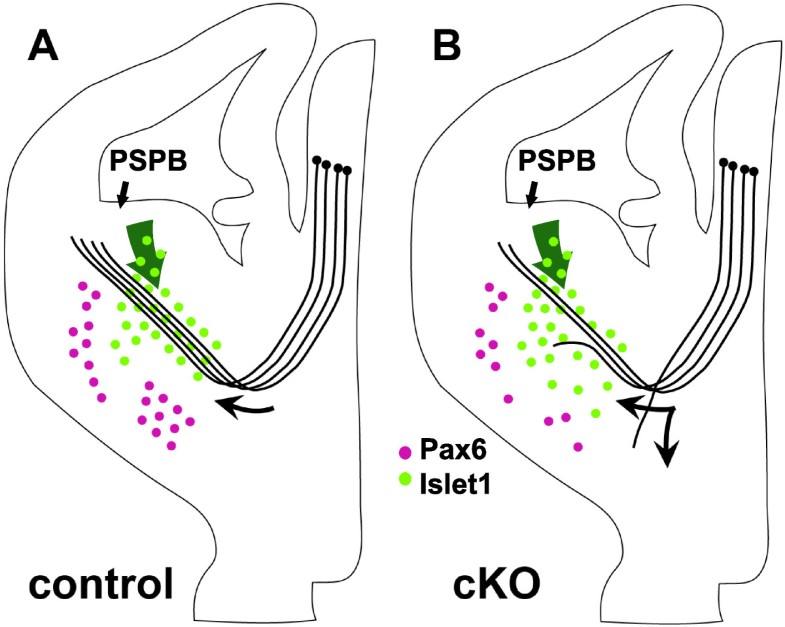 Conclusion
Our findings indicate an important novel function of Pax6 along the ventral aspect of the ventral telencephalon, constraining migrating LGE cells to form a tight Islet1-expressing cell-dense corridor and providing normal guidance cues for developing thalamocortical axons.
Materials and methods
Pax6 gene targeting
The RPCI-21 mouse PAC library [55] was screened with a Pax6 intron 6 probe and a clone, 450-I22, was cloned into the plasmid pZero2 (Invitrogen, Paisley, UK). A 10 kb intron 4 and 6 containing subclone, 247B1, was identified. A 1.8 kb Bam HI-Sac I fragment containing part of exon 4 and its downstream intron was subcloned from 247B1 and the loxP site-flanked neomycin resistance cassette from plasmid pNeoflox8 (W Muller, University of Cologne, Germany) was inserted into an Afl II site within a non-conserved region of mouse intron 4, generating a 3.1 kb insert. A 3.3 kb Sac I-Bam HI fragment containing exons 5, 5a and 6 and a 3.8 kb Bam HI-Not I fragment containing exon 7 were amplified from 129SvJ genomic DNA and cloned into pCR-BluntII-TOPO (Invitrogen). The reverse primer for the 3.3 kb fragment contained a single loxP site linked to a Bam HI site. The 3.1, 3.3 and 3.8 kb fragments were ligated together by oriented cloning to produce the final 10.2 kb targeting fragment (Figure 1A). The Not I linearized targeting construct (50 μg) was electroporated into E14Tg2a embryonic stem (ES) cells and neomycin resistant cell clones isolated after 10 days in culture. Clones were screened by Southern blot to identify those that had undergone homologous recombination (Figure 1B, C). Chimeric mice were generated by injecting C57BL/6 blastocysts with ES cells derived from three independent ES clones (4-B4, 6-B5 and 6-F9) of normal karyotype. F1 animals were genotyped by PCR with the forward primer 5'-AAATGGGGGTGAAGTGTGAG-3' and reverse primer 5'-TGCATGTTGCCTGAAAGAAG-3' that flank the single loxP site (Figure 1D) to identify founders.
Mouse mutants and breeding
The floxed Pax6 allele (designated Pax6 tm1Ued using Mouse Genome Informatics nomenclature) is referred to as Pax6 loxP and the floxed-deleted allele as Pax6 loxPΔ . Lines of mice carrying this allele and other transgenes (Six3 A1A2 -Cre [39]; Zp3-Cre [35]; Z/AP reporter [40]) were back-crossed for at least six generations to the Crl:CD-1 (ICR; Charles River, Tranent, UK) strain and were subsequently maintained on that background. The age of each embryo was counted from the morning of the vaginal plug (deemed E0.5) and confirmed by morphology. To generate conditional homozygous knockout animals (designated cKO for convenience), males either homozygous for the floxed Pax6 allele or compound homozygous for the floxed Pax6 and Z/AP alleles were crossed with females compound heterozygous for the floxed Pax6 allele and either the Six3 A1A2 -Cre allele or the Zp3-Cre allele. These crosses also generated embryos that were used as controls, that is, homozygous for the floxed Pax6 allele but lacking the Six3 A1A2 -Cre allele or compound heterozygous for the floxed Pax6 allele and the Six3 A1A2 -Cre allele. Neither two copies of the floxed-undeleted allele nor a single copy of a deleted allele caused detectable telencephalic defects. Animal care followed institutional guidelines and UK Home Office regulations.
Genotyping by PCR
Mice carrying the Pax6 loxP allele were genotyped using primers described above (Figure 1A, D). Mice carrying the Pax6 loxPΔ allele were genotyped using a forward primer in intron 4 (5'-TTACCCTGGCTTTGCTTTTG-3') and a reverse primer in intron 6 (5'-GGAGCAGTCCTTCACCTCTG-3') downstream of the single distal loxP site (Figure 1A, D). Cre recombinase-expressing transgenic mice were genotyped using primers to the Cre cassette (forward 5'-CATTTGGGCCAGCTAAACAT-3', reverse 5'-ATTCTCCCACCGTCAGTACG-3'). Z/AP transgenic mice were genotyped using primers to the hPLAP-encoding cassette (forward 5'-AACCCCAGACCCTGAGTACC-3', reverse 5'-GTGGAGTCTCGGTGGATCTC-3'). PCR reactions used standard conditions.
Histology
Mouse embryos were dissected in ice-cold phosphate-buffered saline (PBS) and then fixed by shaking in 4% (w/v) paraformaldehyde (PFA) in PBS at 4°C overnight. Following fixation, embryos were dehydrated, embedded in paraffin wax, sectioned at 10 μm in the coronal plane and mounted on poly-L-lysine coated slides.
Immunohistochemistry
Sections were dewaxed in xylene and hydrated through alcohols (including a 15 minute incubation in 3% (v/v) H2O2 in methanol to aid epitope recovery) to PBS, then boiled in 10 mM sodium citrate (pH 6) in a microwave. After blocking in 10% normal goat serum in PBS with 0.1% (v/v) Triton X-100 (PBS-TX), sections were incubated with primary antibodies at 4°C overnight. Sections were then washed twice in PBS-TX and incubated in 10% normal goat serum in PBS-TX for 10 minutes. Sections were incubated in a 1:200 dilution of biotin-conjugated goat anti-mouse secondary antibody in 10% normal goat serum in PBS-TX for 1 hour at room temperature and rinsed again in PBS-TX. An avidin-biotin reaction was carried out using 0.05% (w/v) diaminobenzidine in tris-buffered saline containing 0.02% H2O2. Sections were rinsed in water, dehydrated, cleared in xylene and mounted. Primary antibodies were for Pax6 (1:40; AD2.38, a gift from Professor V van Heyningen, MRC Human Genetics Unit, Edinburgh, UK), Islet1 (1:200; DSHB, Iowa City, IA, USA) and Mash1 (1:100; BD Pharmingen, San Jose, CA, USA).
Alkaline phosphatase staining
To reveal hPLAP activity, embryos were first dissected in ice cold PBS. Brains from embryos older than E12.5 were removed from their skulls and bisected parasagittally prior to fixation for 0.5 to 2 hours in 4% PFA on ice on a shaking platform. Tissue was then rinsed in ice cold PBS and embedded in 4% (w/v) agarose in PBS in blocks. Blocks were sectioned coronally on a vibratome at 100 to 200 μm. Sections were collected into wells containing PBS and then stained for hPLAP activity as described previously [40]. Sections were post-fixed in 2% (v/v) glutaraldehyde in PBS for 2 hours at 4°C, rinsed several times in PBS, cleared by passing through 1:1 (w/v) and 9:1 (w/v) glycerol:PBS and then mounted in 9:1 glycerol:PBS.
Carbocyanine dye injection and analysis
Brains were fixed overnight by shaking in 4% (w/v) PFA at 4°C. Two different methods were used to label the thalamocortical tract. In the first, whole brains were dissected away from their skulls and a medial slice of cortex was removed on both sides of the midline to expose the dorsal surface of the thalamus. Single crystals of the lipophilic tracer DiI were injected at three symmetrical positions along the rostrocaudal extent of the thalamus. In the second, whole brains were bisected parasagittally to expose the dorsoventral aspect of the thalamus at the midline. Injections of single crystals were made at three positions along the dorsoventral extent of the dorsal thalamus. In some experiments injections of DiI and the lipophilic tracer DiA were made in the cortex. All injections were made by picking up single DiI crystals with pulled glass capillaries and lancing the tissue at each desired location to deposit the crystal. Dyes were allowed to diffuse at room temperature for 4 to 6 weeks in 4% (w/v) PFA in PBS, rinsed in PBS, embedded in agarose, sectioned coronally on a vibratome at 100 to 200 μm, counterstained with 0.002% (w/v) bisbenzimide in PBS for 30 minutes at room temperature and cleared through glycerol.
Microscopy
All images were acquired using an epifluorescence microscope mounted with a digital camera. In epifluorescence, bisbenzimide appears blue (UV filter) and DiI appears red/orange (rhodamine filter).
Abbreviations
cKO:

conditional knockout
E:

embryonic day
ES:

embryonic stem
hPLAP:

human placental alkaline phosphatase
LCS:

lateral cortical stream
LGE:

lateral ganglionic eminence
MGE:

medial ganglionic eminence
PBS:

phosphate-buffered saline
PBS-TX:

PBS with 0.1% (v/v) Triton X-100
PFA:

paraformaldehyde
PSPB:

pallial-subpallial border.
Declarations
Acknowledgements
We thank Andrew Smith and Stephen Meek for help with the gene targeting to produce the floxed Pax6 allele, Werner Muller for the pNeoflox8 cassette, Veronica van Heyningen for the Pax6 antibody, Nicoletta Kessaris and Kairbaan Hodivala-Dilke for mouse lines, Rowena Smith and Katy Gillies for technical assistance and Anna Price for quantification of the corridor cell distributions. Funding was from the Wellcome Trust, MRC and BBSRC.
Authors' Affiliations
(1)
Genes and Development Group, Centre for Integrative Physiology, University of Edinburgh, George Square, Edinburgh, UK
Copyright
© Simpson et al.; licensee BioMed Central Ltd. 2009
This article is published under license to BioMed Central Ltd. This is an open access article distributed under the terms of the Creative Commons Attribution License (http://creativecommons.org/licenses/by/2.0), which permits unrestricted use, distribution, and reproduction in any medium, provided the original work is properly cited.