Research article
Open Access
Developmental patterning of glutamatergic synapses onto retinal ganglion cells
Neural Development
2008
3:8
Received: 29 January 2008
Accepted: 26 March 2008
Published: 26 March 2008
Abstract
Background
Neurons receive excitatory synaptic inputs that are distributed across their dendritic arbors at densities and with spatial patterns that influence their output. How specific synaptic distributions are attained during development is not well understood. The distribution of glutamatergic inputs across the dendritic arbors of mammalian retinal ganglion cells (RGCs) has long been correlated to the spatial receptive field profiles of these neurons. Thus, determining how glutamatergic inputs are patterned onto RGC dendritic arbors during development could provide insight into the cellular mechanisms that shape their functional receptive fields.
Results
We transfected developing and mature mouse RGCs with plasmids encoding fluorescent proteins that label their dendrites and glutamatergic postsynaptic sites. We found that as dendritic density (dendritic length per unit area of dendritic field) decreases with maturation, the density of synapses along the dendrites increases. These changes appear coordinated such that RGCs attain the mature average density of postsynaptic sites per unit area (areal density) by the time synaptic function emerges. Furthermore, stereotypic centro-peripheral gradients in the areal density of synapses across the arbor of RGCs are established at an early developmental stage.
Conclusion
The spatial pattern of glutamatergic inputs onto RGCs arises early in synaptogenesis despite ensuing reorganization of dendritic structure. We raise the possibility that these early patterns of synaptic distributions may arise from constraints placed on the number of contacts presynaptic neurons are able to make with the RGCs.
Keywords
Areal DensityDendritic ArborGlutamatergic SynapseSynaptic DensityDendritic Field
Background
Glutamatergic inputs provide the major excitatory drive onto neurons in the central nervous system (CNS). Much is known about how individual glutamatergic synapses are formed, maintained or eliminated during development [1–3]. The physiological function of postsynaptic cells, however, does not depend solely on how individual synapses are assembled. It also depends on the how the correct number, density, and often spatial distribution of these synapses are established across the dendritic arbor. How distinct spatial patterns of glutamatergic synaptic inputs are established during development is poorly understood. Addressing this fundamental issue appears more tractable in the retina than elsewhere in the CNS, largely because the functional input/output characteristics of its neurons have been well characterized and correlated with cellular morphology and circuitry [4].
In the vertebrate retina, many of the functional properties of retinal ganglion cells (RGCs) are determined by the lateral and vertical distribution of their inputs from bipolar cells (BCs). BCs that depolarize (ON) or hyperpolarize (OFF) in response to increased illumination stratify their axonal arbors at different depths within the inner plexiform layer (IPL; Additional file 1a). The laminar position of RGC dendrites within the IPL thus largely determines which functional type of BCs they contact. The axon terminal arbors of each subtype of BC also form non-overlapping mosaics in the IPL that maintain the spatial relationships of the inputs they receive from photoreceptors (Additional file 1b) [5–8]. Therefore, the lateral distribution of the RGC dendritic arbor and the inputs it receives from the overlying bipolar cell axonal mosaic largely determines the region of visual space sampled by the RGC (Additional file 1a,b). In primate [9] and rabbit [10, 11] retina, the distribution of BC inputs across the dendritic arbor of large field RGCs is relatively uniform. In contrast, the distribution of BC inputs onto the dendritic arbor of large field alpha RGCs in cat retina peaks near the center of the dendritic field [12] (Additional file 1d). This synaptic gradient matches the spatial sensitivity profile of the alpha RGC's physiological receptive field center [12]. How the pattern of BC synaptic input is thought to give rise to the dome-shaped receptive field center of the large-field RGCs is shown in Additional file 1c–f.
How RGCs attain their mature spatial patterns of glutamatergic synaptic input, and thus their spatial receptive field profile, is not known. This is largely because, like other CNS neurons, it is difficult to reconstruct all the synapses onto an individual cell using traditional methods, such as serial electron microscopy. We adopted a different strategy to more rapidly obtain synaptic distribution maps for developing and mature RGCs. We biolistically transfected mouse RGCs with td-Tomato and PSD95 fluorescently tagged with yellow fluorescent protein (PSD95-YFP) in order to label their dendrites and glutamatergic postsynaptic densities, respectively. Transient expression of fluorescently tagged PSD95 has been used to visualize glutamatergic synapses in several systems [11, 13–16]. In the retina, endogenous [17] and fluorescently tagged PSD95 [11, 13] have been found postsynaptic to BC terminals. We examined the distribution of PSD95-YFP puncta on RGCs from P5, just before they are known to receive functional glutamatergic inputs [18], until the first postnatal month when the arbors are morphologically mature [19]. In order to count large numbers of synaptic puncta and to obtain spatial maps of synaptic input across the RGC dendritic arbors, we developed a semi-automated Matlab program. We took advantage of the fact that bistratified (ON and OFF) RGCs and monostratified large field RGCs have different spatial patterns of inputs to ascertain whether such differences are shaped largely by remodeling during development, or whether they are established from the onset of synaptogenesis.
Results
Biolistic transfection of RGCs with td-Tomato and PSD95-YFP resulted in dendritic filling and punctate labeling of presumed glutamatergic postsynaptic sites after 18–24 hours, at all ages studied (Figures
1
and
2
; Additional file
2
). Using custom Matlab software we were able to map the distribution of dendritic length and putative synapses across dendritic arbors in three dimensions (Figures
1
and
2
; and see Materials and methods). We focused our analysis on RGCs with relatively large cell bodies and dendritic arbors because they were more readily labeled by biolistic transfection. These RGCs (n = 71) were classified as monostratified or bistratified. Monostratified cells were further classified as ON (inner 3/5 of IPL) or OFF (outer 2/5 of IPL) according to the depth of their dendritic stratification. At P5, we did not observe any RGCs with clearly separated ON and OFF arbors (bistratified cells). Thus, for this early age, we pooled cells into a single group.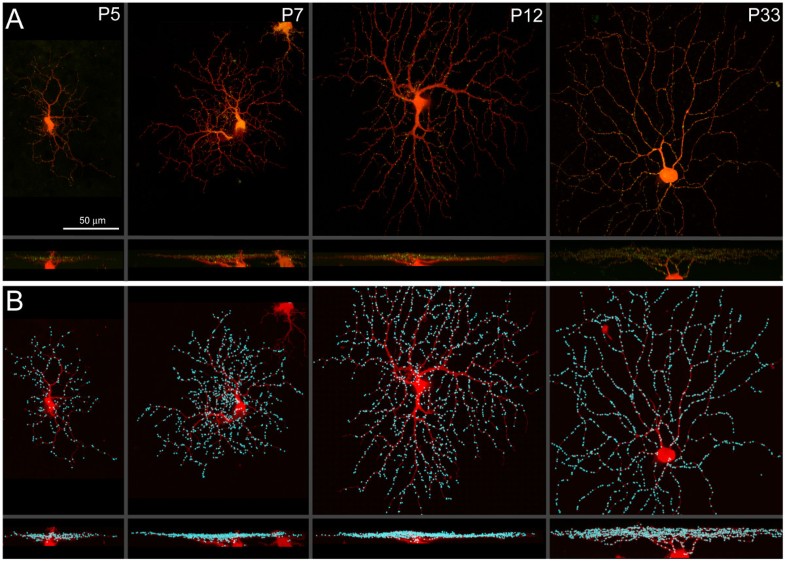 Conclusion
In summary, adult-like patterns of glutamatergic postsynaptic densities in RGCs emerge early in synaptogenesis, before functional maturation of BC ribbon synapses and before the structural maturation of the RGC dendritic arbor. These spatial synaptic patterns may be shaped by an early mosaic organization of the dendritic fields of RGCs and axonal fields of BCs, rather than derived from a protracted period of dendritic and synaptic remodeling.
Materials and methods
All experiments were carried out under University of Washington's Animal Care and Use Committee (IACUC) guidelines.
Cell transfection
C57BL/6 mice were anesthetized with 5% isofluorane and rapidly decapitated. Eyes were removed and placed in cold mouse artificial cerebral spinal fluid (mACSF (in mM): NaCl (119), KCl (2.5), MgCl2 (1.3), CaCl2 (2.5), NaHPO4 (1), glucose (11), HEPES (20), pH 7.37). Retinas were removed from the eyecup and mounted RGC side up on nitrocellulose filter paper (Millipore, Bedford, MA, USA). A Helios gene gun (Bio-Rad, Hercules, CA, USA) was used to ballistically deliver plasmid-coated gold particles. DNA-coated gold particles were prepared by coating [60] 12.5 mg of 1.0–1.6 μm gold particles (Bio-Rad) with approximately 20 μg CMV: td-Tomato and approximately 7 μg CMV: PSD95-YFP [61] plasmids. The tissue was then placed in an oxygenated incubator and maintained at room temperature for several hours before being heated to 33°C. Once expression levels were judged sufficient for imaging (18–24 hours post-transfection), the retinas were fixed for 30 minutes in 4% paraformaldahyde in mACSF, pH 7.4. The data in this study were obtained from 9 P5 retinas, 12 P7 retinas, 9 P12 retinas and 12 P33–35 retinas.
Immunolabeling
For immunolabeling, tissue was embedded in 4% low melting point agarose after fixation and cut into 60 μm thick sections using a vibratome. Sections were incubated in 1:1,000 mouse anti-CtBP2 (BD Transduction, Franklin Lakes, NJ USA) in 5% normal goat serum and 0.5% Triton-X overnight. The sections were then washed and incubated with an anti-mouse Alexa 633 secondary antibody (Molecular Probes, Carlsbad, California, USA) for two hours.
Imaging
Images were acquired with Olympus FV scanning confocal microscopes using a 1.4 NA 60× oil objective. Images were acquired at 0.103 × 0.103 × 0.3 μm (FV-500, FV-1000) or 0.115 × 0.115 × 0.3 μm (FV-300) voxel sizes. Although previous studies of mouse RGC maturation did not find significant differences in RGC development with retinal eccentricity [36], the extreme center and periphery of the retina were avoided in order to reduce the effects of centro-peripheral gradients in the maturation of their presynaptic cells, the BCs [46]. The borders of the IPL were identified by imaging reflected laser light and autofluorescence (not shown).
Image analysis
Images were processed using Metamorph (Molecular Devices, Sunnyvale, CA, USA), Amira (Mercury Computer Systems Inc. Chelmsford, MA USA), and Matlab (MathWorks, Natick, MA USA). Images were median filtered to reduce photomultiplier tube noise. The contrast and gamma of the images were adjusted to make dim features visible in the figures presented here. Custom Matlab programs were used to generate dendritic skeletons and to identify puncta (Figures
1
,
2
and
9
, and Additional file
7
).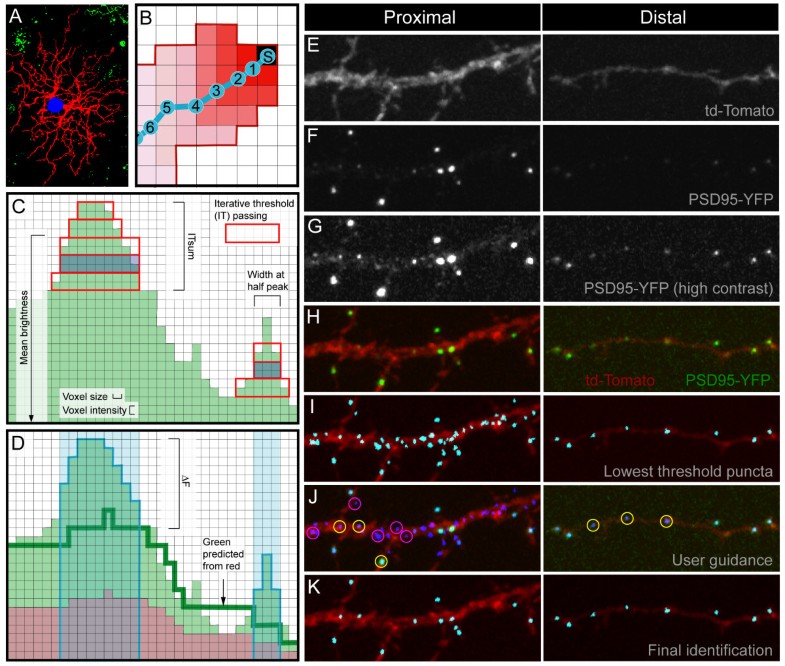 Skeletonization of dendrites
Dendrites were first identified manually, primarily by thresholding a median filtered image in Matlab or Amira. Cell bodies and debris were digitally highlighted in Amira and removed from further analysis (Figure 9a). Skeletons were then generated from binary masks of the dendrites by drawing segments between adjacent voxels within the mask (Additional file 7). Because thresholding created breaks in fine processes, the mask was first divided into groups of connected voxels. For each group of voxels, the voxel furthest from the group's center of mass was chosen as a seed voxel (Figure 9b). This seed voxel constituted the first point of the first line segment of the dendritic skeleton. The second point on this line segment was obtained by 'activating' all immediately adjacent voxels within the mask and then finding their mean position. These activated voxels activated their adjacent voxels in turn, thereby propagating a wave throughout the mask. With each step of activation, the mean position of the wave was added to the skeleton until the entire mask had been activated. The skeleton was then smoothed by reducing the number of nodes until each segment was approximately 0.5 μm. Small breaks in the skeleton (<3 μm) resulting from breaks in the mask were automatically bridged by additional segments.
Defining dendritic territories
The dendritic territory of a RGC is the two-dimensional area of retina covered by its dendrites. For our study, each dendritic territory was defined by first mapping its skeleton onto a two-dimensional matrix of 1 μm × 1 μm pixels. This map was then dilated by convolving it with a 10 μm diameter disk and binarizing the result. Gaps in the dilated territory were then filled by performing a morphological closing operation (dilation then erosion) using the same 10 μm diameter disk. Finally, any group of pixels completely surrounded by the product of the closing operation was included in the territory. Examples of territories resulting from this operation can be seen in the Results section.
Puncta identification
PSD95-YFP puncta were identified in three dimensions using a semi-automated custom Matlab program. Several measures were first collected automatically for all potential puncta from a given cell. We then manually sorted a subset of these potential puncta into positives (potential postsynaptic densities) and negatives (artifacts). The combination of thresholds for three criteria that optimally separated the positives from the negatives was then applied to all potential puncta of that cell. Thousands of puncta could thereby be identified and measured in three dimensions with relatively little user input.
For the automated phase of dot finding, images were first median filtered to reduce noise. The YFP channel was then thresholded at every other gray value (255 to 0) and each thresholded image searched for objects consisting of between 3 and 343 voxels (size criteria; see 'Imaging' for voxel size; Figure 9c). The binary results of each thresholding were then summed to create a three-dimensional map of each potential punctum, whose values corresponded to the number of times the potential puncta passed threshold. The full-width-half-maxima of these sums were defined as the punctum's volume. Adjacent puncta that merged at lower thresholds were identified as separate puncta according to the position of their peaks. A measure of punctum contrast was obtained by dividing the number of times each punctum passed threshold by the mean brightness of that punctum.
The td-Tomato signal was then used to make a prediction of the expected brightness of cytosolic YFP for a given region of the dendrite to which the actual brightness of a punctum could be compared (Figure 9d). Within non-punctate regions of the dendrite, each brightness value of voxels in the red channel corresponds to some value in the green channel; this relationship enables us to predict the brightness value for the green channel within the punctum based on the brightness value of the red channel at the punctum. The ΔF for the puncta was then defined as the mean difference from the predicted values of the brightest half of the puncta's voxels. The ΔF was then divided by the predicted brightness to obtain ΔF/F.
For the user-guided stage of puncta identification, a maximum intensity projection of the cell with all potential puncta labeled was generated from which the user could select a set of example positives and negatives (Figure 9e–j). These positives and negatives were chosen so as to include relatively dim puncta in the periphery of the arbor and to exclude irregularly shaped artifacts present in the cytosol of larger processes. Because some cells exhibited a centro-peripheral gradient in puncta brightness, a second measure of ΔF/F was generated that was scaled relative to a linear model of the relationship of ΔF/F and distance to the cell body (Figure 9e–h). A set of thresholds for contrast, ΔF/F and scaled ΔF/F were generated by finding the combination of thresholds that separated user identified positives from negatives with the smallest number of errors. This set of thresholds was then applied to all puncta. Additional iterations of user guidance could be used to improve the sorting of puncta; however, one or two rounds of user guidance were generally sufficient to sort puncta (Figure 9k).
Colocalization
Colocalization of PSD95-YFP puncta with the presynaptic protein CtBP2 was quantified by comparing the colocalization of the observed distribution of PSD95-YFP puncta to that of a randomized distribution. We defined an area around each potential postsynaptic site in which to search for presynaptic signal by dilating the volume of each identified PSD95-YFP puncta by 0.3 μm in three dimensions. Presynaptic sites were then defined by thresholding each optical plane in the CtBP2 channel to include all voxels that were at least 10% brighter than the median brightness of all voxels at that depth (all planes within ± 0.6 μm of z depth). Monte Carlo simulation was then used to determine what the rate of colocalization between PSD95-YFP puncta and CtBP2 signal would be if the PSD95-YFP puncta were randomly distributed. For each cell, dilated PSD95-YFP puncta were randomly rearranged across the surface of the cell's dendritic arbor 10,000 times. The number of overlapping voxels required to count a PSD95 puncta as colocalized with the CtBP2 signal was determined by finding the minimum number of overlapping PSD-95-YFP and CtBP2 voxels that would result in less than 50% of a cell's randomized puncta being counted as colocalized.
Statistics
Except where otherwise noted, we used Wilcoxon rank sum tests to assess statistical differences between groups. One-way ANOVA was used to compare values across ages. Paired tests were performed using a paired-sample sign test. R-values are correlation coefficients produced by dividing the covariance between two measures by the square root of the product of the covariance within each measure. The P-value associated with each R-value indicates the probability of observing an equal or greater R-value from a random pairing of measures (as determined by bootstrap analysis).
Electrophysiology
Tissue preparation and RGC identification
Retinal slice preparation was performed as previously described [62]. RGC somata were identified based on their location in the ganglion cell layer and their large diameter. The fluorescent dye, sulforhodamine B (0.005%; Sigma, St. Louis, MO, USA), was included in the intracellular solution. For whole-mount preparations, retinas were transfected with td-Tomato and PSD95-YFP as described above. After incubation, retinas were removed from filter paper and mounted on a plastic slide ganglion-cell-side-up in 1% low melting point agarose. Both td-Tomato-fluorescent and non-fluorescent RGC bodies were targeted. During the recording, RGCs were filled with Lucifer Yellow (0.05%; Sigma). We recorded only from cells with both an obvious dendritic arbor and axon.
Whole cell recordings
Whole-cell recordings were made from RGCs in both the retinal slice and in the whole mount preparation. Before a RGC in the whole mount preparation was accessible for the patch electrode, the fiber layer was removed above the cell using another electrode. The resistance of the patch electrodes with standard solutions usually ranged from 4–6 MΩ. Liquid junction potentials of 15 mV were corrected before the cell was attached. Series resistance and capacitance of pipettes as well as cell capacitance were not compensated. Seal resistances of 1 GΩ and higher were routinely obtained. sEPSCs were recorded from RGCs voltage-clamped at -60 mV, the reversal potential for currents through chloride-permeable channels. Spontaneous inhibitory postsynaptic currents were recorded at 0 mV, the reversal potential for currents through non-selective cation channels. Postsynaptic currents were recorded for a two minute period. The holding current was frequently monitored during an experiment, and recordings with shifting holding currents were aborted. All experiments were carried out at room temperature (20–22°C).
In some experiments, the glutamate receptor agonist kainic acid (10 μM, Sigma) was puffed onto the slice preparation using a Picospritzer System (General Valve Corporation, Fairfield, NJ, USA). The puffer pipette (filled with extracellular solution) was positioned so that the inner plexiform layer in proximity to the patch-clamped cell body was superfused. In this set of experiments, cadmium chloride (250 μM; Sigma) was added to the extracellular solution to block synaptic activity.
Data acquisition was performed with an Axopatch 200B amplifier with a frequency of 5 kHz using the Clampex software (Axon Instruments, Foster City, CA, USA). Signals were 2 kHz Bessel filtered.
Data analysis
sEPSCs were analyzed using Mini Analysis (Synaptosoft, Dectaur, GA, USA). All events were selected so that the rise and decay phases did not overlap. The median amplitude and mean frequency were obtained for each cell. In addition, we used the Clampfit 8.1 software (Axon Instruments) to measure the amplitude of kainic acid-evoked currents. Subsequent data processing was performed with the Origin 6.0 software package (MicroCal, North Hampton, MA, USA).
Solutions
Retinas were stored in physiological extracellular saline solution containing (in mM): NaCl (125), KCl (2.5), MgCl2 (1), NaH2PO4 (1.25), glucose (20), NaHCO3 (26) and CaCl2 (2). To maintain a physiological pH of 7.4, the solution was continuously bubbled with 95% O2 and 5% CO2. The intracellular patch clamp solution contained (in mM): cesium gluconate (120), CaCl2 (1), MgCl2 (1), Na-HEPES (10), EGTA (11), and TEA-Cl (10), adjusted to pH 7.2 with CsOH. The calculated chloride equilibrium potential (Ecl) was -59.3 mV whereas the equilibrium potential for currents through non-selective cation channel was 0 mV.
Neurotransmitter receptor antagonists CNQX (20 μM), AP-7 (40 μM), SR-95531 (5 μM), TPMPA (75 μM), and strychnine hydrochloride (5 μM) were dissolved in extracellular solution and bath-applied to the recording chamber by a gravity superfusion system. All chemicals were obtained from Sigma.
Declarations
Acknowledgements
We wish to thank Ann Marie Craig for providing the PSD95-YFP construct. We are also grateful to Ann Marie Craig, members of the Wong lab and Richard Masland for helpful discussions and critical reading of the manuscript. Supported by an NIH [NEI] grant to ROLW.
Authors' Affiliations
(1)
Department of Biological Structure, University of Washington, Seattle, USA
Copyright
© Morgan et al.; licensee BioMed Central Ltd. 2008
This article is published under license to BioMed Central Ltd. This is an open access article distributed under the terms of the Creative Commons Attribution License (http://creativecommons.org/licenses/by/2.0), which permits unrestricted use, distribution, and reproduction in any medium, provided the original work is properly cited.