Research article
Open Access
Amplification of neural stem cell proliferation by intermediate progenitor cells in Drosophila brain development
Neural Development
2008
3:5
Received: 27 November 2007
Accepted: 19 February 2008
Published: 19 February 2008
Abstract
Background
In the mammalian brain, neural stem cells divide asymmetrically and often amplify the number of progeny they generate via symmetrically dividing intermediate progenitors. Here we investigate whether specific neural stem cell-like neuroblasts in the brain of Drosophila might also amplify neuronal proliferation by generating symmetrically dividing intermediate progenitors.
Results
Cell lineage-tracing and genetic marker analysis show that remarkably large neuroblast lineages exist in the dorsomedial larval brain of Drosophila. These lineages are generated by brain neuroblasts that divide asymmetrically to self renew but, unlike other brain neuroblasts, do not segregate the differentiating cell fate determinant Prospero to their smaller daughter cells. These daughter cells continue to express neuroblast-specific molecular markers and divide repeatedly to produce neural progeny, demonstrating that they are proliferating intermediate progenitors. The proliferative divisions of these intermediate progenitors have novel cellular and molecular features; they are morphologically symmetrical, but molecularly asymmetrical in that key differentiating cell fate determinants are segregated into only one of the two daughter cells.
Conclusion
Our findings provide cellular and molecular evidence for a new mode of neurogenesis in the larval brain of Drosophila that involves the amplification of neuroblast proliferation through intermediate progenitors. This type of neurogenesis bears remarkable similarities to neurogenesis in the mammalian brain, where neural stem cells as primary progenitors amplify the number of progeny they generate through generation of secondary progenitors. This suggests that key aspects of neural stem cell biology might be conserved in brain development of insects and mammals.
Keywords
Neural Stem CellLarval BrainVentral GanglionCell Fate DeterminantGanglion Mother Cell
Background
Neural stem cells are primary precursors that have the ability to renew themselves at each division such that one of the two daughter cells retains stem cell identity, while the other enters a program of differentiation and contributes to a continuous supply of neural cell types. Understanding how neural stem cells maintain their pluripotent state and how their progeny differentiate into distinct neural fates is of central importance for understanding nervous system development (for recent reviews, see [1–3]). Neural stem cells must exert a tight control over proliferative divisions so as to generate the appropriate number of neural progeny necessary to populate the nervous system but not to produce so many self-renewing daughters that neoplastic overgrowth occurs [4]. Therefore, a better comprehension of the mechanisms that control the behavior of neuronal stem cells and their progeny may also be important for understanding brain tumors [5, 6].
The Drosophila central nervous system is an excellent simple model system for analyzing the molecular mechanisms that control neural stem cell divisions (for recent reviews, see [7, 8]). Drosophila neural stem cells, called neuroblasts (NBs), delaminate as single cells from the neuroectoderm and undergo repeated asymmetric cell divisions, each of which self-renew the NB while producing a smaller neural progenitor cell called a ganglion mother cell (GMC). Compared to the NB, the GMC adopts a radically opposite fate and undergoes a single neurogenic division to produce two cells that exit the cell cycle and differentiate (reviewed in [9–12]). During embryogenesis, each NB produces a lineage of 10–20 primary neural cells that contribute to the functional circuitry of the larva. Following a period of quiescence, most NBs resume their asymmetric mode of proliferative divisions during post-embryonic development and generate the lineage-related clusters of secondary adult-specific neurons that make up the bulk of the adult central brain and thoracic ganglia [13–16].
Mechanisms involved in NB division and neural proliferation during embryogenesis have been studied in great detail (reviewed in [7, 17–19]). NB divisions are known to be molecularly as well as morphologically asymmetric, and a number of key intrinsic and extrinsic factors that control the asymmetrical and self-renewing divisions of these NBs have been identified. Among these, a central role is played by molecular polarity cues that establish the apico-basal polarity of the NB and enable the asymmetric segregation of localized cell-fate determinants from the NB to the GMCs at each asymmetric cell division. Although considerable insight has been attained into the mechanisms by which NB polarity is established and maintained, little is known about the function of the proteins that are asymmetrically localized to the GMC. The best characterized of these fate determinants is the homeodomain protein Prospero, which is synthesized in the NB and localized at the cell cortex in a polarized manner. Upon segregation to the GMC, Prospero acts in the nucleus to repress NB-specific gene expression (including genes required for self-renewal) and activate genes for GMC fate specification and terminal differentiation of post-mitotic neurons [20–23]. Asymmetric segregation of Prospero protein is mediated by the adaptor coiled-coil protein Miranda. Once segregated from the NB to the GMC, Miranda is degraded, thereby releasing Prospero from the cell cortex and allowing it to enter the nucleus [24–26]. Indeed, the nuclear localization of Prospero is one of the first molecular differences between the self-renewing NB and a differentiating cell [27, 28].
During the postembryonic period of neurogenesis, the NBs of the central brain and thoracic ganglia are thought to undergo a similar proliferation program and express many of the asymmetric cell fate determinants that characterize embryonic neurogenesis [29, 30]. Nuclear localization of Prospero is manifest in GMCs and postmitotic neurons of the larval brain, and loss of prospero in somatic clones results in massive overproliferation of cells that express molecular markers of NBs [31–33]. Additionally, numerous other molecular control elements are likely to be required for the continuous mitotic activity of NBs during postembryonic life (reviewed in [34]).
Controlled neuronal proliferation is especially important for the generation of the adult brain. The mature brain of Drosophila is an exceedingly complex structure with numerous highly organized neuropil assemblies, such as the mushroom bodies, central complex and antennal lobes, as well as other specialized neuropils and major fiber tracts required for complex behavioral functions [35]. Remarkably, approximately 95% of the neurons that make up the adult brain are post-embryonic in origin, and in the central brain all of these neurons are produced by a set of only about 100 bilaterally symmetrical NBs [36, 37]. Given the fact that 100 NB pairs generate the tens of thousands of differentiated, spatially heterogeneous neurons in the adult central brain, sophisticated mechanisms for lineage- and region-specific amplification control of NB proliferation are likely to be required during post-embryonic brain development. However, with the exception of rough estimates, which suggest that each brain NB might undergo between 40 and 60 rounds of post-embryonic mitosis to produce lineages of 100–150 neurons, very little is known about this process and the underlying molecular mechanisms.
Here we report that a striking amplification of neuronal proliferation is achieved by specific brain NBs during postembryonic development through the generation of intermediate progenitor cells (IPs). Using cell lineage-tracing and marker analysis, we show that remarkably large NB lineages develop in the dorsomedial (DM) area of the larval brain. Like any other lineages in the brain, they derive from unique NB precursors that remain associated with their post-mitotic neuronal progeny. In addition, they contain a large pool of cells that do not express neuronal differentiation markers, are engaged in the cell cycle, and show mitotic activity. While some of these mitotically active cells are GMCs, the others express NB-specific molecular markers and divide repeatedly to produce neural progeny, implying that they are IPs. The proliferative divisions of these IPs are morphologically symmetrical, but molecularly asymmetrical in that cell fate determinants such as Prospero and Miranda are segregated into only one of the daughter cells. The IPs are generated by a specific set of NBs that do not segregate Prospero to their smaller daughter cell, thereby allowing this cell to retain proliferative capacity instead of undergoing its final neurogenic division. The amplification of NB proliferation through IPs reported here for Drosophila bears remarkable similarities to mammalian neurogenesis, where neural stem cells as primary progenitors often amplify the number of progeny they generate via symmetrically dividing secondary progenitors (reviewed in [2]). This suggests that key aspects of neural stem cell biology might be conserved in brain development of flies and mammals.
Discussion
In this report, we present cellular and molecular evidence for a new mode of neurogenesis in the larval brain of
Drosophila
. In the canonical model for postembryonic neurogenesis exemplified by the non-DM lineages of the brain and the lineages of the ventral ganglia, NBs divide asymmetrically in a stem cell mode to self-renew and generate a GMC that divides once to produce two post-mitotic cells that differentiate (Figure
8a
). Associated with this process is the asymmetric segregation of the cell fate determinants Prospero and Miranda from the parent NB into the GMC, whereupon Prospero acquires a nuclear localization that is retained in the GMC's post-mitotic progeny.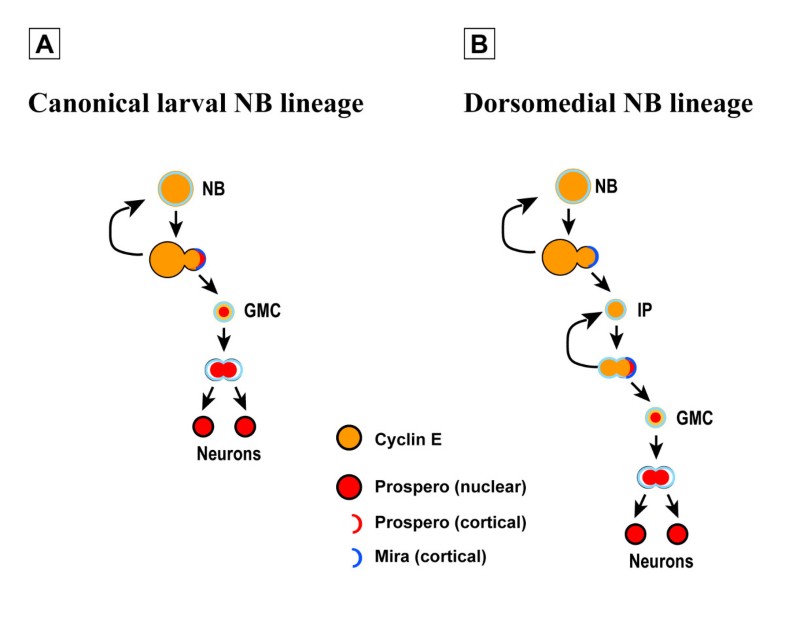 The data presented here are consistent with a novel model for neurogenesis exemplified by the DM NBs, which divide asymmetrically in a stem cell mode to self-renew and generate IP daughter cells (Figure 8b). In this process, they do not segregate the cell fate determinant Prospero into the IP cells, which subsequently repeatedly divide symmetrically (in morphological aspects) yet asymmetrically segregate the cell fate determinants Prospero and Miranda during mitosis. The daughter cell that receives the Prospero and Miranda determinants is fated to become a differentiating GMC-like cell, whereas the other daughter cell retains its ability to divide several more times.
This novel model postulates that DM NBs produce exclusively IPs and not GMCs. The alternative notion, that the NB sometimes produces an IP and sometimes a GMC, is unlikely given that Prospero is never detected in the NB and, thus, cannot be segregated to one of its daughter cells as would be required for GMC generation. The model also posits that GMCs are produced by IPs through (functionally) asymmetrical divisions that result in one daughter cell becoming a GMC while the other daughter cell self-renews as an IP. Alternative scenarios, such as one in which IPs first divide symmetrically to expand in numbers and then adopt a GMC fate to generate differentiating neurons, are unlikely given the spatiotemporal pattern of Prospero/Miranda expression and the stable ratio of IPs versus GMCs observed in DM NB clones throughout larval development.
The experimental findings that support this novel model have implications for our understanding of neural stem cells and proliferation control. These are discussed in the following.
The NBs of the developing central brain and ventral ganglia divide asymmetrically in a stem cell mode in which the larger NB self renews and the smaller daughter cell differentiates into a different cell type, usually a GMC (reviewed by [7, 8, 10–12, 18]). This asymmetric division of the parent NB has been thought to be tightly coupled with the asymmetric segregation of cell fate determinants, and central among these molecular determinants is the transcription factor Prospero, which is required in GMCs to inhibit self-renewal and to promote differentiation [20–23, 27, 28]. Our findings indicate that the asymmetric segregation of Prospero does not occur in all dividing brain NBs. Indeed, in the DM NBs the lack of asymmetric segregation of Prospero to the IPs may be a key element in imparting (transient) NB-like features to these proliferating cells.
The GMCs of the developing nervous system divide symmetrically and generate two postmitotic progeny of equal size. Our findings indicate that IP cells also divide symmetrically in morphological terms, although Prospero and Miranda are partitioned to only one of their daughter cells. Thus, the morphologically symmetric cell division of a NB-derived daughter cell does not necessarily engender equal portioning of differentiation factors into both resulting cells. It has been assumed that only cells of a certain critical size show NB-like proliferative properties. The small size of the GMC would be a key factor promoting cell cycle exit and differentiation of its progeny (see [8]). This simple link between cell size and self renewing/terminal division is also called into question by our findings, since IPs are comparable in size to GMCs and yet they possess a very distinct mitotic potential.
The only repeatedly dividing progenitor cell type identified to date in the central nervous system of Drosophila is the NB. Our studies identify the IP cell as a second progenitor type with the capacity to undergo multiple rounds of divisions. This characteristic is coupled with several cellular and molecular features that are shared with NBs. Among these are the specific expression patterns of Prospero, Miranda and CycE during mitosis as well as the ability to asymmetrically segregate Prospero and Miranda during cell division. The number of divisions that IPs typically carry out is currently not known with precision. Our observations based on quantification of cell number in multicellular clones suggest an average of three-to five divisions as a conservative estimate. If, as assumed by our model, each IP cell division results in the generation of one GMC-like daughter cell, this estimate would predict a three- to five-fold amplification of the number of neuronal progeny in DM lineages compared with other lineages of the central brain and ventral ganglia. This prediction is in reasonable accordance with the amplified cell numbers observed in NB clones of DM versus non-DM lineages. The ultimate fate of the IPs is currently not known. The fact that almost all intermediate precursor-derived multicellular clones are composed exclusively of postmitotic neurons suggests that, after multiple divisions, these cells are either eliminated by programmed cell death or that they terminally divide and differentiate.
Although the DM NBs do not express and segregate Prospero to their daughter intermediate precursors, these daughter cells do express Prospero in a cortical and polarized manner during mitosis. The off/on state of Prospero must be kept under tight control for a controlled amplification of proliferation achieved in DM lineages since complete mutational loss of Prospero in brain clones leads to uncontrolled proliferative activity and brain tumor formation [31–33, 44]. Indeed, our observations on the DM lineages imply that deregulated IPs that fail to express Prospero might be an important source of tumor cells in the brain. Interestingly, region-specific action of tumor suppressor genes in the larval brain has been previously reported using somatic cell clones [32].
Conclusion
Here we identify a novel intermediate neural progenitor generated by asymmetric division of a subset of the Drosophila brain neuroblasts during the postembryonic phase of neurogenesis. Unlike conventional GMC this intermediate progenitor express molecular markers of self-renewing neuroblasts and undergoes multiple divisions in absence of Prospero. In the dorsomedial brain these progenitors amplify the number of neurons that can be generated by the parental neuroblasts at each round of their divisions. The novel IP described here bears remarkable similarities to the IPs that have been identified recently in mammalian brain development (reviewed by [1–3]). In the developing mammalian brain, primary neural stem cells persist in the ventricular zone through asymmetric self-renewing divisions, and IPs, which are thought to derive from these primary neural stem cells, divide symmetrically in the adjacent subventricular zone [45–47]. The division of IPs in the subventricular zone amplifies the number of cells produced by a given neural stem cell division and may be an important determinant of brain size, since species with larger brains have a larger pool of IPs [48]. The surprising similarities in the patterns of neural stem and IP cell division in Drosophila and mammals suggest that amplification of brain neurogenesis in both groups of animals may rely on evolutionarily conserved cellular and molecular mechanisms.
In mammalian brain development, a two-step model has been proposed where, as a first step, asymmetric divisions of a primary neural stem cell generate a diverse set of molecularly different IPs and, as a second step, multiple symmetric divisions of each of these IPs generate large numbers of neurons of the same subtype [3]. Given this model in mammalian brain development, it will be interesting to investigate if different IPs in a given DM lineage of the Drosophila brain are molecularly diverse, and if the neuronal subpopulations they generate during development acquire distinguishable anatomical and functional characters. If this is the case, the expansion of neurogenesis and the generation of multiple neuronal subclasses may be intimately related in the brain development of animals as diverse as insects and mammals.
Materials and methods
Fly stocks and MARCM analysis
All Drosophila stocks were reared and maintained on standard yeast-cornmeal-agar medium and all experiments were performed at 25°C. Unless otherwise stated, fly stocks carrying transgenes and recombinant chromosomes were obtained from the Bloomington stock center and assembled using standard genetics. To generate positively marked MARCM clones y, w, hsFLP; FRT40A, tubP-GAL80LL10/CyO, ActGFPJMR1; tubP-GAL4LL7, UAS-mCD8::GFPLL6/TM6, Tb, Hu were mated to either w; FRT40A, UAS-mCD8::GFPLL5 (standard cell lineage labeling with membrane-tethered GFP), or UASp-cnnGFP26.1; FRT40A, UAS-cLacZBg4-1-2 (for additional labeling of centrosomes), or w; FRT40A, UAS-cLacZBg4-1-2; UAS-tauGFP12/2/3 (gift of A Brand), for live imaging. Generation of MARCM clones and larval staging was performed as previously described [31] for this sub-section.
Immunohistochemistry and live imaging
Nervous systems were dissected from larvae, fixed and immunostained as previously described [40]. Primary antibodies were as follows: rabbit anti-PH3 (1:400; Upstate, Charlottesville, Virginia, USA), mouse anti-MIRA (1:50; gift of P Overton), rabbit anti-MIRA (1:200; gift of YN Jan), mouse anti-PROS (1:10; Developmental Study Hybridoma Bank (DSHB), Iowa City, Iowa, USA); mouse anti-ELAV (1:30; DSHB) rat anti-ELAV (1:30; DSHB), mouse anti-CYCE (1:50; gift of H Richardson). Alexa Fluor-conjugated secondary antibodies (Molecular Probes, Invitrogen, Paisley, Renfrewshire, UK) were used at 1:200.
For live imaging, larval brains were dissected in Schneider's Drosophila Medium with 10% fetal bovine serum and mounted in 400-5 mineral oil (Sigma Diagnostic, Inc. St Louis, MO, USA) between a glass coverslip and a gas-permeable plastic foil (bioFOLIE 25, In Vitro System and Services, GmbH, Gottingen, Germany).
Microscopy and image processing
Fluorescently stained nervous systems were imaged using a Leica TCS SP scanning confocal microscope. Z stacks were collected with optical sections at 1–1.5 μm intervals. Pictures in this paper are presented as 'thick-section' merges projected as a flat image using ImageJ [49]. Figures were assembled using Adobe Illustrator and Photoshop. Clone/lineage sizes were determined from confocal Z stacks of sections, spaced by 1 μm. Using ImageJ, cells were marked section-by-section and counted. Typically, 20–50 nervous systems per staining/genotypes/larval stages were examined using 63× oil-immersion objective. Only well isolated clones were recorded from the surface-located NB to the earliest born neurons close to the neuropil. Sample sizes, means and standard deviations for all histograms are indicated in the text and figure legends.
For time lapse, Z stacks made of 1 μm thick slices were collected at 4 minute intervals. Movies were processed and assembled using house made ImageJ plug-ins. Briefly, the sample motions were corrected in X and Y dimensions by manual reference point tracking. A single slice was arbitrarily selected per time point, allowing both some Z dimension drifting correction and the follow up of the most interesting cells within the sample.
Declarations
Acknowledgements
We thank A Brand, P Overton, F Matzuzaki, YN Jan, H Richardson, the Bloomington stock center and the DSHB for strains and/or antibodies. We also thank all members of the Reichert lab for discussions and assistance. This work was supported by a grant from the Swiss NSF to HR.
Authors' Affiliations
(1)
Biozentrum, University of Basel, Switzerland
Copyright
© Bello et al.; licensee BioMed Central Ltd. 2008
This article is published under license to BioMed Central Ltd. This is an open access article distributed under the terms of the Creative Commons Attribution License (http://creativecommons.org/licenses/by/2.0), which permits unrestricted use, distribution, and reproduction in any medium, provided the original work is properly cited.