Research article
Open Access
Metamorphosis of an identified serotonergic neuron in the Drosophila olfactory system
Neural Development
2007
2:20
Received: 03 April 2007
Accepted: 24 October 2007
Published: 24 October 2007
Abstract
Background
Odors are detected by sensory neurons that carry information to the olfactory lobe where they connect to projection neurons and local interneurons in glomeruli: anatomically well-characterized structures that collect, integrate and relay information to higher centers. Recent studies have revealed that the sensitivity of such networks can be modulated by wide-field feedback neurons. The connectivity and function of such feedback neurons are themselves subject to alteration by external cues, such as hormones, stress, or experience. Very little is known about how this class of central neurons changes its anatomical properties to perform functions in altered developmental contexts. A mechanistic understanding of how central neurons change their anatomy to meet new functional requirements will benefit greatly from the establishment of a model preparation where cellular and molecular changes can be examined in an identified central neuron.
Results
In this study, we examine a wide-field serotonergic neuron in the Drosophila olfactory pathway and map the dramatic changes that it undergoes from larva to adult. We show that expression of a dominant-negative form of the ecdysterone receptor prevents remodeling. We further use different transgenic constructs to silence neuronal activity and report defects in the morphology of the adult-specific dendritic trees. The branching of the presynaptic axonal arbors is regulated by mechanisms that affect axon growth and retrograde transport. The neuron develops its normal morphology in the absence of sensory input to the antennal lobe, or of the mushroom bodies. However, ablation of its presumptive postsynaptic partners, the projection neurons and/or local interneurons, affects the growth and branching of terminal arbors.
Conclusion
Our studies establish a cellular system for studying remodeling of a central neuromodulatory feedback neuron and also identify key elements in this process. Understanding the morphogenesis of such neurons, which have been shown in other systems to modulate the sensitivity and directionality of response to odors, links anatomy to the development of olfactory behavior.
Keywords
Presynaptic TerminalMushroom BodyAntennal LobeDendritic ArborTetanus Toxin
Background
The spatial representation of olfactory stimuli in Drosophila is achieved by the highly specific connectivity between neural elements within the antennal lobe. The architecture of individual components of the olfactory pathway are well defined and mechanisms specifying their development are beginning to be understood [1]. Olfactory receptor neurons (ORNs) map, in a receptor-specific manner, from the antenna to glomeruli within the antennal lobes [2, 3]. Here they synapse onto projection interneurons (PNs) that, in turn, wire to dendritic fields of the mushroom bodies and the lateral horn of the protocerebrum [4]. Local interneurons (LNs), which are either GABAergic (inhibitory) or cholinergic (excitatory), arborize extensively between glomeruli, providing a substrate for lateral interactions between different information channels [5, 6].
Earlier functional imaging experiments demonstrated that the odor-response spectra from ORNs and PNs are similar, suggesting, at least at a first approximation, that the antennal lobe acts 'merely' as a relay station for processing of olfactory information without significant processing [7, 8]. Whole-cell recordings from the PNs, however, demonstrated that these cells have more complex responses than their primary sensory afferents, indicating that the output neurons integrate information across different populations of ORNs [9]. Further evidence for the role of lateral excitation within the circuit was obtained by silencing all ORNs wiring to a single glomerulus and recording stimulus-evoked activity from the corresponding PNs [10]. These systematic studies suggest the presence of crosstalk that couples most, if not all, glomeruli to each other. Another elegant demonstration of a high level of information processing within the primary center comes from olfactory conditioning experiments that result in the modification of the odor-evoked activity of the PNs [11]. The multi-glomerular-innervating LNs are obvious candidates for shaping input information by a combination of excitatory and inhibitory lateral interactions. Further cellular computation could be achieved through the activity of wide-field feedback neurons that connect the higher centers with the antennal lobes [12, 13].
In this paper, we describe a pair of contralaterally projecting serotonin-immunoreactive deutocerebral (CSD) interneurons (one per hemisphere) that have extensive ramifications in the lobe as well as in the higher order neuropile in both brain hemispheres (Figure
1
). These large-field neurons have been described in a variety of insects, including
Drosophila
[
14
–
19
]. Electrophysiological recordings in the silk moth
Bombyx mori
demonstrated that the CSD neurons respond to mechanosensory stimulation [
20
]. Application of serotonin to an antennal lobe preparation altered the excitability of PNs and LNs to stimuli [
21
]. Taken together, these results suggest that mechanosensory stimulation (for example, air currents) could trigger serotonin release from the CSD neuron and set the threshold of detection of odorants. Such a circuit could have important behavioral consequences, such as described in the male silk moth, which modulates response to female pheromones [
22
].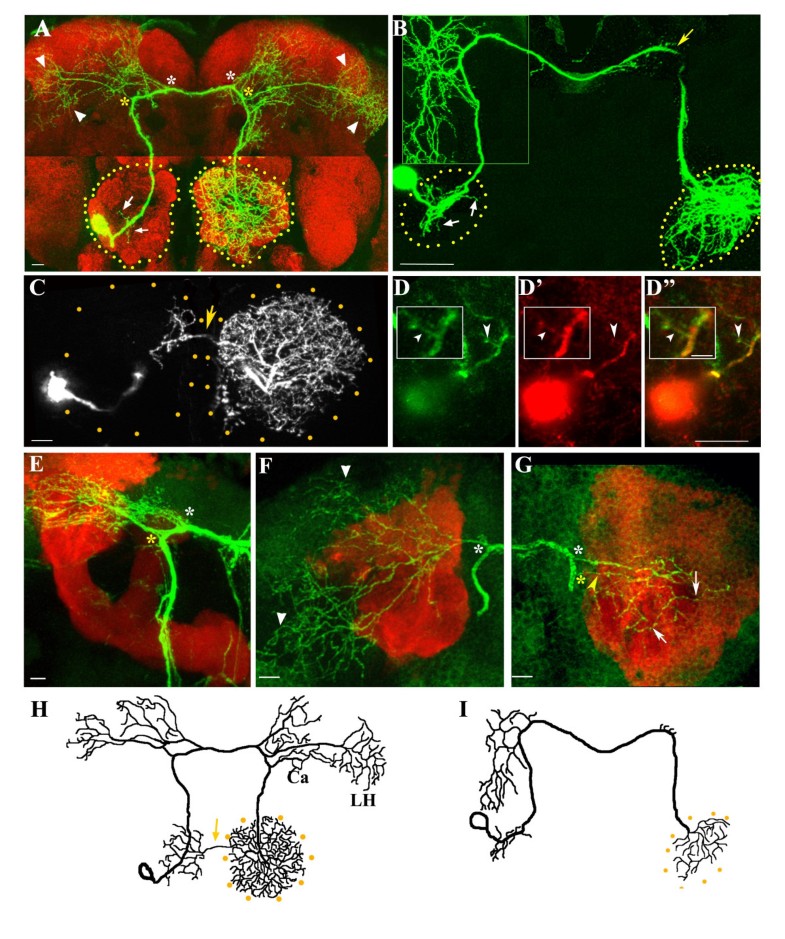 We use a mosaic method coupled with confocal imaging of brain whole-mounts to study the developmental architecture of the CSD neuron. The marking method also allows the specific genetic manipulation of the neuron. The CSD neuron is born in the embryo, has a relatively simple pattern in the larval stages and is remodeled during pupation to give rise to an elaborate adult pattern. We chart the changes occurring during metamorphosis and examine which events are due to the autonomous action of the ecdysterone-receptor pathway. We test whether targeted expression of molecules that compromise vesicle recycling, neuronal activity and retrograde transport affect aspects of remodeling. Finally, we show that neurons in the mushroom bodies and sensory neurons do not affect the process of remodeling, while alteration in the number of interneurons (PNs and/or LNs), possible targets of the CSD, have an effect. Our results lay the groundwork for further analysis of how intrinsic and extrinsic cues guide remodeling of an identified central neuron.
Discussion
Changes in the pattern of arborization of a mature neuron can come about as a consequence of removal of its afferent inputs or targets, chronic stress or other environmental inputs, such as delivered during learning or exercise [45]. Many of these changes are effected through the action of growth factors and developmental signals acting in concert with steroid hormones and neuronal activity to modify the cytoskeleton or synaptic properties relevant to an altered functional setting. Metamorphosis in Drosophila – a period during which mature larval neurons are often altered to take on new adult functions – provides a context where the mechanistic underpinnings of such neuronal change can be genetically dissected.
In this study we use a genetic method to mark the CSDn, recently identified on the basis of serotonin immunoreactivity [15]. While this preparation identifies a central neuron, it also has an important feature that allows the analysis of mechanisms underlying the changes it undergoes during remodeling. Our system, because of the random nature of the RN2-FLP action, results in bilateral, unilateral or no excision of the FRT element in the Tub-FRT-CD2-FRT-Gal4 construct in the CSDn. Thus, we are able to choose and analyze preparations where the CSDn from only one hemisphere is labeled: this facility is vital as it allows the analysis of contralateral and ipsilateral projections of the CSDn, without this being obscured by projections of the neuron from the other hemisphere to the same target sites. The GFP reporter in the RN2-Flp, Tub-FRT-CD2-FRT-Gal4, UAS mCD8-GFP strain is first detected very late in embryogenesis (stage 20; data not shown), after the neuron has acquired its mature larval pattern. These features thus provide a preparation where an identified central neuron, whose function is known, can be followed and genetically manipulated as it changes its form in response to external and internal cues during metamorphosis.
We show that the neuron, present during the larval stages, undergoes well-defined changes during pupation to give rise to a more complex adult architecture. What are the factors that regulate the stereotyped pruning and re-growth of arbors in the CSDn during metamorphosis? Our results suggest that the interaction of external factors and autonomous properties – some of which we identify – establish the homeostasis required during branching and establishment of the adult form.
Metamorphosis of the CSD neuron provides a useful model for the study of events during pruning
Arbors from the larval neuron are removed by pruning over the first 20 hours of pupation before the adult pattern is elaborated. TheEcR-B1, isoform whose expression is typically seen in neurons that alter their larval form and contribute to the circuitry in the adult [46], is detected in CSDn. Down-regulating EcR in the CSDn during metamorphosis results in a failure of remodeling and the 'adult' neuron retains a larval morphology. The detailed mechanisms by which EcR signaling acts to bring about sculpting of cell shape are not totally understood and reports on Manduca sexta indicate that steroid-induced modifications in dendritic shape can be regulated by activity-dependent mechanisms [47].
Studies on the cellular and molecular mechanisms of pruning events during metamorphosis could provide valuable insights into our understanding of degeneration in higher systems. These events require ubiquitin-mediated proteolysis [28] and it is known that local activity of caspases is involved in dendritic pruning in an identified sensory neuron [48]. Degeneration of specific branches is followed by migration of glial cells into the site of activity [27, 28]. The role of these glia in bringing about pruning and in clearing debris from the vicinity requires further study.
Does neural activity play a role in shaping the arbors of the CSDn during pupation?
The assembly of complex circuits is dependent on a carefully orchestrated interplay of intrinsic and extrinsic cues [49]. Does activity play a role in determining neuronal shape? We silenced spontaneous and evoked activity in the CSDn using different methods and have observed changes in the dendritic arbors as well as in presynaptic terminals. The effects on the terminals and dendrites are possibly due to distinct mechanisms and will be discussed separately.
The strongest effects on presynaptic terminal branching were produced by expression of TeTxLC, which blocks synaptic release, and a dominant-negative Shi protein, which affects receptor-mediated endocytosis. Apart from blocking neuronal activity by abrogating synaptic vesicle release, both treatments could potentially affect axon growth. Consistent with this is the observation that TeTxLC expression affects re-growth of CSDn terminals during metamorphosis, while pruning occurred normally. Weak anatomical defects have also been described in other, non-modulatory neurons [50], some of which could be explained by a role in the regulation of levels of cell adhesion molecules [51].
Increases in size and branching pattern of the dendritic trees is a robust effect occurring notably when neuronal activity was silenced by Kir2.1expression (Figure 5). In the third instar larva, expression of TNT-G leads to an increase in dendritic arbors with no significant effect on the presynaptic terminals. Expression using the RN2-Flp, Tub-FRT-CD2-FRT-Gal4, stock initiates in the fully developed larval neuron; hence, the changes in dendritic branches are likely to be a consequence of lack of neuronal activity, rather than a developmental effect. What are the mechanisms by which neuronal activity can alter morphologies of neurons? Baines and co-workers [32] demonstrated that tetanus toxin expression in motorneurons not only affected its presynaptic release because of cleavage of synaptobrevin, but also altered synaptic input by an as yet unknown mechanism. Our finding of altered dendritic morphology supports the possibility that homeostatic alterations occur to compensate for a lack of activity.
A large body of data provides evidence for retrograde signaling in the development and consolidation of synapses [36, 52] (reviewed in [53, 54]). Our observation of expanded dendritic trees upon expression of a dominant negative form of Glued, while intriguing, is difficult to explain in this light. The changes we see are in the dendritic (post-synaptic) field when retrograde transport is blocked cell-autonomously. While this needs further investigation, a possible explanation is that these effects are an indirect consequence of physiological alterations at the presynaptic terminals. Local morphological changes in neurons can be effected by sequestration of proteosomes and other molecules at different regions of the cell in response to activity [55, 56], which could result in sculpting of cellular architecture due to altered protein composition at different cellular regions.
Defects in branching observed by abrogation of vesicle release at the synapse in a serotonergic neuron could implicate this modulator in paracrine or autocrine signaling in regulation of neuronal outgrowth, target selection and synapse formation [57]. Such effects have been demonstrated in the gastropod Helisoma [58], as well as in Drosophila, where serotonin levels regulate neuronal branching [59] and modulate the development of neuronal varicosities in the central nervous system [60]. In our experiments, we failed to detect significant changes in the branching pattern of CSDn upon strong reduction of serotonin (and dopamine) using a temperature sensitive allele of dopa decarboxylase. Furthermore, unlike in M. sexta, where afferents are necessary for the formation of glomerular tufts of the serotonergic neuron within the antennal lobe [61], development of the CSDn occurs normally in the absence of sensory input from the antenna.
Feedback neurons in the olfactory pathway
The olfactory pathway consists of afferent sensory neurons, local integrating neurons and projection neurons. Circuitry for an additional level of integration exists in the atypical projection neurons (aPNs), the antennal posterior superior protocerebral neuron (APSP), the giant symmetric relay interneurons (GSI) and the bilateral ACT relay interneurons (bACT) [12, 13]. The architecture as well as the serotonergic nature of the CSDn closely resembles the S1 neuron in M. sexta, which receives input from bilateral projections in the protocerebrum and terminates in the lobe contralateral to the soma to modulate the activity of interneurons [17, 21]. We propose that the ipsilateral dendrites receive input from as-yet unidentified neural elements in the antennal lobe, while some axonal arbors are postsynaptic to interneurons in the calyx of the mushroom bodies and the lateral horn. We speculate that the targets of the terminal arbors are either the PNs or the LNs since their ablation results in a reduction in branching. This architecture, which needs to be confirmed by electron microscopic analysis, provides circuitry for 'top-down' regulation of the primary olfactory center. It seems very likely that the CSDn, like its counterpart in the moth, responds to mechanosensory stimulation [20], providing an important role in responses to odor stimulation coupled with airflow, as would be expected in insects during flight. The modulatory effects of this large field neuron on its partners in the antennal lobe needs to be investigated by high-resolution functional imaging.
Conclusion
We describe a serotonergic neuron whose anatomy suggests feedback integration within the antennal lobe of insects. The neuron undergoes remodeling during pupal life from a simple larval to a more complex adult pattern. Our studies suggest that the morphology of the dendritic arbors that terminate in the lobe ipsilateral to the soma is regulated by neuronal activity. The arborization of terminal arbors depends on vesicle recycling, endocytosis and Dynein-dependant retrograde transport. These findings demonstrate a useful identified-neuronal preparation where developmental mechanisms and remodeling can be studied in the context of olfactory behavior.
Declarations
Acknowledgements
We are grateful to Mani Ramaswami for his interest and many valuable suggestions and Noami D'Souza for technical help. We thank Andrew Dacks and the anonymous referees of earlier versions for insightful comments on the manuscript. This work was funded by the NIDA associated Supplement for International Collaboration grant DA15495 (VR), the Department of Biotechnology (KVR), the CSIR (BR) and core funding from TIFR.
Authors' Affiliations
(1)
National Centre for Biological Sciences, TIFR, GKVK PO, Bangalore, India
(2)
Department of Biological Sciences, Tata Institute of Fundamental Research, Mumbai, India
(3)
Department of Zoology, University of Cambridge, Cambridge, UK
Copyright
© Roy et al; licensee BioMed Central Ltd. 2007
This article is published under license to BioMed Central Ltd. This is an open access article distributed under the terms of the Creative Commons Attribution License (http://creativecommons.org/licenses/by/2.0), which permits unrestricted use, distribution, and reproduction in any medium, provided the original work is properly cited.