Research article

Open Access
Second-order projection from the posterior lateral line in the early zebrafish brain
Neural Development
2006
1:4
Received: 24 October 2006
Accepted: 29 November 2006
Published: 29 November 2006
Abstract
Background
Mechanosensory information gathered by hair cells of the fish lateral-line system is collected by sensory neurons and sent to the ipsilateral hindbrain. The information is then conveyed to other brain structures through a second-order projection. In the adult, part of the second-order projection extends to the contralateral hindbrain, while another part connects to a midbrain structure, the torus semicircularis.
Results
In this paper we examine the second-order projection from the posterior lateral-line system in late embryonic/early larval zebrafish. At four days after fertilization the synaptic field of the sensory neurons can be accurately targeted, allowing a very reproducible labeling of second-order neurons. We show that second-order projections are highly stereotyped, that they vary according to rhombomeric identity, and that they are almost completely lateralized. We also show that the projections extend not only to the contralateral hindbrain and torus semicircularis but to many other brain centers as well, including gaze- and posture-controlling nuclei in the midbrain, and presumptive thalamic nuclei.
Conclusion
We propose that the extensive connectivity observed in early brain development reveals a basic scaffold common to most vertebrates, from which different subsets are later reinforced in various vertebrate groups. The large repertoire of projection targets provides a promising system to study the genetic encoding of this differential projection capacity.
Keywords
Lateral Line
Motor Nucleus
Optic Tectum
Oculomotor Nucleus
Torus Semicircularis
Background
The sensory input measured by vertebrate mechanosensory hair cells is hair deflection, yet this input can convey information about a number of different stimuli, such as sound waves, angular acceleration of the head, body movement, or posture. The process by which sensory transduction translates into perception depends on the structure of the sense organ as well as on the distribution of sensory information to specific brain centers through second- (and third-) order projections. Here we examine the second-order projection of a particular set of sensory organs, the mechanosensory organs of the lateral-line system, in the zebrafish embryo.
In amniotic vertebrates, hair cells are restricted to the inner ear where they mediate audition and vestibular proprioceptive functions. In fish and amphibians, mechanosensory hair cells are also present in another sensory system, the lateral line. The lateral-line system is closely related to the inner ear in terms of its placodal origin, projection to the dorsal hindbrain and cytoarchitecture, and was initially thought to underly some sort of auditory function (reviewed in [1, 2]). The available evidence suggests, however, that the lateral-line system provides a sense of 'distant touch' that allows fish to perceive their surroundings within a radius of the order of their own body length [3]. This peculiar sense is involved in a large variety of behaviors, ranging from school swimming [4] and the ability to swim against current flow [5, 6] to prey detection [7] and/or predator avoidance [8].
The lateral-line system comprises a set of discrete sense organs, the neuromasts, which are distributed on the head and body in species-specific patterns. Individual neuromasts can be either superficial, with the hairs protruding from the epidermis into the surrounding water, or they can be embedded in canals [9, 10]. The neuromasts on the head form the anterior lateral-line system (ALL), while those on body and tail form the posterior system (PLL).
In adult fish, PLL sensory neurons have their cell bodies in a cranial ganglion located posterior to the ear and they project ipsilaterally to the 'medial octavo-lateral nucleus' of the hindbrain. This nucleus receives afference not only from the PLL but also from the ALL and from the inner ear. There is segregation of the afference, however, such that the most ventral part of the nucleus receives afference from the inner ear, the medial part from the ALL and the dorsal part from the PLL [11, 12].
The second-order projection from the medial octavo-lateral nucleus has been described in the adult of several fish species (reviewed in [12]). It comprises a commissural projection to the contralateral nucleus, where it is presumably involved in the comparison of ipsi- and contralateral inputs, and an ascending projection to a large midbrain nucleus, the torus semicircularis. This projection is bilateral with contralateral predominance. A minor component of the second-order projection extends to the deep layers of another midbrain structure, the optic tectum.
The torus semicircularis is the major target of lateral-line and inner ear information in bony fish. Third-order projections from the torus then convey the information to higher centers, such as the optic tectum, the thalamus and hypothalamus (reviewed in [12]). A midbrain structure homologous to the torus semicircularis is found in all vertebrates, for example, the inferior colliculus of mammals, which is also a major target of auditory information.
Information about lateral-line projections at the end of embryogenesis is much more limited. The first-order projection from the PLL has been described in six-day-old zebrafish larvae [13]. PLL axons bifurcate upon entering the hindbrain and send one branch anteriorly and the other posteriorly, much as in the adult. The projections from the ALL and PLL are separate yet closely apposed, with ALL axons extending ventral to PLL axons [14]. In this paper we examine the second-order projection of the PLL in four-day-old zebrafish. There is no precise boundary between embryonic and larval development in this species. Hatching occurs anytime between two and four days after fertilization, and feeding does not begin until day five, yet organogenesis is complete at two days. Thus, four-day-old fish are at the transition between late embryogenesis and early larval life.
The analysis of second-order projections at this early stage was undertaken for three major reasons. First, early developmental stages could reveal relatively simple patterns of connections that may later be blurred due to subsequent expansion and plasticity. Further, the transparency of the early embryo alleviates the need to reconstruct from serial sections and may, therefore, give a more comprehensive view of the connectivity scaffold. Second, much knowledge has recently accumulated about the genetic control of hindbrain development and regionalization, opening the prospect that the gap between genetic program, brain wiring and behavior may somehow be bridged. Third, examining how and where the information provided by the lateral-line ganglion is processed in the brain may help us understand how this information impinges on behavior and may also give clues about how our own processing of auditory and vestibular information evolved.
Discussion
Discussion and interpretation of our observations has been included in the previous sections, and Figure
17
summarizes our results. Here we want to concentrate on four unexpected aspects of our results: first, the surprising richness of the early connectivity in the embryonic brain, compared to that previously reported for adult brains; second, the organization of nuclei and neuropils; third, the lateral asymmetry of the PLL second-order projection; and fourth, the functional significance of the connections that we have identified.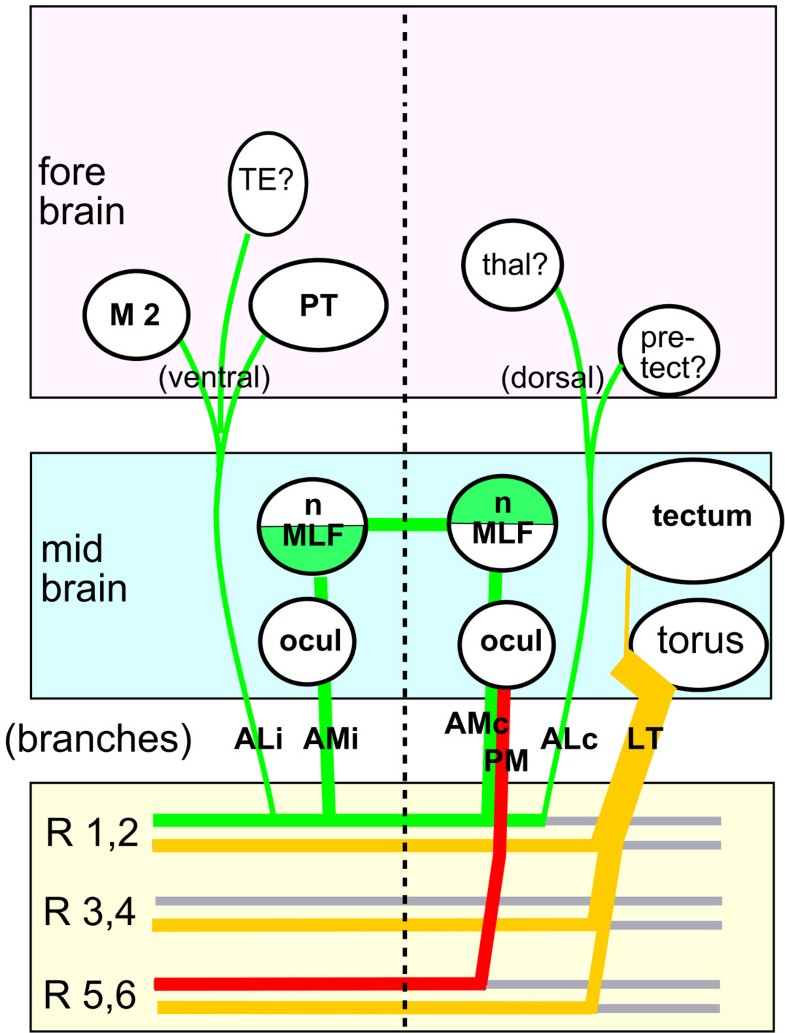 Conclusion
We have shown that the second-order PLL projection can be reproducibly visualized in the early zebrafish brain, and that it is highly stereotyped and highly lateralized. It comprises a major branch to the torus semicircularis and a minor branch to the deep layers of the optic tectum as previously described in adult fish. It also comprises a number of branches that have not been reported so far. Some of the new branches are directed to regions that may correspond to targets of the third-order projection in adult fish or amphibians, or to targets of the ascending vestibular projection in fish or in mammals. We propose that the second-order PLL projection in the zebrafish embryo reveals most or all of a general-purpose scaffold from which subsets of elements will be specifically suppressed or reinforced in various groups of vertebrates later in development, accounting for the known differences in connectivity between the major vertebrate groups.
Materials and methods
Fish
Zebrafish (Danio rerio) were obtained from Singapore through a local company, Antinea (Montpellier, France), and maintained in standard conditions [32]). Embryos were obtained from pairs of adult fish by natural spawning and raised at 28.5°C in tank water. Ages are expressed as days after fertilization (daf). The islet-GFP line [15] was obtained from Dr H Okamoto.
Injections
Four-day-old zebrafish were fixed overnight at 4°C in 4% paraformaldehyde in phosphate buffered saline (PBS) and kept at 4°C in PBS. Individual fish were mounted on a coverslip in a drop of 0.7% agar in PBS. The coverslip was secured to a slide with a tiny drop of agar and the lateral line nerve was visualized under Nomarski optics using a 40× long-distance water-immersion objective on a fixed-stage Zeiss (Oberkochen, Germany) Axioscop microscope. DiI (Molecular Probes, now part of Invitrogen, Carlsbad, California, USA) was used at 2 mg/ml in dimethylformamide and was applied with a 1.2 mm OD capillary drawn on a Narishige (Tokyo, Japan) electrode puller (two-step pulling to obtain a short tip of about 30 Mohms resistance). Iontophoretic injection into the nerve was driven by a WPI electrometer (Sarasota, Florida, USA). DiO (Invitrogen, Carlsbad, California, USA; 2 mg/ml in dimethylformamide) was pressure-injected using 5 ms pulses from a PicoSpritzer (Intracel, Shepreth, UK). The capillary used for DiO injection was drawn as before but had its tip broken just before injection. Coverslips with injected embryos were transfered to wells and kept in PBS at 4°C overnight. The embryos were then examined for labeling of the projection in the hindbrain, and re-embedded in 0.7% agar on another coverslip, dorsal side up. The coverslip was again secured to a slide with a tiny drop of agar, and the first-order projection was visualized under fluorescence. An electrode pulled as above was inserted laterally and DiI was injected within the synaptic field. The embryo was again kept overnight at 4°C in PBS and examined the next day for second-order projection.
Microscopy
All examinations were done on a Nikon (Tokyo, Japan) Microphot microscope fitted with a Princeton Instruments (Trenton, New Jersey, USA) Pentamax camera, using mostly a Nikon 20×, 0.5 NA objective (occasionally 10×, 0.3 NA or water-immersion 40×, 0.55 NA objectives). Results were recorded as Z-stacks with steps of 2 to 10 micrometers, depending on the objective. The Princeton Pentamax camera, Uniblitz shutter (Vincent Associates, Rochester, New-York, USA) and ASI (Eugene, Oregon, USA) focusing stage were controlled by the IPLab 3.6 (Scanalytics, now part of Becton Dickinson, Franklin Lakes, New Jersey, USA) software running on an Apple (Cupertino, California, USA) G4 computer. Further processing of the figures (contrast adjustment, superposition of DiI and GFP images) was mostly done with IPLab 3.9 and, to a minor extent (final adjustments), with Adobe Photoshop running on an Apple G5 computer. In some cases (Figures 2, 5a, 7a,b, 8a and 13) the relevant features from consecutive images were combined using Adobe Photoshop. In Figure 1, the red (DiI) and green (islet-GFP) images correspond to different, non-consecutive levels of the Z-stack. The stereo pictures of Figures 6a and 12a,b were obtained by light deconvolution of the original Z-stack using the 'Rapid Deconvolution' program of IPLab, followed by slanted brightest-pixel projection using the '3D Projector' program. Figure 15c was also treated with the 'Rapid Deconvolution' program.
Declarations
Acknowledgements
This work was supported by INSERM (Institut National de la Santé et de la Recherche Médicale, France) and by a contract from ANR (Agence Nationale pour la Recherche, France). We thank Mario Wulliman and Catherine McCormick for valuable comments and criticisms, and David Raible, Christine Dambly-Chaudière, Ian Woods and Lily Jan for critical reading of the manuscript. Jacques van Helden, Romain Vidaud and Laure Barral helped with the IPLab software, and Dr H Okamoto provided us with the islet-GFP line.
Authors' Affiliations
(1)
Laboratory of Neurogenetics, INSERM E343, Université Montpellier II, place E Bataillon, Montpellier, France
Copyright
© Fame et al.; licensee BioMed Central Ltd. 2006
This article is published under license to BioMed Central Ltd. This is an open access article distributed under the terms of the Creative Commons Attribution License (http://creativecommons.org/licenses/by/2.0), which permits unrestricted use, distribution, and reproduction in any medium, provided the original work is properly cited.