Research article
Open Access
Dynamic mechanisms of neuroligin-dependent presynaptic terminal assembly in living cortical neurons
Neural Development
2014
9:13
Received: 5 February 2014
Accepted: 12 May 2014
Published: 29 May 2014
Abstract
Background
Synapse formation occurs when synaptogenic signals trigger coordinated development of pre and postsynaptic structures. One of the best-characterized synaptogenic signals is trans-synaptic adhesion. However, it remains unclear how synaptic proteins are recruited to sites of adhesion. In particular, it is unknown whether synaptogenic signals attract synaptic vesicle (SV) and active zone (AZ) proteins to nascent synapses or instead predominantly function to create sites that are capable of forming synapses. It is also unclear how labile synaptic proteins are at developing synapses after their initial recruitment. To address these issues, we used long-term, live confocal imaging of presynaptic terminal formation in cultured cortical neurons after contact with the synaptogenic postsynaptic adhesion proteins neuroligin-1 or SynCAM-1.
Results
Surprisingly, we find that trans-synaptic adhesion does not attract SV or AZ proteins nor alter their transport. In addition, although neurexin (the presynaptic partner of neuroligin) typically accumulates over the entire region of contact between axons and neuroligin-1-expressing cells, SV proteins selectively assemble at spots of enhanced neurexin clustering. The arrival and maintenance of SV proteins at these sites is highly variable over the course of minutes to hours, and this variability correlates with neurexin levels at individual synapses.
Conclusions
Together, our data support a model of synaptogenesis where presynaptic proteins are trapped at specific axonal sites, where they are stabilized by trans-synaptic adhesion signaling.
Keywords
SynaptogenesisAxonal transportNeuroliginNeurexinSyncamPresynapticTrans-synaptic adhesion
Background
Upon axon-dendrite contact, the extracellular domains of axonal and dendritic adhesion proteins interact, leading to recruitment of synaptic proteins and subsequent synapse formation[1–3]. A variety of synaptogenic adhesion partners have been discovered, including neurexin/neuroligin, SynCAM/SynCAM, and neurexin/LRRTM2, among others[4–15]. Of these, the most studied trans-synaptic pair is postsynaptic neuroligin and its interaction with presynaptic neurexin.
Although a number of studies have focused on understanding the functions and mechanisms of trans-synaptic adhesion molecules in recent years, it remains unclear how synaptogenic adhesion results in presynaptic protein recruitment and synaptogenesis[16, 17]. Importantly, it is not known whether trans-synaptic adhesion actively attracts synaptic proteins to sites of signaling or acts primarily to stabilize proteins at nascent terminals. In addition, it is unknown whether synaptic protein recruitment proceeds continuously until the site is saturated, or if SV and AZ protein levels are modulated even at the earliest stages of development, as they are at mature synapses[18–25]. Finally, it is unclear if trans-synaptic adhesion regulates synaptic protein levels at individual synapses or primarily creates sites in the axon that are capable of synapse formation while other cellular processes regulate levels of recruitment.
To answer these questions, we induced synaptogenesis via contact with neuroligin-1 and SynCAM-1 then employed short- and long-term time-lapse confocal imaging of presynaptic protein recruitment to nascent sites of trans-synaptic signaling. This paradigm allowed us to record recruitment from the initiation of trans-synaptic adhesion onward. We found that SV protein recruitment to individual sites of trans-synaptic adhesion fluctuated, as did protein recruitment at axon-dendrite synapses. These changes in synaptic protein levels strongly correlated with the amount of neurexin-1β at individual synapses. However, trans-synaptic adhesion did not attract SV or AZ proteins to contacts or significantly alter synaptic protein transport. Unexpectedly, neurexin alone was not the primary signal for recruitment since synaptic proteins were specifically recruited to sites of enhanced neurexin-1β clustering, even though neurexin was present throughout the contact region. Overall, our data support a model of synaptogenesis in which presynaptic proteins are trapped at, but not actively attracted to, specific axonal sites, where they are stabilized by trans-synaptic adhesion signaling.
Discussion
Presynaptic proteins are trapped at, but not attracted to, developing synapses
Presynaptic terminal formation is initiated by contact between axons and dendrites, which leads to interactions between trans-synaptic adhesion molecules, recruitment of presynaptic proteins and subsequent organization of presynaptic terminals (Figure
8
). It remains unclear how trans-synaptic signaling recruits presynaptic proteins. On one hand, trans-synaptic adhesion could actively attract transport vesicles to sites of axo-dendritic contact. Alternatively, trans-synaptic adhesion could establish sites in the axon where synaptic proteins become trapped and organized into a presynaptic terminal, without actively attracting transport vesicles.Our results favor the 'trapping' model (Figure
8
, step 2, top). STVs and PTVs did not preferentially move towards sites of trans-synaptic signaling, and their transport was minimally altered by trans-synaptic adhesion. These findings suggest that trans-synaptic adhesion does not actively attract transport vesicles into developing presynaptic terminals. Instead, these data support the hypothesis that trans-synaptic adhesion establishes sites in the axon that capture and stabilize available presynaptic protein. Importantly, STVs were not attracted to SynCAM-1 or both neuroligin-1 and SynCAM-1, and STV movement was unaffected by this combination of trans-synaptic signaling. Therefore, assembly of synaptic proteins at developing presynaptic terminals via establishment of sites of stabilization (rather than active attraction) appears to represent a general mechanism that is conserved across synaptogenic pathways.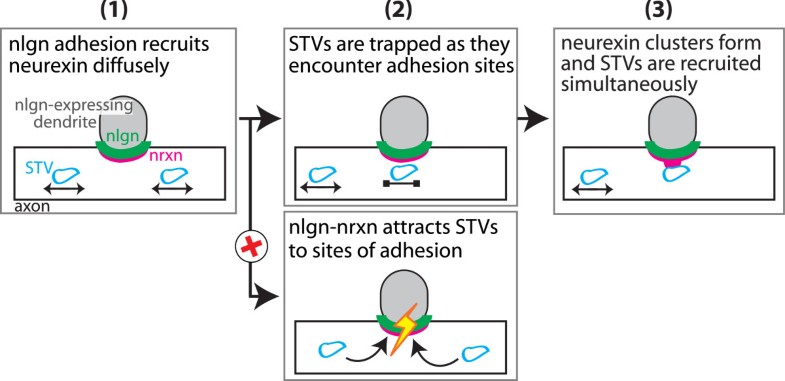 SV proteins preferentially accumulate at predefined sites that are intrinsic to the axon[38]. Although it is not known what stabilizes synaptic proteins at these specific sites, STVs frequently pause at these sites prior to synaptogenesis. Trans-synaptic adhesion might facilitate recruitment by stabilizing paused STVs[1, 2, 38]. It is important to note that STVs carry a variety of synaptic vesicle and some active zone proteins[33], so it remains unclear which proteins mediate any interactions (direct or indirect) between STVs and neurexin or SynCAM. ARL-8, which is transported with STVs in C. elegans, has recently been shown to control aggregation and delivery of SV and AZ proteins to appropriate sites of synaptogenesis[60, 63]. Synaptogenic adhesion could act through regulation of ARL-8 or a similar pathway to stabilize paused STVs.
The trapping model predicts that the supply of synaptic proteins in the axon would determine the probability that synaptic proteins encounter these sites and, therefore, levels of trapping and recruitment. Consistent with this, synapse formation is enhanced by increasing the number of mobile STVs in the axon[64, 65], and synaptic protein recruitment to poly-D-lysine coated beads preferentially occurs in axons with high levels of protein expression and mobility[66]. Interestingly, disruptions in transport have been linked to defects in synapse formation and function[60, 63, 67–70] and associated with intellectual disability in humans[71].
Synaptic proteins are labile at developing synapses
While there have been studies of the stability of new synapses[12, 72], it has remained unclear how stable synaptic proteins are at synapses after their initial recruitment. Here, we showed that enrichment of SV proteins at individual trans-synaptic signaling sites is highly labile: although SV proteins remained enriched at these sites, the degree of enrichment rapidly increased and decreased, oftentimes varying over the course of minutes. Similar fluctuations in synaptic protein levels have been observed at mature synapses, where changes in levels of synaptic vesicles and active zone proteins have been directly linked to changes in synapse function[73–75]. At mature synapses, lability in presynaptic protein levels arises through sharing of presynaptic components between adjacent synapses[18–21, 23–25, 76, 77], and individual shared SVs can be functionally integrated into the synapse within minutes after their arrival[23, 77]. Our results suggest that this dynamic arrival and departure (fluctuation) of SVs at synapses occurs at the earliest stages in synapse development. It remains to be seen whether SVs at developing synapses can rapidly become incorporated into the synapse and fuse with the plasma membrane in response to action potentials. However, STVs can fuse with the plasma membrane upon neuronal depolarization[27, 29, 38] and most likely release glutamate at these sites when they do[38]. Since glutamatergic signaling regulates the accumulation of presynaptic proteins at developing synapses[78–80], varying the level of presynaptic proteins at new excitatory synapses could alter glutamate release and contribute to feedback or auto-regulation of synapse maturation.
We observed both gradual and sudden dramatic changes in the amount of synaptic proteins recruited. These two types of fluctuations in recruitment may represent distinct features of presynaptic growth and stabilization. The sudden appearance of synaptophysin at the site of trans-synaptic adhesion indicates that presynaptic proteins can be recruited and stabilized at contacts in the order of seconds. This is striking considering recent evidence that dendritic spines can form in seconds in response to glutamate uncaging[81]. Together, these data suggest that complete synapses can form extremely rapidly. In addition, the immediate loss of synaptophysin puncta that we observed suggests that developing synapses can be eliminated equally quickly. Finally, the gradual accumulation or loss of synaptophysin that occurred at many contacts may correspond to changes in presynaptic maturation or strength[82].
A model of neuroligin-neurexin mediated presynaptic protein recruitment
It has been proposed that synaptogenesis occurs in a two-step model: postsynaptic clusters of neuroligin induce neurexin clustering, then clustered neurexin seeds the recruitment of presynaptic proteins[16]. Our data support the hypothesis that neurexin clustering is critical for stable synaptic protein recruitment. However, we also found that neurexin clustering and synaptophysin recruitment appeared simultaneously. Although the two steps of the model could occur sequentially but very rapidly, an intriguing alternative explanation is that a cue within the axon cooperatively contributes to both neurexin clustering and STV accumulation. Consistent with this idea, recent work in Drosophila showed that neurexin clustering is mediated by axonal syd-1, and that this process is critical for the synaptogenic ability of neurexin[49]. Syd-1 acts upstream of syd-2/liprin-α, a protein linked to transport of STVs and initiation of active zone formation[83–89]. It will be important in the future to determine whether similar molecular mechanisms link neurexin clustering to STV stabilization in mammals. Although mammalian orthologs of syd-1 do not contain the requisite PDZ for neurexin organization, mammalian syd-1 (mSYD1A) has recently been shown to regulate SV protein accumulation during synaptogenesis and to interact with liprin-α2[90]. Interestingly, in Drosophila, feedback from the postsynaptic partner also contributes to presynaptic assembly and stabilization[49]. We found that the presence of the postsynaptic scaffolding molecule S-SCAM in neuroligin-1-expressing HEK-293 cells increased the degree of neurexin clustering in the axon, consistent with analogous cooperative pre-and postsynaptic mechanisms existing in mammals.
Here, we have focused on synapse assembly down-stream of neuroligin-neurexin signaling, the prototypical synaptogenic adhesion pair. Additional factors also play a role in regulating protein levels at presynaptic terminals, including local actin polymerization[7, 91–93], signaling through BDNF/TrkB[65, 94–97] and NMDA receptors[80], altering VGLUT1 expression[78, 79], and through other trans-synaptic adhesion molecules not addressed in our study[2]. These signals could regulate neurexin clustering, function down-stream of neurexin clustering, or operate through parallel mechanisms. Either way, these mechanisms likely work in concert to dynamically regulate synapse development and function.
Conclusions
Our results strongly support a model of synapse formation where presynaptic proteins are trapped at developing presynaptic sites, rather than actively attracted to them (Figure 8, steps 1 to 2). Trapping tends to occur at sites of neurexin clustering, but not at sites of diffuse neurexin recruitment, supporting the hypothesis that the spatial arrangement of neurexin is critical for neurexin/neuroligin induced synaptogenesis. Neurexin clustering and SV protein recruitment occur simultaneously (Figure 8, step 3). Finally, at individual nascent presynaptic terminals, SV protein levels can vary within minutes to hours, and these levels correlate with the amount of clustered neurexin. These fluctuations might, in turn, affect later stages of synapse formation, maturation and function.
Methods
All studies were conducted with an approved protocol from the Case Western Reserve University Institutional Animal Care and Use Committee, in compliance with the National Institutes of Health guidelines for the care and use of experimental animals.
Abbreviations
AZ:

active zone
DIV:

days in vitro
DMEM:

Dulbecco's modified Eagle's medium
GFP:

green fluorescent protein
IntDen:

integrated density
Nlgn:

neuroligin
PTV:

Piccolo-Bassoon transport vesicle
STV:

synaptic vesicle protein transport vesicle
SV:

synaptic vesicle.
Declarations
Acknowledgements
We thank Michael Sceniak for helpful discussions and suggestions on the project. We also thank Valentina Savchenko, Teresa Evans, Ruth Siegel, Lynn Landmesser, and Brian McDermott for helpful reading of the manuscript. In addition, we thank Louie Zhou and Jeesoo Kim for technical assistance, Ryan Yavorsky for assistance with analysis and Corbett Berry for assistance with ImageJ programming. This work was funded by the National Institute of Mental Health under award number R01MH096908 (SLS), Simons Foundation Autism Research Initiative (SLS), PhRMA Foundation Research Starter Award (SLS) and the NIH predoctoral Training Program in Molecular Therapeutics at Case Western Reserve University (LADB). The funders had no role in study design, data collection and analysis, decision to publish, or preparation of the manuscript. The content of this manuscript is solely the responsibility of the authors and does not necessarily represent the official views of the National Institutes of Health.
Authors' Affiliations
(1)
Department of Pharmacology, Case Western Reserve University School of Medicine, Cleveland, USA
(2)
Neuroscience, Case Western Reserve University School of Medicine, Cleveland, USA
Copyright
© Bury and Sabo; licensee BioMed Central Ltd. 2014
This article is published under license to BioMed Central Ltd. This is an Open Access article distributed under the terms of the Creative Commons Attribution License (http://creativecommons.org/licenses/by/4.0), which permits unrestricted use, distribution, and reproduction in any medium, provided the original work is properly credited. The Creative Commons Public Domain Dedication waiver (http://creativecommons.org/publicdomain/zero/1.0/) applies to the data made available in this article, unless otherwise stated.