Research article
Open Access
Wnt3 and Wnt3a are required for induction of the mid-diencephalic organizer in the caudal forebrain
Neural Development
2012
7:12
Received: 27 January 2012
Accepted: 4 April 2012
Published: 4 April 2012
Abstract
Background
A fundamental requirement for development of diverse brain regions is the function of local organizers at morphological boundaries. These organizers are restricted groups of cells that secrete signaling molecules, which in turn regulate the fate of the adjacent neural tissue. The thalamus is located in the caudal diencephalon and is the central relay station between the sense organs and higher brain areas. The mid-diencephalic organizer (MDO) orchestrates the development of the thalamus by releasing secreted signaling molecules such as Shh.
Results
Here we show that canonical Wnt signaling in the caudal forebrain is required for the formation of the Shh-secreting MD organizer in zebrafish. Wnt signaling induces the MDO in a narrow time window of 4 hours - between 10 and 14 hours post fertilization. Loss of Wnt3 and Wnt3a prevents induction of the MDO, a phenotype also observed upon blockage of canonical Wnt signaling per se. Pharmaceutical activation of the canonical Wnt pathways in Wnt3/Wnt3a compound morphant embryos is able to restore the lack of the MDO. After blockage of Wnt signaling or knock-down of Wnt3/Wnt3a we find an increase of apoptotic cells specifically within the organizer primordium. Consistently, blockage of apoptosis restores the thalamus organizer MDO in Wnt deficient embryos.
Conclusion
We have identified canonical Wnt signaling as a novel pathway, that is required for proper formation of the MDO and consequently for the development of the major relay station of the brain - the thalamus. We propose that Wnt ligands are necessary to maintain the primordial tissue of the organizer during somitogenesis by suppressing Tp53-mediated apoptosis.
Keywords
Forebrain patterningThalamus developmentZona limitans intrathalamicaZLI
Background
The thalamic complex consists of the anteriorly located pre-thalamus and the posterior located thalamus [1]. The prosomeric model would describe these two areas as main dorsal components of the prosomere 3 (P3) and prosomere 2 (P2) respectively [2]. Between these two neural segments there is an intervening ventricular ridge - the zona limitans intrathalamica (ZLI). The anatomical ZLI border zone contains a small cell population, which releases signaling molecules. This signaling center orchestrates thalamus development by controlled release of the morphogen Sonic hedgehog and thus, we termed it the middiencephalic organizer (MDO, formerly known as the ZLI organizer; [3]). Lack of the Shh-positive MDO leads to gross malformation of the caudal forebrain and loss of the entire thalamus. Local abrogation of Shh signaling in small cell clones blocks acquisition of thalamic neuronal cell fate in vertebrates [4–6]. Thus the MDO determines the size of the thalamic complex and orchestrates the neuronal development of the central relay station of the brain.
A further important diffusible, external cue during neural development is Wnt signaling. Patterning of the vertebrate anterior neural tube requires the function of this pathway at multiple stages [7]. Canonical Wnt signaling regulates anteroposterior patterning in the forebrain and midbrain, is required for development of the dorsal telencephalon [8] and the eyes [9], and allows the establishment of the midbrain-hindbrain boundary (MHB) organizer [10, 11]. Several lines of experimental evidence have demonstrated that other signaling pathways counteract Wnt signaling during neural development, independent from direct antagonists, such as sFRPs or Dkk1. Indeed, Shh and Wnt signaling are mutually antagonistic during some events in embryonic development, such as spinal cord patterning [12]. Despite the recognized importance of Wnt signaling for central nervous system (CNS) development, its functional relevance during diencephalon formation and how Wnt signaling and Shh signaling interact there remains unknown. Receptors, ligands and modifiers of the Wnt signaling pathway are expressed during early stages of caudal forebrain regionalization [13, 14]. Recently, we showed that Wnt signaling is required for cell adhesion in the thalamus and thalamic neurogenesis [15]. However, the early function of Wnts during MDO establishment has to be determined.
Here we show that blockage of the canonical Wnt signaling pathway leads to malformation of the MDO. By a Morpholino-based knock-down approach we identified Wnt3 and Wnt3a as the responsible ligands and hence are required to maintain the primordium of the MDO. Lack of canonical Wnt signaling per se or knock-down of Wnt3/Wnt3a leads similarly to an increase of apoptosis specifically within the organizer primordium. Consistently, blockage of Tp53-mediated apoptosis is able to rescue the MDO. Furthermore, abrogation of the repressive factors Fezf2 and Irx1b leads to restoration of the organizer. In summary, we propose that canonical Wnt signaling triggered by Wnt3/Wnt3a is necessary to suppress Tp53-mediated apoptosis and thus maintain the organizer tissue during development.
Results
Next, we analyzed the expression of components of the Wnt signaling pathway, wnt8b and axin2 in wnt3/wnt3a morphant embryos. We observed a reduction of wnt8b expression in the central area of the MDO (Figure 4I, J). Consequently, the Wnt signaling target gene axin2 shows a reduced expression in the caudal forebrain (Figure 4K, L). These results suggest that Wnt3 and Wnt3a are required for proper MDO formation. All analyzed marker genes show a consistent alteration - the central area of the MDO shows a down-regulation, whereas the dorsal tip seems to be less affected by the knock-down and displays a residual robust expression of MDO markers such as shh and wnt8b (Figure 4D, H, J, L). We wondered whether MDO fate is induced within tip cells of compound morphant embryos or if cells from the basal plate migrate dorsally to form the MDO spot. Therefore, we performed a time-lapse analysis using the Shh::RFP transgenic zebrafish line with strong expression of the transgene in the basal plate prior MDO formation [25]. At 27 hpf, we detected Shh::RFP expression in the ventral MDO with a progressively dorsal expansion over the next 12 h (Figure 4M). In Wnt3/Wnt3a-deficient embryos we observed induction of dorsal MDO shh expression independently of basal plate contact (Figure 4N). This is in agreement with the so-called bucket-brigade induction model of the MDO[6]. In this model cells progressively adopt MDO fate from ventral to dorsal without changing their dorso-ventral position. Importantly, activation of the canonical Wnt pathway using the GSK3ß inhibitor BIO between 10 and 28 hpf is sufficient to restore MDO formation in Wnt3/Wnt3a deficient embryos (Figure 4O, P).
From the performed knock-down experiments, we conclude that canonical Wnt signaling between 10 and 14 hpf, by Wnt3/Wnt3a, is required for shh induction at the MDO.
To elucidate this aspect further, we mapped the expression of markers of the prethalamus relative to markers of the thalamus. Interestingly, we found the lhx5 positive prethalamus abuts the irx1b positive thalamus and the MDO anlage is lacking in compound morphant embryos at 28 hpf (Figure 6A-B'). Likewise, analysis of the MDO and thalamus primordia in these embryos showed that the otx2-positive MDO is severely decreased, whereas the size of the irx1b and otx2-positive thalamus is unaltered (Figure 6D-E'). This suggests that Wnt3/Wnt3a are required for establishment of the MDO primordium. Consistently, blockage of Wnt signaling with IWR1 between 10 and 28 hpf leads to a similar phenotype (Figure 6C, C', F, F'). This suggests that Wnt3/Wnt3a function is required to maintain the anlage of the MDO, but not for maintenance of the primordia of the prethalamus and thalamus.
Discussion
Here we have described a new aspect of Wnt signaling during caudal forebrain development. Wnt3 and Wnt3a mark the
MDO
prior to the expression of the principal thalamus organizing signal Shh. Blockade of Wnt signaling leads to the lack of the
MDO
tissue (Figure
9
). We show that cells of the organizer primordium go into Tp53-mediated apoptosis upon loss of the Wnt stimulus. We hypothesize that the main function of Wnt3/Wnt3a-mediated signaling in the organizer is to protect cells from cell death as blockage of Tp53-mediated apoptosis is able to restore the organizer function. Thus, Wnt3/Wnt3a-mediated signaling is the survival factor for organizer cells only, but not for the surrounding thalamic complex.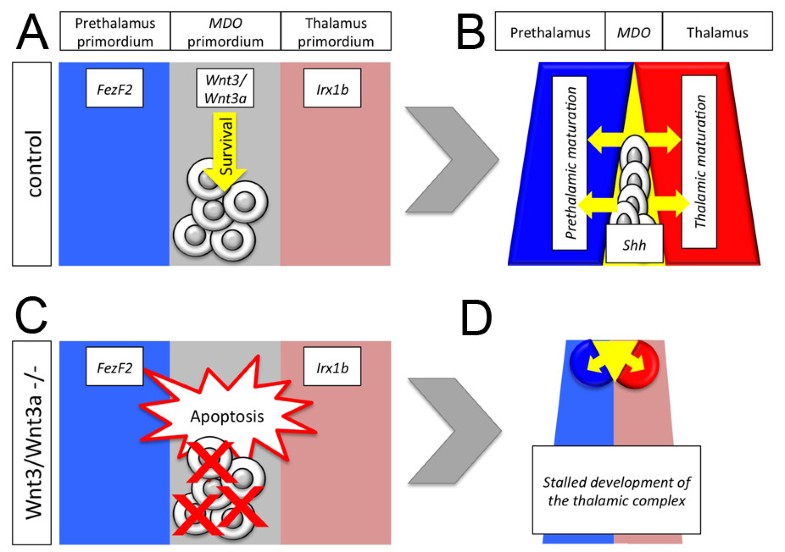 Conclusion
In summary, we show that canonical Wnt signaling is required for regionalization of the caudal forebrain. Alteration of the canonical Wnt signaling pathway leads to apoptosis of the MDO primordium and subsequently to a mis-specification of the entire thalamic complex (Figure 9). We suggest that Wnt3 and Wnt3a are the crucial Wnt ligands, which are required between 10 h and 14 h to maintain the MDO anlage by protecting the cells from Tp53mediated apoptosis. Thus, by determining MDO fate and thalamic compartition, Wnt3 and Wnt3a control the development of the organizer of the major relay station in the brain - the thalamus.
Methods
Maintenance of fish
Breeding zebrafish (Danio rerio) were maintained at 28°C on a 14 h light/10 h dark cycle [51]. To prevent pigment formation, embryos were raised in 0.2 mM 1-phenyl-2-thiourea (PTU, Sigma, St. Louis, MO 63103 USA) after 24 hpf. The data we present in this study were acquired from analysis of KIT wild-type zebrafish AB2O2 as well as the transgenic zebrafish line Shh::RFP[25], Nkx2.2::GFP and masterblind mutant line carrying a mutation in axin1[21].
Functional analysis
Transient knock-down of gene expression was performed as described in [52]. We used the following Morpholino-antisense oligomeres (MO, Gene Tools, Philomath, OR 97370 USA) at a concentration of 0.5 mM: wnt3 MO (5'-GATCTCTTACCATTCGTCCTGC-3'), 0.25 mM wnt3a MO [53], irx1b MO [54], fezf2 MO [31], and Tp53 MO [55]. The injection of MO oligomers was performed into the yolk cell close to blastomeres at one-cell or two-cell stage.
To manipulate Wnt signaling in-vivo, we used BIO [20]; (2'Z,3'E)-6-Bromo-indirubin-3'oxime, TOCRIS Bioscience, Minneapolis, MN 55413 USA) or IWR-1 [18]; (Sigma) as pharmacological agonist and antagonist of the Wnt signaling pathway. For Wnt signaling analyzes, embryos were dechorionated and incubated with 4 μM of BIO in 1% dimethyl sulfoxide (DMSO), 40 μM IWR-1 in 0.2% DMSO or with 1% DMSO only at given time points. Heparin-coated acrylic beads (Adar Biotech, Rehovot 76360 Israel) were prepared as described previously [56]. The beads were coated with recombinant Wnt3a protein (R&D Systems, Minneapolis, MN 55413 USA) and implanted dorsally into the region of the presumptive MDO of wild-type embryos at the 10 hpf. HS-Dkk1-GFP DNA [57] was injected into one-cell stage embryos. A 15-minute heat shock treatment at 42°C was performed at 10 hpf. All treated embryos were incubated at 28°C and fixed at 28 hpf.
Staining procedures
Prior to staining, embryos were fixed in 4% paraformaldehyde/PBS at 4°C overnight for further analysis. Whole-mount mRNA in situ hybridizations were performed as described in [58]. The expression pattern and/or antisene RNA probes have been described for wnt3 (formerly known as wnt3l) and wnt3a[59], shh (shh-a)[60]), shh-b[61], ptc1[62], axin2[63], lhx5[64], irx1b[54], otx1l and otx2[65], neurog1[66], fezf2[67].
SDS-PAGE/Western blot analysis was performed with polyclonal antibodies to detect Wnt3 (GTX105679, Acris Antibodies, San Diego, CA 92121 USA) and Wnt3a (ab28472, Abcam, Cambridge, CB4 0FL UK) and a monoclonal antibody against PCNA (sc-56, Santa Cruz Biotechnology, Santa Cruz, CA, USA) as loading control, respectively.
Image acquisition
Prior to imaging, embryos were de-yolked, dissected and mounted in 70% (v/v) glycerol/PBS on slides with cover slips. Images were taken on an Olympus SZX16 microscope equipped with a DP71 digital camera by using the imaging software Cell A. For confocal analysis, embryos were embedded for live imaging in 1.5% low-melting-point agarose (Sigma) dissolved in 1× Ringer's solution containing 0.016% tricaine at 48 hpf. Confocal images stacks were obtained using the Leica TCS SP5 confocal laser-scanning microscope. We collected a series of optical planes (z-stacks) to reconstruct the imaged area. Rendering the volume in three dimensions provided a view of the image stack at different angles. The step size for the z-stack was usually 1 to 2 μm and was chosen upon calculation of the theoretical z-resolution of the 40× objective. Images were further processed using Imaris 6 (Bitplane AG, CH-8048, Zurich Switzerland).
Abbreviations
Cer:

Cerebellum
cFb:

Caudal forebrain
DMSO:

Dimethyl sulfoxide
Eth:

Epithlamus
HyTh:

Hypothalamus
Mb:

Midbrain
MDO:

Mid-diencephalic organizer
MHB:

Midbrain-hindbrain boundary
PBS:

Phosphate-buffered saline
PTh:

Pre-thalamus
PTh-p:

Pre-thalamus primordium
Tel:

Telencephalon
Th:

Thalamus
Th-p:

Thalamus primordium
ZLI:

Zona limitans intrathalamica.
Declarations
Acknowledgements
We would like to thank Daniela Peukert for technical help and Andrew Lumsden (MRC Centre of Developmental Neurobiology, King's College London) for critical reading of the manuscript. BM, SW, DP and SS are funded by the Emmy-Noether grant 847/2 of the Deutsche Forschungsgemeinschaft (DFG). The Medical Research Council, UK, supports JP and CH.
Authors' Affiliations
(1)
Karlsruhe Institute of Technology (KIT), Institute of Toxicology and Genetics (ITG), Karlsruhe, Germany
(2)
MRC Centre for Developmental Neurobiology, King's College London, London, UK
Copyright
© Mattes et al; licensee BioMed Central Ltd. 2012
This article is published under license to BioMed Central Ltd. This is an Open Access article distributed under the terms of the Creative Commons Attribution License (http://creativecommons.org/licenses/by/2.0), which permits unrestricted use, distribution, and reproduction in any medium, provided the original work is properly cited.