Research article
Open Access
Insm1promotes the transition of olfactory progenitors from apical and proliferative to basal, terminally dividing and neuronogenic
Neural Development
2011
6:6
Received: 1 November 2010
Accepted: 1 February 2011
Published: 1 February 2011
Abstract
Background
Insm1 is a zinc-finger transcription factor transiently expressed throughout the developing nervous system in late progenitors and nascent neurons. Insm1 is also highly expressed in medulloblastomas and other neuroendocrine tumors.
Results
We generated mice lacking the Insm1 gene and used them to elucidate its role in neurogenic proliferation of the embryonic olfactory epithelium. We found that deletion of Insm1 results in more apical cells and fewer nascent and mature neurons. In the embryonic olfactory epithelium of Insm1 mutants we detect fewer basal progenitors, which produce neurons, and more apical progenitors, which at this stage produce additional progenitors. Furthermore, in the mutants we detect fewer progenitors expressing NEUROD1, a marker of terminally dividing, neuronogenic (neuron-producing) progenitors (immediate neuronal precursors), and more progenitors expressing ASCL1, a marker of the transit amplifying progenitors that migrate from the apical to the basal edges of the epithelium while dividing to generate the terminal, neuronogenic progenitors. Finally, with timed administration of nucleoside analogs we demonstrate that the Insm1 mutants contain fewer terminally dividing progenitors at embryonic day 12.5.
Conclusions
Altogether, these results suggest a role for Insm1 in promoting the transition of progenitors from apical and proliferative to basal, terminal and neuronogenic. This role appears partially conserved with that of its nematode ortholog, egl-46. The similar effects of Insm1 deletion on progenitors of embryonic olfactory epithelium and cortex point to striking parallels in the development of these neuroepithelia, and particularly between the basal progenitors of olfactory epithelium and the subventricular zone progenitors of cortex.
Keywords
Olfactory EpitheliumProliferative ProgenitorOlfactory Marker ProteinEmbryonic Stem Cell CloneBasal Progenitor
Background
During nervous system development, progenitors divide to produce more progenitors, glia and/or neurons. Decisions to stop proliferating and produce neurons or glia determine shape, size and cellular composition of every part of the nervous system. These decisions can involve transitions between apical and basal sides of a proliferating neuroepithelium. In embryonic olfactory epithelium (OE), apical progenitors generate sustentacular glia and more progenitors, some of which transition basally, divide terminally and produce neurons [1]. Despite its importance, we have limited knowledge of which genes control progenitor transitions from proliferative to neuronogenic.
In Caeneorhabditis elegans, the zinc-finger protein EGL-46 is transiently expressed in certain progenitors about to divide terminally (neuronogenic, N/N divisions) and in their two nascent neurons, but not in the mature neurons or in earlier progenitors that divide to produce one or two progenitors (proliferative, P/P or P/N divisions) (see discussion below). In egl-46 mutants, some of these presumptive N/N progenitors fail to terminally divide and generate additional progenitors [2–4] (see discussion below). Hence, EGL-46 regulates terminal neuronogenic divisions. We hypothesize that a mammalian homolog of EGL-46 also regulates transitions of progenitors from proliferative to terminally dividing and neuronogenic.
In mammals, egl-46 has two orthologs, Insm1 and Insm2 [3, 5]. Insm1 was originally identified as highly expressed in neuroendocrine tumors [6–13], but during normal development it is transiently expressed throughout the embryonic and adult developing nervous system [14–18]. In particular, Insm1 mRNA is expressed in late (not early) progenitors and nascent (not mature) neurons [15]. Thus, the pattern of expression of Insm1 in mice is reminiscent of that of egl-46 in nematode neuronal lineages, suggesting that both genes share a conserved function in regulating neuronal progenitor proliferation. Insm1 has been implicated in the development of the pancreas [19–22], sympatho-adrenal lineages [23], cortex [16], and hindbrain [24]. We tested the function of this gene in the embryonic OE.
The OE provides a simple neurodevelopmental model. This placode-derived neuroepithelium contains only one type of neuron, which originates from progenitors located within the epithelium. Embryonic OE is spatially segregated: early progenitors and sustentacular cells localize apically, late progenitors basally, and neurons in between [1, 25]. In embryonic OE, Insm1 mRNA is expressed in intermediate cells (both progenitors and nascent neurons) and basal (but not apical) progenitors [15]. We generated mice entirely lacking Insm1 and used them to conclude that this gene regulates progenitor transitions from apical and proliferative to basal and neuronogenic.
Results
In order to determine the role of
Insm1
in neuronal development, we generated knockout (KO) mice lacking this gene. The
Insm1
mRNA is transcribed from a single exon (2,912 bp long) containing 155 bp of 5' UTR, 1,566 bp of coding sequence and 1,206 bp of 3' UTR. By homologous recombination in HM1-M embryonic stem (ES) cells (derived from Sv129 mice), we replaced 3.4 kb of genomic DNA containing the entire
Insm1
exon with a neomycin cassette surrounded by
loxP
sites for future excision (Figure
1A
). Several of these recombined ES cell clones were injected into C57BL/6 blastocysts and multiple chimeras were generated. Two (out of 17) chimeras generated from one of these ES cell clones (11G9) passed the
Insm1
tm1Jga
allele (which bears a 'floxed' neomycin cassette in place of
Insm1
) through the germ line and produced heterozygous progeny. We generated the final KO allele,
Insm1
tm1.1Jga
, by crossing these heterozygotes with an E2a-Cre transgenic mouse, which express the Cre recombinase ubiquitously, thus removing the neomycin cassette and leaving only a
loxP
site in place of the wild type allele of
Insm1
(Figure
1A
). We confirmed deletion of
Insm1
by Southern blot and by PCR (Figure
1B, C
). Furthermore,
in situ
hybridization revealed that the mRNA of
Insm1
, detected in wild type embryos in the expected neuronogenic areas (including OE) [
15
], was missing in KO embryos (Figure
1D
). These results, in addition to confirming the functional KO of the
Insm1
gene, also demonstrate that the distribution reported with this same probe, in late progenitors and nascent neurons ([
15
] and data not shown), does indeed represent the mRNA of
Insm1
, not of a homolog.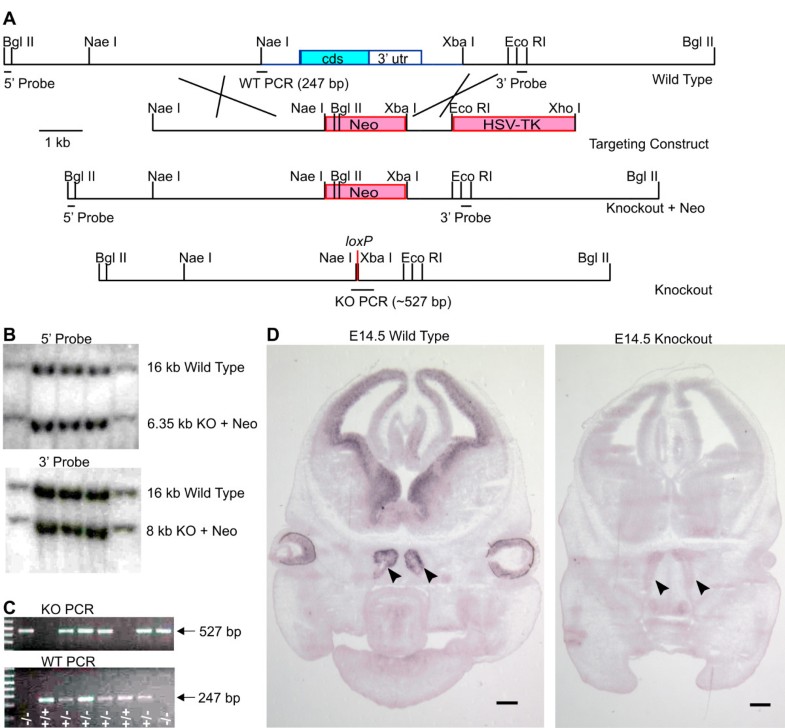 To avoid potentially confounding effects of other genetic variables in our phenotypic assessment, we placed the Insm1 tm1.1Jga allele (from now on referred to as Insm1-) into an isogenic background by performing ten backcrosses into either the inbred C57BL/6 line or the outbred CD1 line.
Discussion
Insm1 encodes a zinc-finger protein that is expressed in late progenitors and nascent neurons throughout the developing nervous system, including the embryonic OE [15, 16]. Here we show several lines of evidence indicating that, in embryonic OE, deletion of Insm1 causes a decrease in terminal, neuronogenic progenitors and an increase in earlier, proliferative progenitors. First, at certain embryonic stages the OEs of Insm1 -/- mice (compared with OEs of Insm1 +/+ mice) contain more apical mitoses (E12.5) and fewer basal ones (E12.5 and E14.5). At these stages, progenitors undergoing mitosis apically generate more progenitors, whereas some progenitors undergoing mitosis at the basal lamina generate neurons. Second, at E12.5 the OEs of Insm1 -/- mice display more cells expressing ASCL1 (a marker of TAPs, which migrate from apical to basal locations but still divide to produce progenitors) and fewer cells expressing NEUROD1 (a marker of INPs, which divide terminally next to the basal lamina to produce neurons). Third, by sequential incorporation of nucleoside analogs we demonstrate that, at E12.5, the OEs of Insm1 -/- mice contain fewer progenitors that are terminally dividing. These results indicate that Insm1 promotes the transition of olfactory progenitors from apical, proliferative and uncommitted to basal, terminally dividing and neuron-producing.
Conclusions
Our results indicate that, in the mouse embryonic OE, Insm1 promotes the transition of progenitors from apical, proliferative and uncommitted to basal, terminally dividing and neuron-producing. This role is similar to that of Insm1's C. elgans ortholog, egl-46, in certain neuronal lineages, and therefore appears to be evolutionarily conserved (Figure 10). Furthermore, the role of Insm1 in embryonic OE is similar to its role in embryonic cortex, in both cases facilitating the progenitors' transition from apical, proliferative and uncommitted to basal, terminally dividing and neuron-producing (Figure 10). Based on this and other similarities, we propose that both the neural-tube derived cortex and the placode-derived OE contain homologous neuroepithelial organization and types of progenitors whose progression is governed by common factors such as Insm1.
Abbreviations
ACC3:

activated cleaved caspase 3
BAC:

bacterial artificial chromosome
bp:

base pair
BrdU:

5-bromo-2-deoxyuridine
DAPI:

4',6-diamidino-2-phenylindole
dpc:

days post-coitus
E:

embryonic day
EdU:

5-ethynyl-2'-deoxyuridine
ES:

embryonic stem
IHC:

immunohistochemistry
KO:

knockout
INP:

immediate neuronal precursor
OE:

olfactory epithelium
OMP:

olfactory marker protein
PBS:

phosphate-buffered saline
pH3:

phosphohistone H3
TAP:

transit amplifying progenitor
UTR:

untranslated region.
Declarations
Acknowledgements
We are especially grateful to Jennifer Ray for extensive mouse husbandry, genotyping and cryosectioning. Alfred Rademaker and Nanjiang Hou, from the Biostatistics core at Northwestern University, advised on statistical analysis. Supported by grants from NIH-NINDS (R01 NS44363) and from the Brain Research Foundation (BRFSG 2009-6) to JG-A.
Authors' Affiliations
(1)
Department of Anesthesiology, Northwestern University Feinberg School of Medicine, Chicago, USA
(2)
Department of Neurology and Physiology and The Hugh Knowles Center for Clinical and Basic Science in Hearing and its Disorders, Northwestern University Feinberg School of Medicine, Chicago, USA
Copyright
© Rosenbaum et al; licensee BioMed Central Ltd. 2011
This article is published under license to BioMed Central Ltd. This is an Open Access article distributed under the terms of the Creative Commons Attribution License (http://creativecommons.org/licenses/by/2.0), which permits unrestricted use, distribution, and reproduction in any medium, provided the original work is properly cited.