Research article

Open Access
A forward genetic screen with a thalamocortical axon reporter mouse yields novel neurodevelopment mutants and a distinct emx2 mutant phenotype
Neural Development
2011
6:3
Received: 20 August 2010
Accepted: 7 January 2011
Published: 7 January 2011
Abstract
Background
The dorsal thalamus acts as a gateway and modulator for information going to and from the cerebral cortex. This activity requires the formation of reciprocal topographic axon connections between thalamus and cortex. The axons grow along a complex multistep pathway, making sharp turns, crossing expression boundaries, and encountering intermediate targets. However, the cellular and molecular components mediating these steps remain poorly understood.
Results
To further elucidate the development of the thalamocortical system, we first created a thalamocortical axon reporter line to use as a genetic tool for sensitive analysis of mutant mouse phenotypes. The TCA-tau-lacZ reporter mouse shows specific, robust, and reproducible labeling of thalamocortical axons (TCAs), but not the overlapping corticothalamic axons, during development. Moreover, it readily reveals TCA pathfinding abnormalities in known cortical mutants such as reeler. Next, we performed an unbiased screen for genes involved in thalamocortical development using random mutagenesis with the TCA reporter. Six independent mutant lines show aberrant TCA phenotypes at different steps of the pathway. These include ventral misrouting, overfasciculation, stalling at the corticostriatal boundary, and invasion of ectopic cortical cell clusters. An outcross breeding strategy coupled with a genomic panel of single nucleotide polymorphisms facilitated genetic mapping with small numbers of mutant mice. We mapped a ventral misrouting mutant to the Emx2 gene, and discovered that some TCAs extend to the olfactory bulbs in this mutant. Mapping data suggest that other lines carry mutations in genes not previously known for roles in thalamocortical development.
Conclusions
These data demonstrate the feasibility of a forward genetic approach to understanding mammalian brain morphogenesis and wiring. A robust axonal reporter enabled sensitive analysis of a specific axon tract inside the mouse brain, identifying mutant phenotypes at multiple steps of the pathway, and revealing a new aspect of the Emx2 mutant. The phenotypes highlight vulnerable choice points and latent tendencies of TCAs, and will lead to a refined understanding of the elements and interactions required to form the thalamocortical system.
See Commentary: http://www.biomedcentral.com/1741-7007/9/1
Keywords
Olfactory BulbInternal CapsuleCortical PlateReporter LineDorsal Thalamus
Background
The conscious perceptions and actions mediated by the cerebral cortex are transmitted and modulated through axonal connections with its intimate processing partner, the dorsal thalamus. These reciprocal projections, the thalamocortical and corticothalamic axons, develop in concert by growing in opposite directions along the same pathway [1]. Some disorders such as epilepsy or schizophrenia may involve defects in the architecture of the thalamocortical system [2–4], but the mechanisms of its development remain poorly understood.
Humans and mice share a similar organization of the thalamocortical system. The elaborate guidance process of thalamocortical axons (TCAs) in rodents can be broken into six key steps (Figure
1A
; detailed reviews in [
5
–
7
]). First, the axons extend ventrally along the side of the thalamus. Second, near the hypothalamus, they turn laterally to cross the diencephalon-telencephalon border (DTB) and enter the ventral telencephalon around embryonic day (E)13 [
8
]. This step appears to require repulsion from Slit in the ventral thalamus [
9
–
11
], and interactions with a cluster of 'guidepost cells' in the internal capsule [
12
–
14
]. Sema6A is required by a subset of TCAs for the lateral turn, but the mechanism is not understood [
15
,
16
]. Third, the large single bundle of TCAs fans out and extends as numerous fascicles through ventral telencephalon (vTel). This extension through vTel may be guided by a permissive 'corridor' of tangentially migrating cells that express the attractant neuregulin-1 [
17
]. Moreover, the spreading of the TCA array is topographically organized by gradients of cues in the vTel [
18
–
21
]. Fourth, the TCA fascicles cross the corticostriatal boundary (CSB) around E15 and turn dorsally. The factors mediating this crossing are unknown, but may be disrupted in mutants for the transcription factors
Tbr1
or
Fezf2
[
22
–
25
]. Fifth, once in the cortex, the TCAs elongate within the intermediate zone and/or subplate [
26
–
28
]. Finally, around birth, TCAs sprout collateral branches within their specific cortical target areas to synapse with layer 4 neurons [
27
,
29
]. The TCAs thereby transmit topographic sensory information to the appropriate cortical areas.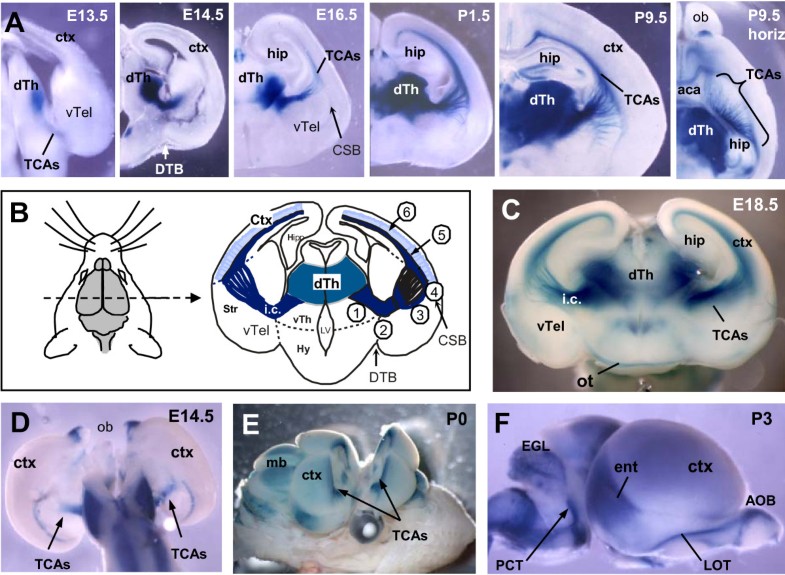 Since the understanding of the steps and mechanisms of TCA development remains fragmentary, we performed an unbiased forward genetic screen to identify genes required for thalamocortical development. We combined efficient mutagenesis and mapping strategies [30–32] with a specific axonal reporter, TCA-tau-lacZ (TCA-TLZ), to visualize and screen for proper formation of this axon tract inside embryonic mouse brains, without sectioning or immunohistochemistry. Seven independent cortical development phenotypes were found, six with aberrant TCA projections. Initial mapping determined that one mutation was in Emx2, while others represent novel genes for this process.
Discussion
We designed a forward genetic strategy to screen directly for mutants with abnormal axon projections inside the mammalian brain. Focusing on the thalamocortical system, we screened with a new reporter line for TCAs. The TCA labeling served not only as a direct indicator of TCA pathfinding abnormalities, but also as an indirect readout of forebrain development defects. Despite the small size of this ENU mutagenesis, independent mutant defects were found at distinct steps of TCA guidance and in forebrain morphogenesis. Mapping indicated that some mutants represent novel genes, and a novel phenotype was caused by mutation of the known thalamocortical development gene Emx2. The various phenotypes suggest hypotheses about latent affinities, prerequisites, and the most vulnerable choice points of thalamocortical axons.
Conclusions
This screen represents the first attempt at an unbiased assay of the genetic requirements for development of a particular axon tract inside the mammalian brain. Despite assaying only a small fraction of the mouse genome, a variety of phenotypes were found in thalamic axon pathfinding and cortical morphogenesis. The phenotypes represent some novel genes as well as enhanced detection of the known Emx2 phenotype. This work paves the way for a more refined understanding of the interactions that TCAs must negotiate on their path through the growing forebrain, and for future genetic screens on other aspects of mammalian brain connectivity and morphogenesis.
Materials and methods
TCA-TLZ reporter line construction
A transgene was constructed using the 1.3-kb golli promoter [34] fused to the tau-lacZ gene [33]. Linearized plasmid was injected into CB6F1 (BALB/c × C57BL/6) egg pronuclei, and eggs implanted into pseudopregnant females (Salk Transgenic Core Facility). Animals carrying the transgene were ascertained by genotyping tail DNA for the presence of the LacZ gene. If an animal transmitted the transgene to its progeny, they were examined for expression of the transgene by either X-Gal staining or by RNA in situ hybridization for LacZ transcript at P0. Out of five transmitting lines, only two showed detectable transgene expression, none in the cortex. One line expressed beta-galactosidase activity in the dorsal thalamus, and was called the 'TCA-TLZ' line and maintained on C57BL/6J.
Animals and breeding
Embryonic ages were estimated by plug checking (day of plug considered E0.5). Embryos were harvested by caesarean section. Littermate mouse embryos were used as controls for all experiments. Mouse colonies were maintained at the Salk Institute, Brigham and Women's Hospital, and University of Virginia in accordance with National Institutes of Health guidelines and local Institutional Animal Care and Use Committee (IACUC) protocols.
ENU injections and screening
Heterozygous TCA-TLZ males (n = 39) on a C57BL/6 background were treated with three intraperitoneal injections of either 85 or 90 mg/kg ENU (Sigma, N-3385, Sigma-Aldrich, St. Louis, MO, USA) administered once a week for 3 weeks [65]. Dosages were quantified by spectrophotometry. Of the 39 treated males, 15 survived and recovered fertility between 12 and 16 weeks after the third ENU injection and were bred to wild-type FVB/N females (Taconic, Hudson, NY, USA). G1 males were genotyped for lacZ and only carriers selected.
E18.5 G3 embryos were collected, decapitated, and numbered. Tail or skin tissue was saved for DNA isolation. Brains were fixed for 30 minutes in 4% paraformaldehyde in phosphate-buffered saline, cut coronally with a razor blade in the approximate position of the internal capsule, fixed for five more minutes, stained in 0.8 mg/ml X-Gal solution overnight, and examined with bright field stereomicroscopy. Some brains (Figure 1A) were sectioned by vibratome before staining. Results were documented using either a Leica MZ-12 stereomicroscope using a Leica DC500 digital camera, a Leica MZ-16 stereomicroscope with DFC350 digital camera, or an Olympus stereoscope with 35 mm film camera.
Genetic linkage mapping
Genomic DNA was prepared either by standard proteinase K extraction for microsatellite markers or using the PUREGENE Purification Kit (Gentra Systems, Inc., Minneapolis, MN, USA) for SNP genotyping. SNP genotyping and data analysis were performed as described [32], at the Partners Healthcare Center for Personalized Genomic Medicine (PCPGM) and the Broad Institute Center for Genotyping and Analysis. SNP panels used were a 394 SNP panel (Sequenom, Inc., San Diego, CA, USA) [32], and a 768 SNP panel (Illumina GoldenGate, Illumina, Inc., San Diego, CA, USA). Additionally Line ND71 was genotyped on Illumina LD377 SNP and MD1449 SNP panels in a pilot. dChip software [66, 67] was used to visualize the data. Confirmation of SNP results and fine mapping were performed using polymorphic SSLP markers analyzed by PCR on genomic DNA and 3.3% MetaPhor agarose gels.
To define the right end of the baffled interval, we designed a new SSLP marker consisting of (GAAA) repeats that we named '58-3' at 34.8 Mb within an intron of the Hc gene. Left primer is CCCCTCCGCTTTTCTTTATG; right primer TTGCAAGCATAGCCTCATGT. Fuddle was mapped between D19Mit16 and D19Mit88. Map positions for lines ND91(sprawl) and ND33(bumpy) could not be determined.
Three additional recessive mutants with highly penetrant developmental phenotypes in non-brain tissues were found and mapped. ND3 mutants had stiff dry skin and mapped to chromosome 4: 118 to 143 Mb by SNP analysis. ND24 mutants exhibited cleft palates and mapped between D11Mit30 and D11Mit33. Mutants in line ND94 were anemic and mapped to chromosome 1: 156 to 185 Mb by SNPs.
Sequencing of wanderer
The exons and splice junctions of candidate genes Emx2 and Attractin-like-1 (Atrl1) were sequenced from genomic DNA of mutants and compared to the reference C57BL6 sequence (UCSC Genome Browser [68]). Primers were designed using Primer3 [69]. Exons were amplified by PCR, purified with the Agencourt AMPure kit (Beckman Coulter Genomics, Danvers, MA, USA), and sequenced bidirectionally (SeqWright, Houston, TX, USA). The mutation was confirmed absent in parental strains, homozygous in all mutants and heterozygous in all carriers tested. All trans-heterozygotes from the Emx2 complementation test were confirmed by sequencing.
Dye tracing and histology
For dye tracing of thalamic axons, embryos were fixed by perfusion with 4% paraformaldehyde, brains dissected out, and a razor blade was used to make a coronal cut caudal to the thalamus. Large DiI-C18 crystals (1,1'-dioctadecyl-3,3,3',3'-teramethylindocarbocyanine perchlorate; Molecular Probes, Invitrogen Corporation, Carlsbad, CA, USA) were placed into dorsal thalamus from the caudal side to label most of the dorsal thalamus. Dye was allowed to transport for 2 weeks at 37°C. Brains were imaged whole and phenotypes confirmed by examining vibratome sections. For histochemistry, brains were fixed in 4% paraformaldehyde, and either embedded in paraffin, sectioned at 5 microns, and stained with hematoxylin and eosin (Beth Israel Histology Core), or frozen and cryosectioned at 16 microns for immunostaining. Neurofilament immunohistochemistry (NFM (2H3), 1:100; Developmental Studies Hybridoma Bank) was done on paraffin sections, and L1 immunohistochemistry (Rat anti-L1, 1/5,000; Millipore, Billerica, MA, USA) was done on cryosections, using avidin-biotin reaction (Vector Laboratories, Inc., Burlingame, CA, USA) with DAB substrate as in [14], or an Alexa488 secondary antibody (Figure 5F, G). Photographs were taken with either a Leica MZ12 microscope or a Leica MZ16 fluorescent microscope and Leica DFC300FX digital camera and Photoshop. In situ hybridization in Additional file 1 was performed using a radioactive probe for mRNA to the lacZ gene, as described in [70]. Each control-mutant pair was photographed at the same magnification.
Abbreviations
CSB:

corticostriatal boundary
DTB:

diencephalic-telencephalic border
E:

embryonic day
ENU:

N-ethyl-N-nitrosourea
NFM:

neurofilament-M
P:

postnatal day
SNP:

single nucleotide polymorphism
TCA:

thalamocortical axon
TLZ:

tau-lacZ
vTel:

ventral telencephalon.
Declarations
Acknowledgements
We thank Bareza Rasoul, Ayushma Shrestha, Andrew Bolton and Alison Brown for technical assistance, and members of the Walsh and Beier labs for helpful discussions. This research was supported by grants from the National Institutes of Health (HD36404 and U01 HD43430 to DRB; K01MH69647 to NDD; R01NS35129 to CAW; R01 NS31558 and R01 MH086147 to D'OL) and a Damon Runyon Foundation fellowship (NDD). CAW is an Investigator of the Howard Hughes Medical Institute.
Authors' Affiliations
(1)
Department of Neurology, Howard Hughes Medical Institute, Beth Israel Deaconess Medical Center, Boston, USA
(2)
Department of Cell Biology, University of Virginia, Charlottesville, USA
(3)
Division of Genetics, Brigham and Women's Hospital, Harvard Medical School, Boston, USA
(4)
Molecular Neurobiology Laboratory, Salk Institute, La Jolla, USA
(5)
Division of Genetics and Manton Center for Orphan Diseases, Children's Hospital Boston, Harvard Medical School, Boston, USA
Copyright
© Dwyer et al; licensee BioMed Central Ltd. 2011
This article is published under license to BioMed Central Ltd. This is an Open Access article distributed under the terms of the Creative Commons Attribution License (http://creativecommons.org/licenses/by/2.0), which permits unrestricted use, distribution, and reproduction in any medium, provided the original work is properly cited.