Insulin receptor signaling in the development of neuronal structure and function
Neural Development
2010
5:7
Received: 14 December 2009
Accepted: 15 March 2010
Published: 15 March 2010
Abstract
Sensory experience plays a crucial role in regulating neuronal shape and in developing synaptic contacts during brain formation. These features are required for a neuron to receive, integrate, and transmit signals within the neuronal network so that animals can adapt to the constant changing environment. Insulin receptor signaling, which has been extensively studied in peripheral organ systems such as liver, muscle and adipocyte, has recently been shown to play important roles in the central nervous system. Here we review the current understanding of the underlying mechanisms that regulate structural and functional aspects of circuit development, particularly with respect to the role of insulin receptor signaling in synaptic function and the development of dendritic arbor morphology. The potential link between insulin receptor signaling malfunction and neurological disorders will also be discussed.
Keywords
Insulin ReceptorSynapse FormationCircuit DevelopmentDendritic ArborInsulin Receptor Signaling
Introduction
The human brain is made up of billions of neurons assembled into sophisticated circuits. Information received from sensory neurons is processed by neurons within distinct circuits to generate specific functional outputs, including cognitive decisions and behavior. A fascinating problem is how these huge numbers of neurons establish precise connections to assemble complex circuits during development. The neuron, the functional unit of the brain circuit, is a highly specialized cell composed of the cell body, the dendrite and the axon. The structure of the dendrite determines where and how an individual neuron can receive and integrate information from afferent neurons, whereas the morphology of the axon determines where processed information is sent to efferent neurons. Sites of contacts between the axon and dendrite, or synapses, mediate communication between neurons for proper information flow within the neuronal circuit. We will first review the current understanding of cellular and molecular mechanisms underlying synapse and dendrite development, then focus on recent evidence suggesting a function for insulin receptor signaling in circuit function and pathological brain diseases.
Synapse and dendrite development
Synapse development
The number of synaptic contacts and the efficacy of synaptic transmission in the brain are dynamic throughout development and adulthood [1–3]. These dynamics are crucial for neurons to optimize connections in brain circuits during development. Synaptic plasticity is also important to optimize neuronal function in adults, for example, to adapt to our changing environment and to allow memories to form. Synapse development is a series of distinct processes, including synapse formation, synapse maturation and synapse maintenance. The mechanisms that regulate each of these processes are just starting to be unraveled.
Synapse formation
Synapses are specialized junctions between neurons where the presynaptic axon terminal is packed with synaptic vesicles and vesicle release machinery and the postsynaptic dendritic specialization contains transmembrane neurotransmitter receptors, scaffold proteins and signaling machinery (Figure
1A
; see [
4
] for detailed review). Time-lapse imaging in both
in vivo
and
in vitro
preparations revealed that the temporal sequence of synapse formation is quite rapid. The first step involves the contact between dendrites and axons, which likely occurs by adhesive mechanisms. Second, the presynaptic specialization assembles quickly at sites of contact [
5
,
6
]. In fact, it is thought that components of the presynaptic specialization are present in axons before synaptogenesis as packets of vesicle proteins and components of the active zone proteins [
7
,
8
], Finally, the postsynaptic specialization, including the proteins postsynaptic density-95 (PSD-95), and neurotransmitter receptors, including N-methyl-D-aspartate (NMDA) receptors, are thought to arrive somewhat later during synapse formation (Figure
1B
) [
9
]. Although the assembly of synapses is a complex process, recent work has identified several molecules that are important in different steps of synapse formation [
7
,
10
]. For example, molecules that are present in gradients within target regions, such as ephrins, play an important role in directing axons and dendrites to the correct brain regions [
11
,
12
]. Adhesion molecules, such as cadherin, are thought to be important in establishing of the initial axodendritic contacts [
13
,
14
]. Some transsynaptic molecules, such as neuroligin and neurexin, are crucial in bidirectional signaling and the recruitment of both pre- and postsynaptic proteins to new synapses [
15
,
16
]. In addition to molecular players, neuronal activity appears to be another key regulator in the formation of nascent synapses [
17
–
20
].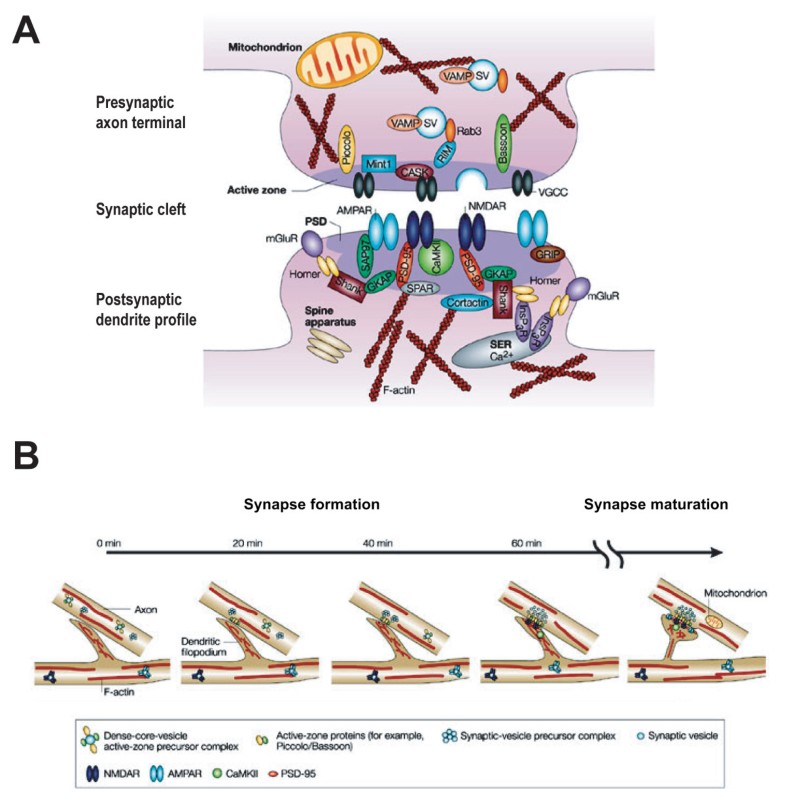 Synapse maturation
Synapse maturation is characterized by an increase in the morphological size and transmission strength of the synapse, which includes changes in both the presynaptic axon terminal and the postsynaptic dendrite. From the presynaptic point of view, a prominent ultrastructural feature of synaptic maturation is the increase in the number of synaptic vesicles per terminal [21–23], which likely contributes to the increase in probability of transmitter release in mature synapses [17]. Transmission at immature glutamatergic synapses is mainly mediated by NMDA receptors, which shift their kinetics by replacing NMDA receptor subunit 2B-containing receptors with NMDA receptor subunit 2A-containing receptors [24, 25]. These immature synapses can be silent or have low synaptic strength at resting membrane potentials because of voltage-dependent magnesium blockade of the NMDA receptor. As the synapses mature, α-amino-3-hydroxy-5-methyl-4-isoxazole propionic acid (AMPA) receptors are recruited to the postsynaptic membrane, and in addition to NMDA receptors, provide fully functional glutamatergic synaptic transmission [26–29]. Neuronal activity reportedly induces synapse maturation by promoting the incorporation of NMDA receptor subunit 2A-containing NMDA receptors into synaptic sites. Furthermore, activity recruits AMPA receptors to the postsynaptic site to activate silent synapses and increase the strength of synaptic transmission (Figure 1B) [4, 26, 27].
Synapse maintenance or synapse elimination
The precise connectivity required for circuit function relies not only on the formation of new contacts but also the maintenance of the correct synapses. In fact, the density of synapses formed at early stages of development is far greater than the density retained at later stages, indicating that only selective synapses are stabilized and maintained during development [30]. The importance of synapse maintenance is well documented at the neuromuscular junction, where each muscle fiber is temporarily innervated by multiple motor axons but only one input becomes stabilized while others are eliminated [31, 32]. A reduction in synapse density has also been demonstrated in various regions of the central nervous system (CNS) [33–37], suggesting synapse elimination could be a common process for refining the brain circuits during development. For instance, climbing fiber to Purkinje cell synapses in cerebellum undergo synapse elimination at early postnatal ages in mammals. Although the detailed mechanisms regulating synapse elimination and maintenance remain largely unknown, neuronal activity appears to contribute to the maintenance of correct synapses while weaker synapses are usually eliminated [34, 38, 39]. Additionally, molecular players such as insulin-like growth factor (IGF)-2, complement protein 1q, major histocompatibility complex protein, protein kinase Cγ, metabotropic glutamate receptor subtype 1, and glutamate receptor (GluR) delta 2 subunit reportedly regulate synapse maintenance or elimination [40–45].
Dendrite development
The architecture of the dendritic arbor contributes to the precise patterning of synaptic connections required for normal circuit function. Dendritic structure not only determines which axons are potential presynaptic partners, but also determines how the inputs are integrated. The marriage of single cell labeling and in vivo time-lapse imaging has made it possible to explore the cellular mechanisms underlying dendritic development [19, 20, 46, 47]. Advances in microscopy, cell biology and molecular genetic methods have paved the way for significant advances in our understanding of the mechanisms behind the molecular and activity-dependent regulation of dendrite development.
Cellular mechanisms
Imaging optic tectal neurons
in vivo
in
Xenopus
tadpoles showed that dendritic arbor elaboration goes through distinct phases (Figure
2A
) [
19
,
48
]. Many newly differentiated neurons first undergo axonogenesis with only little elaboration of the dendritic arbor. About one day after evidence of morphological differentiation, neurons go into a rapid dendritic arbor growth phase for a few days until they enter the third phase, characterized by a slower dendritic arbor growth rate and more stable dendritic arbors. During the rapid dendritic arbor growth period, one might think that the growth of the dendritic arbor can be easily achieved by continuously lengthening pre-existing dendrites and sprouting new dendritic branches; however, time-lapse imaging at intervals of minutes to hours reveals that dendritic growth is highly dynamic, consisting of not only branch addition and extension, but also retraction and loss of dendritic branches (Figure
2B
) [
18
,
49
–
52
]. It is worth noting that these dynamics in dendritic morphogenesis persist in mature neurons when their overall structure is stable, although at a slower rate [
20
,
53
–
55
]. Therefore, it is very likely that mechanisms that regulate dendritic dynamics early during development may also play a role in dendritic plasticity later in life.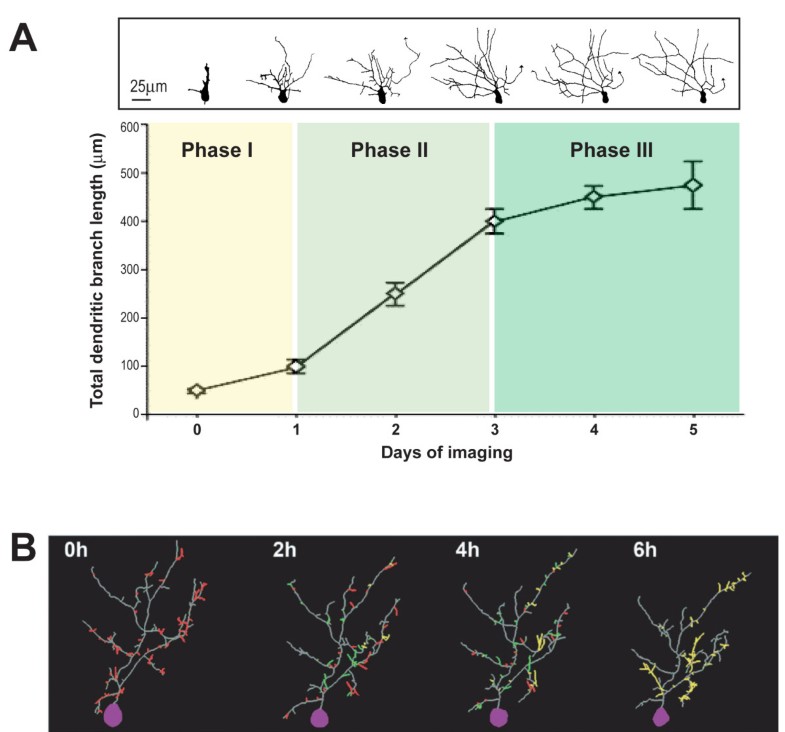 Molecular mechanisms
Mechanisms that regulate cytoskeleton architecture play a crucial role in shaping dendritic arbors because the cytoskeleton provides the fundamental support of the dendritic structure. Filopodia are thin, highly motile actin-based protrusions and some of them are transformed into more stable microtubule-based dendritic branches. The Rho family of small GTPases, including Rac, RhoA, and Cdc42, regulate the rearrangement of cytoskeleton and participate in distinct aspects of dendrite morphogenesis [56, 57]. For example, Rac and Cdc42 activity promote dendritic arbor dynamics by increasing the rate of actin polymerization, whereas increased RhoA activity inhibits dendritic arbor growth in Xenopus tectal neurons [57]. Consistently, several guanine exchange factors that activate Rac, such as Tiam1 [58] and STEF [14, 59, 60], have been shown to regulate neurite formation whereas Rho-specific guanine exchange factors, such as KIAA0380 [14], and Rho-specific GTPase activating proteins, such as p190 RhoGAP [61], which activate or inactivate Rho, respectively, have been shown to regulate neurite retraction [14, 59, 60]in vitro. Interestingly, there is considerable crosstalk among these Rho GTPases. RhoA activity was increased by Rac activation and Cdc42 inhibition, whereas Rac was inhibited by activation of Rho in Xenopus tectal neurons in vivo [62]. This tight cross-regulation of Rho GTPases seems to work together to determine the structure of the dendritic tree. What controls the activity of Rho GTPases is a key question to understand the underlying mechanisms in dendritic morphogenesis.
In the Xenopus visual system visual activity promotes dendritic arbor growth through mechanisms that require both glutamate receptor activity and Rho GTPase activity in Xenopus tectal neurons [63]. Accordingly, the working hypothesis is that glutamate receptor activity promotes dendritic growth by elevating Rac and Cdc42 activities, leading to increased branch dynamics, and concurrently decreasing RhoA activity to relieve its inhibition on branch extension [63]. In addition to Rho GTPases, several other molecular mechanisms, including signaling through neurotrophins [64, 65], CPG15 [66] and calcium calmodulin dependent kinase type II [67], or local protein synthesis, mediated by cytoplasmic polyadenylation [47], have been shown to regulate dendritic arbor development in an activity-dependent manner. These data suggest that dendritic arbor growth is organized by signals from their surrounding environment.
Synaptic function and dendritic development
During circuit development, the increase in synapse number and synaptic strength occur concurrently with the elaboration of dendritic arbors, suggesting a coordinated regulation of synaptic function and dendritic development. Almost two decades ago, Vaughn first proposed the 'synaptotrophic hypothesis', which states that the stabilization of synapses might stabilize the dendritic branches and thereby explain the coordinated development of synapses and dendritic arbors [68]. Recent research has provided new supporting evidence for this hypothesis. Adhesion molecules, which play important roles in the initial assembly and stabilization of the synapses, regulate dendritic arbor development in mammals and flies [69, 70]. Moreover, live imaging of synapse formation and dendrite growth in zebrafish showed that the presence of the synapses associated with the stabilization of terminal dendrites [71]. On the other hand, blockade of synaptic transmission or synapse maturation reduces dendritic arbor elaboration and blocks activity-dependent dendritic growth in Xenopus [18, 50, 52, 63, 72]. It is interesting to note that decreasing GABAergic transmission also changes the pattern of dendritic arbor growth and blocks visual experience-dependent structural plasticity [73]. These data suggest that synaptic contacts and synaptic transmission regulate the growth and elaboration of complex dendritic arbors in sculpting circuit function during development.
The insulin receptor
The insulin receptor is a receptor tyrosine kinase well studied with regard to its function in the regulation of peripheral glucose metabolism. Although expression of the insulin receptor in the brain was discovered decades ago [74, 75], insulin receptor function in this classic 'insulin-insensitive' organ remains largely unknown. Recent studies in neuronal cell culture suggest that insulin receptor signaling regulates several neuronal functions, including spine density and neurite growth [76, 77]; however, the role of insulin receptor signaling in controlling structure and function of CNS circuit development has not yet been widely explored in vivo.
Perspectives
Accumulating data support the idea that insulin receptor signaling plays a prominent role in both structural and functional aspects of circuit development. The detailed cellular and molecular mechanisms by which insulin receptor signaling control synaptic function and dendritic structure are still to be determined. Besides the role of insulin receptor signaling in circuit formation, insulin receptor signaling has been linked to several neurological disorders. Whether failures in synaptic function and dendritic structure caused by decreased insulin receptor signaling contribute to brain diseases later in life is an important issue to address.
Abbreviations
Aβ:

amyloid β
AMPA:

α-amino-3-hydroxy-5-methyl-4-isoxazole propionic acid
CNS:

central nervous system
dnIR:

dominant negative insulin receptor
GABA:

γ-aminobutyric acid
GFP:

green fluorescent protein
GluR:

glutamate receptor
IGF:

insulin-like growth factor
IR:

insulin receptor
IRS:

insulin receptor substrate
MAPK:

mitogen-activated protein kinase
mEPSC:

miniature excitatory postsynaptic currents
mTOR:

mammalian target of rapamycin
NMDA:

N-methyl-D-aspartate
PI3K:

phosphoinositide-3 kinase
PSD:

postsynaptic density
PSD-95:

postsynaptic density protein-95
TSC:

tuberous sclerosis.
Declarations
Acknowledgements
The authors thank current and past members of the Cline Lab for insightful discussions, particularly Emiliano Rial Verde for encouraging the work. Supported by grants from the NIH (EY11261 and DP1OD000458 to HTC) and an Elizabeth Sloan Livingston Foundation Fellowship (S-LC).
Authors' Affiliations
(1)
Watson School of Biological Sciences and Cold Spring Harbor Laboratory, Cold Spring Harbor, USA
(2)
Departments of Cell Biology and Chemical Physiology, The Scripps Research Institute, La Jolla, USA
Copyright
© Chiu and Cline; licensee BioMed Central Ltd. 2010
This article is published under license to BioMed Central Ltd. This is an Open Access article distributed under the terms of the Creative Commons Attribution License (http://creativecommons.org/licenses/by/2.0), which permits unrestricted use, distribution, and reproduction in any medium, provided the original work is properly cited.