Research article
Open Access
A negative modulatory role for rho and rho-associated kinase signaling in delamination of neural crest cells
Neural Development
2008
3:27
Received: 22 February 2008
Accepted: 22 October 2008
Published: 22 October 2008
Abstract
Background
Neural crest progenitors arise as epithelial cells and then undergo a process of epithelial to mesenchymal transition that precedes the generation of cellular motility and subsequent migration. We aim at understanding the underlying molecular network. Along this line, possible roles of Rho GTPases that act as molecular switches to control a variety of signal transduction pathways remain virtually unexplored, as are putative interactions between Rho proteins and additional known components of this cascade.
Results
We investigated the role of Rho/Rock signaling in neural crest delamination. Active RhoA and RhoB are expressed in the membrane of epithelial progenitors and are downregulated upon delamination. In vivo loss-of-function of RhoA or RhoB or of overall Rho signaling by C3 transferase enhanced and/or triggered premature crest delamination yet had no effect on cell specification. Consistently, treatment of explanted neural primordia with membrane-permeable C3 or with the Rock inhibitor Y27632 both accelerated and enhanced crest emigration without affecting cell proliferation. These treatments altered neural crest morphology by reducing stress fibers, focal adhesions and downregulating membrane-bound N-cadherin. Reciprocally, activation of endogenous Rho by lysophosphatidic acid inhibited emigration while enhancing the above. Since delamination is triggered by BMP and requires G1/S transition, we examined their relationship with Rho. Blocking Rho/Rock function rescued crest emigration upon treatment with noggin or with the G1/S inhibitor mimosine. In the latter condition, cells emigrated while arrested at G1. Conversely, BMP4 was unable to rescue cell emigration when endogenous Rho activity was enhanced by lysophosphatidic acid.
Conclusion
Rho-GTPases, through Rock, act downstream of BMP and of G1/S transition to negatively regulate crest delamination by modifying cytoskeleton assembly and intercellular adhesion.
Keywords
Bone Morphogenetic ProteinNeural CrestNeural Crest CellDorsal Neural TubeEpithelial State
Background
The neural crest (NC) has long been a model for understanding cell migrations during development [1–5]. Nonetheless, the molecular network underlying the generation of cellular movement remains incompletely understood [6, 7]. This process involves an epithelial-to-mesenchymal transition (EMT) of the premigratory NC cells residing in the dorsal neural tube (NT) followed by delamination.
Bone morphogenetic protein (BMP), Wnt and fibroblast growth factor (FGF) signals were implicated in NC specification and lineage segregation [8–13] and evidence illustrates the involvement of BMP and Wnt in subsequent NC delamination and/or migration [14–20]. Our studies showed that a balance between BMP and its inhibitor noggin underlies the emigration of trunk-level NC independently of earlier cell specification [20]. A decreasing rostrocaudal gradient of BMP4 activity is established along the NT by a reciprocal gradient of noggin. Noggin downregulation is, in turn, triggered by the developing somites, which thus determine the timing of NC emigration [18–20]. BMP then induces EMT of NC by triggering Wnt1 transcription. The latter promotes G1/S transition, which is a necessary step for delamination of trunk NC [14, 21].
Acting downstream of BMP and/or Wnt, transcription factors such as Sox9, FoxD3 and Slug were found to be sufficient for inducing some properties of NC differentiation when ectopically expressed in the neuroepithelium [22–24]. Moreover, when expressed in combination they induced some features of EMT [24] whereas when separately provided they were unable to promote NC delamination in the trunk [23–26]. Successful delamination also requires the activity of effector genes that act on re-organization of the actin cytoskeleton, alterations in adhesive properties and consequent loss of epithelial polarity [13, 27–30]. In this context, N-cadherin was found to be a component of the BMP-dependent network leading to NC EMT. N-cadherin inhibits the onset of NC delamination both by a cell adhesion-dependent mechanism as well as by repressing canonical Wnt signaling. Relief from N-cadherin-mediated inhibition is attained in the dorsal NT during the onset of cell emigration. This is accounted for by an ADAM10-dependent cleavage of the full-length molecule into a soluble domain with pro-delamination properties, a process triggered by BMP [31].
Additional candidates for orchestrating NC delamination include the RhoGTPases. RhoGTPases are molecular switches that control a variety of signal transduction pathways; they are known primarily for their pivotal role in regulating the actin cytoskeleton, but not less significant are their effects on cell polarity, gene transcription, G1 cell cycle progression, membrane transport, and so on (reviewed in [32–34]). Rho proteins cycle between two conformational states, one bound to GTP, the active form, and the other bound to GDP, the inactive state. This switch is regulated by several activators and inactivators [35, 36]. The role of Rho GTPases in NC development remains virtually unexplored. Association between ectoderm and intermediate neural plate, a paradigm known to induce NC features [37, 38], activates transcription of Rho-related proteins [39]. Transcription of rhoA and rhoB, but not of rhoC, was detected in the avian NT with rhoB being expressed in premigratory and early migrating NC [40]. Initial rhoB mRNA is induced by BMP signaling [40], which is also required for its continuous transcription [20]. In contrast, Wnt3a appears to have no effect on the onset of rhoB expression [41], yet Wnt6 was sufficient to stimulate prematurely both rhoA and rhoB mRNAs [42]. Furthermore, inhibition of either canonical or non-canonical Wnt signaling had no effect on maintenance of rhoB in the dorsal NT [14]. In contrast to avians, in mouse and Xenopus, rhoB mRNA is expressed in migrating NC but not in the NT [43, 44]; another, unconventional RhoGTPase termed RhoV was found instead to be expressed in the early Xenopus NC and to be required for its specification [45]. The first functional study performed in avians in vitro suggested that Rho activity was required for NC delamination but not for subsequent cell migration [40]. However, loss of RhoB function in mice exhibited no apparent morphogenetic defects, although the development of the NC was not directly monitored [46]. Furthermore, in different cellular contexts, Rho signaling has been shown to promote cell migration or, conversely, to maintain the epithelial state [47–49]. Based on the above, it was important to investigate its function in the NC, a bona fide model for generation of cellular movement, and to begin understanding how it integrates within the already known molecular network leading to NC delamination.
Here we show that Rho signaling, through Rho-associated kinase (Rock) activity, negatively modulates the onset of NC emigration both in explants and in vivo. In vivo loss-of-function of either RhoA or RhoB enhanced emigration of NC cells. Likewise, inhibiting Rho signaling by C3 transferase stimulated the process. Consistently, treatment of explanted neural primordia with membrane-permeable C3 or with the Rock inhibitor Y27632 both accelerated and enhanced NC emigration. None of the above affected NC cell proliferation. Furthermore, they altered crest morphology by reducing stress fibers and focal adhesions. They also caused premature downregulation of membrane-associated N-cadherin. Reciprocally, activation of endogenous Rho by lysophosphatidic acid (LPA) inhibited emigration while enhancing stress fibers, focal adhesions and N-cadherin. The effect of LPA was specific to Rho as Y27632 rescued the observed phenotypes. Since NC delamination is triggered by BMP and depends upon successful G1/S transition, we examined possible interactions between these pathways. Blocking Rho or Rock rescued NC delamination in explants treated with noggin or with a G1/S inhibitor. In the latter case, G1-arrested cells successfully emigrated. Reciprocally, BMP4 was unable to rescue cell emigration upon inhibition with LPA. Together, our findings suggest that Rho-GTPases, acting through Rock, negatively regulate NC delamination by modifying cytoskeleton assembly and cell-cell adhesions and acting downstream of BMP and of G1/S transition.
Discussion
Growing evidence illustrates that EMT of NC cells followed by cell delamination are modulated by a complex network of interacting transcription factors, cell adhesion molecules and other regulatory proteins. A more complete knowledge of the component genes and their mechanisms of action is required for understanding such a basic developmental mechanism. A role for Rho signaling in this context was highly expected yet remained unclear. We report that Rho/Rock signaling helps maintain premigratory cells in an epithelial state. This is supported by several lines of evidence. The C3 exoenzyme is commonly used as an inhibitor of ADP ribosylation of Rho proteins, thus selectively preventing their activity [50, 51]. Addition of membrane-permeable C3, which inhibited the formation of actin stress fibers, resulted in enhanced NC emigration from explanted NTs and so did C3-encoding DNA when missexpressed in ovo. In contrast, previous data stemming from NT explants showed that soluble C3 inhibited NC delamination, hence implicating Rho proteins, in particular, RhoB, as a positive signal in the process [40]. However, relatively high levels of the transferase were used in that study, perhaps to overcome its poor penetrance into intact cells. We reason that such high concentrations might have compromised some cellular functions related to the process of interest. Instead, recent availability of a membrane-permeable version of the enzyme enabled us to lower by 50- to 200-fold the concentration of drug applied to similar explants while still keeping its expected biological activity. To challenge our results by independent means, we overexpressed two specific dominant-negative forms of RhoB that also enhanced NC delamination. Furthermore, N19-RhoA stimulated premature cell emigration. Moreover, inhibition of Rock activity both advanced and enhanced the process dramatically. Reciprocally, stimulation of Rho activity by LPA prevented NC delamination. Furthermore, inhibition of NC delamination achieved with either LPA or the ADAM10 inhibitor GI254023X, the latter preventing N-cadherin degradation, was reversed by the Rock inhibitor Y27632 or by C3 (Figures 6 and 8; Additional file 3; MG and CK, unpublished results). Altogether, our loss and gain of function analyses, performed in ovo and in explants, demonstrate that Rho proteins act as negative signals in the process of EMT and delamination. This is consistent with our observaton that active Rho proteins are present in the epithelial progenitors and are lost from dissociating cells. It is important to stress that in different biological systems, Rho proteins were shown to act distinctly. Whereas in several instances Rho/Rock mediate the maintenance of the epithelial state, consistent with our data (see, for example, [49, 64]), in others, like in untransformed colon epithelial cells, Rho proteins maintain adherens junctions and epitheliality yet exert this effect via Dia rather than Rock, which instead disrupted intercellular adhesions [65]. Furthermore, during endocardial cushion development, inhibition of Rock blocked EMT [66] rather than stimulating the process as observed in the NC. Missexpression of RhoA in post-otic NC cells was reported to alter patterns of NC migration even if virtually no active RhoA was detected in the intact migrating cells. Yet, RhoA missexpression had only a minor effect on cell delamination [67]; the level of active RhoA was, however, not assessed in the premigratory NC. These differences between post-otic and trunk NC are consistent with increasing data sustaining that cranial NC progenitors emigrate from the neuroepithelium as groups rather than individually and, therefore, use different mechanisms than those documented for the trunk [7, 68]. These and other results suggest that the multiplicity of activities mediated by Rho proteins and their downstream effectors should be carefully considered in a context-dependent fashion.
Which of the Rho proteins is active in this biological context? The two Rho proteins present in the avian NT are RhoA and RhoB; in contrast, RhoC was undetectable [40] (MG and CK, unpublished observations). Our functional assays show that loss of RhoA as well as of RhoB function enhanced emigration of NC cells in ovo. Consistent with previously published specificity data (see Results), we confirm that the dominant negative constructs used are selective as they had distinct effects on the integrity of the neuroepithelium. N19-RhoA caused a dissociation of the hemi-NTs, consistent with the broader expression of RhoA mRNA in the NT when compared to RhoB [40], whereas neither N19-RhoB nor GAP-RhoB altered general neuroepithelial morphology. In addition, N19-RhoA, but not N19-RhoB, caused a premature onset of NC delamination from segmental plate levels of the axis where all cells are still epithelial. Various reasons might account for the latter observation, such as differences in the half-life of the two proteins, differential plasmid efficiency, and so on. On the other hand, we cannot rule out the possibility that the effects monitored with each of the mutants represent an underestimate of the true effect as a partial compensation by endogenous RhoA of the N19RhoB or GAP-RhoB effect (and vice versa) might have occurred. The observation that the effect of C3 transferase in vivo was somewhat more significant agrees with such a notion. Consistent with the involvement of both proteins in maintenance of the epithelial state, we observed that in the epithelial and flattening epithelioid progenitors, the distribution of both RhoA and RhoB was predominantly membrane-associated, a pattern reflecting the expression of post-translationally modified proteins in their active state [34]. Moreover, this pattern was gradually downregulated in cells about to delaminate and fully disappeared upon acquisition of a mesenchymal phenotype. Similar results were obtained upon direct visualization of active RhoGTPases with RBD-GST, which, together with results from the functional experiments, further strenghten the notion that active proteins relevant to NC EMT are membrane-associated. In addition to cell surface expression, RhoB-immunoreactive protein was expressed in the cytoplasm, likely in endosomal compartments [69] and this pattern did not change after NC cells delaminated, possibly reflecting the observed maintenance of RhoB mRNA and perhaps also of cytoplasmic RBD-GST binding in early migrating progenitors. Hence, vesicular RhoB could have other functions, not necessarily related to NC delamination, both before as well as during cell migration. Enhanced and premature delamination of NC cells is also observed upon inhibition of Rock signaling. The latter, although classically considered to act downstream of RhoA, was recently found to mediate activities of RhoB in various contexts [70–73]; hence, membrane-associated RhoA and RhoB might signal through Rock to affect EMT of NC cells, whereas in endosomes, RhoB pimarily interacts with mDia to affect protein trafficking (see, for example, [74]) and yet unknown functions in the NC.
We show that the effects on NC emigration caused by changing the levels of Rho activity cannot be explained by altered cell proliferation, cell survival or cell specification. Thus, the enhanced cell emigration observed in Rho loss of function experiments may reflect premature depletion of the subset of transfected NC progenitors due to an earlier than normal loss of cell adhesion and cytoskeletal stability that characterize the epithelial state. Indeed, enhanced NC delamination produced by inhibiting Rho/Rock is accompanied by a substantial loss of actin stress fibers and focal adhesions. In addition, we demonstrate that membrane-bound N-cadherin is lost under these conditions, even if its normal proteolytic degradation is inhibited [
31
], and reciprocally, when preventing N-cadherin degradation, stable stress fibers, a representation of Rho activity, are kept. Furthermore, when endogenous Rho is activated by LPA, the observed inhibition of cell delamination is associated with maintenance of membrane N-cadherin
in ovo
and explants. This confirms that in the NC, Rho proteins together with N-cadherin are negative effectors of the generation of cellular movement. Consistent with our results, cooperation between cadherins and the Rho-dependent actin cytoskeleton were shown to control many aspects of epithelial biogenesis and maintenance [
75
–
83
]. On the one hand, cadherin-mediated adhesion is both necessary and sufficient for small GTPase activation, and on the other hand, sustained Rho activity is required for N-cadherin mediated adhesion, likely through maintenance of cytoskeletal stability [
83
,
84
]. Based on these observations, we propose that in the dorsal NT at premigratory levels of the axis, where membrane-associated N-cadherin is strongly expressed, Rho activity is maximal, thus contributing to preservation of the epithelial state of presumptive NC cells (Figure
11
). When noggin activity is downregulated and BMP is consequently activated, N-cadherin is proteolytically degraded in the dorsal NT via a BMP and ADAM10-dependent mechanism [
31
]. Loss of membrane bound N-cadherin could signal a reduction in Rho activity via modifications of the actin cytoskeleton. Alternatively, or in addition, BMP, a key regulator of NC EMT, could contribute to RhoA degradation [
64
]. In this context, it is important to emphasize that BMP was shown to be necessary for inducing and maintaining transcription of
RhoB
mRNA in the dorsal NT [
20
,
40
]. However, monitoring mRNA expression is not a predictive factor for Rho activity as C3 transferase, despite abolishing Rho function, did not affect levels of
RhoB
mRNA (MG and CK, unpublished); hence, the regulation of
Rho
transcription and protein activity are separable events [
85
]. Additional levels of regulation should be considered as well; for instance, RhoB protein was shown to be stabilized against proteolytic degradation by transforming growth factor-β; in turn, RhoB antagonized transforming growth factor-β-dependent transcriptional activation [
86
]. Hence, the possibility should be considered that, in our system as well, stabilized RhoB antagonizes BMP-dependent EMT of NC cells.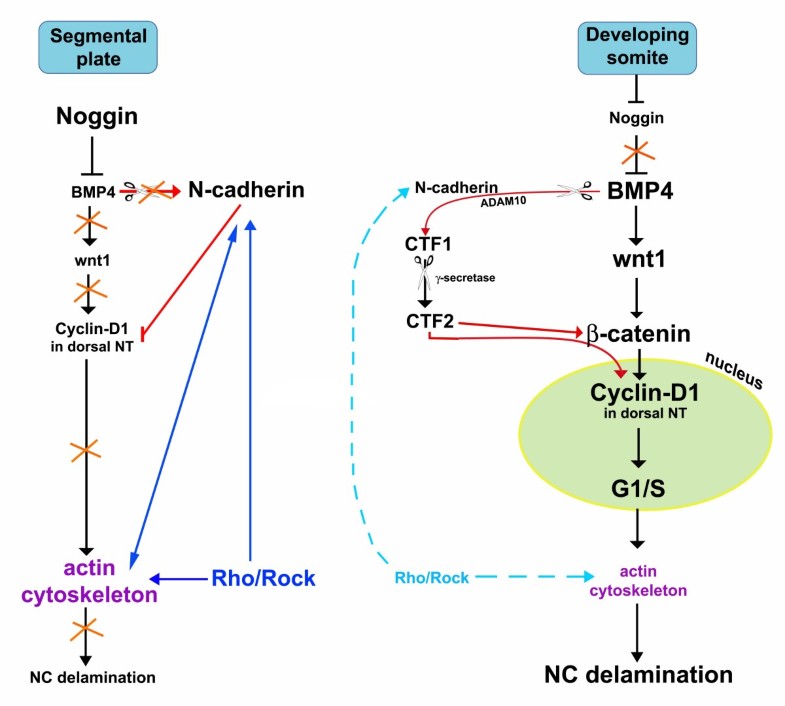 Previously, we showed that G1/S transition is necessary for NC delamination [21]. Furthermore, this process is stimulated by BMP-dependent canonical Wnt signaling through stimulation of cyclin D1 transcription [14]. Loss or gain of Rho function did not alter G1/S transition in the NC system in spite of reported effects of Rho GTPases on cell cycle dynamics in other systems [87–92]. Nevertheless, for the first time, we observed that EMT of NC cells that were arrested in G1 by treatment with either mimosine or noggin can be rescued by inhibiting Rho or Rock activities. Under both conditions, the emigrating cells failed to incorporate BrdU, showing that G1/S transition can be dissociated from EMT. These data suggest that Rho/Rock act downstream of G1/S. Consistent with this interpretation and with positive and negative roles of cyclinD1 and Rho in NC EMT, respectively, it was shown that cyclin D1 triggers cellular migration in a model of cell metastasis through the inhibition of Rho GTP and RockII activity and signaling [93].
Although this study focused on the function on Rho signaling, the possibility that additional GTPases like Rac and Cdc42 are involved in NC delamination awaits further testing. Antagonistic activities of Rho and Rac were reported [94], raising the option that downregulation of Rho would, among other events, activate Rac and favor NC EMT. Hence, our findings underscore the complexity of the process of NC delamination by unraveling the involvement of additional factors and functional interactions. Altogether, these establish a growing genetic network responsible for the generation of NC motility.
Conclusion
We demonstrate that Rho/Rock activity is necessary and sufficient for maintaining NC progenitors in an epithelial state without affecting their state of specification. In addition, Rho activity acts downstream of BMP and G1/S transition, two essential events for achieving successful NC delamination. Acting as a downstream effector, Rho via Rock maintains stable F-actin stress fibers through which it is likely to preserve N-cadherin associated to the membrane of NC progenitors. Together, we suggest that Rho activity negatively modulates NC delamination by stabilizing the actin cytoskeleton and intercellular adhesions mediated by N-cadherin.
Abbreviations
BMP:

bone morphogenetic protein
BrdU:

bromo-deoxyuridine
EMT:

epithelial-to-mesenchymal transition
GFP:

green fluorescent protein
LPA:

lysophosphatidic acid
NC:

neural crest
NT:

neural tube
RBD-GST:

Rho-binding domain of Rhotekin fused to glutathione S-transferase.
Declarations
Acknowledgements
We thank Alexander Bershadsky and all members of our group for valuable discussions. We are indebted to Yi Zheng, G Prendergast, K Aktories, S Yonemura and A Ludwig for reagents. Anti-vinculin and a RhoB antibody were obtained from the Developmental Studies Hybridoma Bank. This work was supported by grants from DFG (SFB 488), Israel Cancer Research Fund (ICRF), Israel Science Foundation (ISF), March of Dimes, and EEU 6th Framework program Network of Excellence MYORES to CK.
Authors' Affiliations
(1)
Department of Anatomy and Cell Biology, Hebrew University-Hadassah Medical School, Israel
Copyright
© Groysman et al.; licensee BioMed Central Ltd. 2008
This article is published under license to BioMed Central Ltd. This is an open access article distributed under the terms of the Creative Commons Attribution License (http://creativecommons.org/licenses/by/2.0), which permits unrestricted use, distribution, and reproduction in any medium, provided the original work is properly cited.