Research article
Open Access
Axon and dendrite geography predict the specificity of synaptic connections in a functioning spinal cord network
Neural Development
2007
2:17
Received: 11 May 2007
Accepted: 10 September 2007
Published: 10 September 2007
Abstract
Background
How specific are the synaptic connections formed as neuronal networks develop and can simple rules account for the formation of functioning circuits? These questions are assessed in the spinal circuits controlling swimming in hatchling frog tadpoles. This is possible because detailed information is now available on the identity and synaptic connections of the main types of neuron.
Results
The probabilities of synapses between 7 types of identified spinal neuron were measured directly by making electrical recordings from 500 pairs of neurons. For the same neuron types, the dorso-ventral distributions of axons and dendrites were measured and then used to calculate the probabilities that axons would encounter particular dendrites and so potentially form synaptic connections. Surprisingly, synapses were found between all types of neuron but contact probabilities could be predicted simply by the anatomical overlap of their axons and dendrites. These results suggested that synapse formation may not require axons to recognise specific, correct dendrites. To test the plausibility of simpler hypotheses, we first made computational models that were able to generate longitudinal axon growth paths and reproduce the axon distribution patterns and synaptic contact probabilities found in the spinal cord. To test if probabilistic rules could produce functioning spinal networks, we then made realistic computational models of spinal cord neurons, giving them established cell-specific properties and connecting them into networks using the contact probabilities we had determined. A majority of these networks produced robust swimming activity.
Conclusion
Simple factors such as morphogen gradients controlling dorso-ventral soma, dendrite and axon positions may sufficiently constrain the synaptic connections made between different types of neuron as the spinal cord first develops and allow functional networks to form. Our analysis implies that detailed cellular recognition between spinal neuron types may not be necessary for the reliable formation of functional networks to generate early behaviour like swimming.
Keywords
Axon GrowthSynaptic ConnectionNeuron TypeSpinal NeuronContact Probability
Background
To function properly, nervous systems rely on highly specific synaptic connections between neurons. This specificity is achieved during development by many mechanisms, for example, correct neuronal specification and differentiation, axon path finding, cell recognition and synapse conditioning by neuronal activities. At the core of this, what are the rules that ensure that appropriate and specific synaptic connections are made as neuronal circuits develop? This is one of the most intensively studied areas of developmental neuroscience and has generated an extensive body of knowledge on the chemical cues that control the assembly of neuronal circuits in the central nervous system (CNS) [
1
–
6
]. The vertebrate spinal cord provides a simple example where chemical morphogens released from the dorsal roof plate (bone morphogenetic protein) and ventral floor plate (sonic hedgehog (Shh)) form dorso-ventral molecular gradients. These initially control the fate of differentiating neurons to establish a dorso-ventral series of longitudinal columns of distinct neurons on each side (Figure
1c
) [
7
,
8
]. Once a cell has acquired a specific neuronal fate, the next step is to grow an axon from the neuron soma. The factors controlling the directions of outgrowth are beginning to be revealed [
9
]. Remarkably, the same morphogen gradients that control cell fates can also influence axon growth. For example, the Shh gradient can attract some axons to grow ventrally and cross to the opposite side [
10
]. After crossing, these axons are transformed and no longer attracted to the ventral floor plate [
11
–
13
]. They then turn to grow longitudinally [
14
], either towards the head or the tail, or they branch to grow in both directions. In all parts of the CNS such early patterns of growth by pioneer axons, controlled by chemical morphogens, lay down a basic scaffold of axon tracts that can be followed by later axons and in this way help to direct their growth [
15
]. Once the axons have grown to approximately the 'correct' area, they start to make connections (synapses) with the branched dendrites emerging from the cell bodies of other neurons.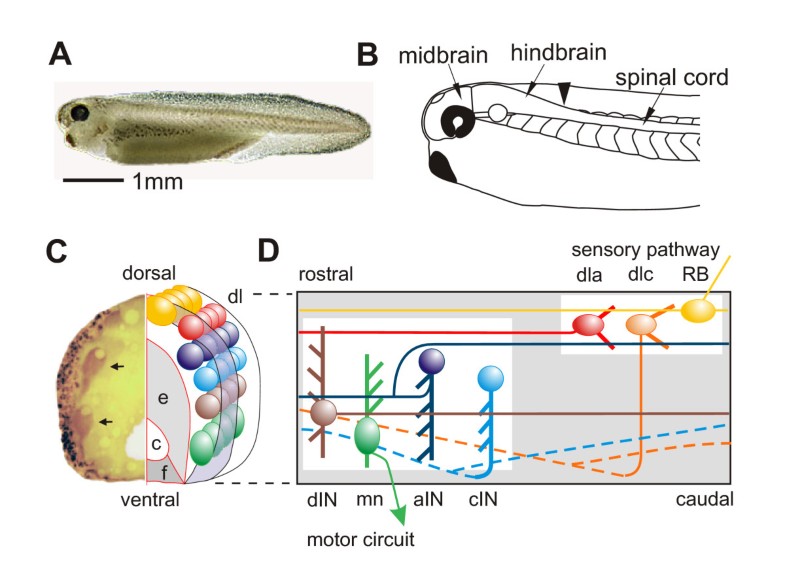 We aim to answer two questions about the formation of synaptic connections. Our first question is: how accurate and specific are the synaptic connections formed during early stages of development within the CNS? Once axons have reached a suitable area to make synapses, cellular recognition processes [16] and activity-dependent mechanisms [17–20] may be needed to ensure that appropriate synaptic connections are made. However, our second question is: can simple factors, such as the broad geographical distributions of axons and dendrites, themselves generate sufficient specificity in synaptic connections to ensure the development of functional neuronal circuits?
To investigate the specificity of early synapse formation, we need to examine connections between identified neuron types in a functioning neuronal network. Very few vertebrate networks are simple enough to allow this; an exception is the developing spinal cord of the newly hatched clawed toad (Xenopus laevis) tadpole. Like the developing zebrafish [21, 22], this spinal cord contains less than 2,000 neurons divided into very few types (approximately ten) yet it allows simple reflexes and swimming. In Xenopus, whole-cell recordings from pairs of spinal neurons under visual control have allowed us to build a remarkably full picture of the morphology, properties, synaptic connections and functions of the neurons and networks controlling swimming behaviour [23–28]. This detailed knowledge of the anatomy and function of different types of spinal neurons in developing Xenopus embryos provides a remarkable opportunity to use the whole-cell recording method to examine large numbers of synaptic connections between different types of identified spinal neuron to assess the specificity of the connections between them.
Our direct examination of synaptic connections between spinal neurons shows that connections are widespread and non-specific. We therefore examine the anatomy to see whether some very simple factors, like the different dorso-ventral distributions of the axons and dendrites of different neuron types, are sufficient to predict the connectivity found physiologically. We then use modelling to ask whether simple rules can reproduce longitudinal axon growth paths, and whether network models of the spinal circuits can produce swimming activity when synaptic connections are determined by simple probabilistic rules. Overall, our results show that it is possible that the first, pioneer neuronal networks formed in the spinal cord could be generated without specific neuron-to-neuron recognition mechanisms playing a necessary role in determining synaptic connectivity.
Discussion
The hatchling frog tadpole can be used to study the specificity of connections between different types of neurons because recent technical advances have made it routine to record from pairs of neurons in the spinal cord. This has allowed the networks of spinal and caudal hindbrain neurons controlling swimming to be defined in considerable detail [23, 28, 25, 26, 31, 27]. It would be rash to claim that all the neurons involved have been found; on the other hand, the evidence suggests that we have now defined all the major elements in the spinal network controlling swimming. Our knowledge of the neurons and connections in this example of a functioning vertebrate circuit producing meaningful behaviour provides a unique opportunity to ask questions about how such a circuit develops. We have therefore examined synaptic connections between seven different types of neuron. This allowed us to define the synaptic contact probabilities between these different neurons (Table 1). When considered in a functional context, most connections seemed very reasonable but, to our surprise, we found evidence for almost all possible connections. These observations do not rule out specific recognition processes acting during the formation of synaptic connections. However, they raise the possibility that simpler processes that lead to some 'mistakes' still provide connections with sufficient specificity to produce a properly functional circuit.
The simpler hypothesis that we have examined is that axons can recognise and make synapses with any dendrites that they contact, so the connections formed will depend primarily on the distribution of axons and dendrites. If this is correct, then synapse formation will occur where axons and dendrites lie in the same dorso-ventral regions of the spinal cord. Given the small scale of the tadpole spinal cord, which is only about 100 μ m in diameter, we have considered axons and dendrites to be within contact range if they simply lie within the same 10% dorsoventral position bins: approximately 10 μ m in the <10 μ m thick marginal zone of axons and dendrites. Clearly, more complex approaches are necessary in larger scale structures like the cerebral cortex [44, 45]. On this basis, we therefore determined the anatomical contact probabilities of the axons and dendrites of different neuron types and compared these to the synapse probabilities determined directly by electrical recordings. The significant correlation between the two sets of probabilities suggested that synapses form in nearly 50% of cases when an axon passes through a dendritic field.
We conclude that axons make synapses with the dendrites they chance to contact rather than making synapses preferentially by recognising specific chemical markers on particular postsynaptic targets. Specific examples illustrate this. Skin sensory RB neurons drive a strong crossed excitatory reflex by first exciting sensory pathway excitatory dlc interneurons with commissural axons [30]. We might predict that connections from RB neurons to reciprocal inhibitory cINs would, therefore, be inappropriate and cell recognition factors might ensure they failed to form. Yet we find that these connections do form, and at a probability predicted simply by the overlap of RB axons and cIN dendrites. On the other hand, the excitatory connections between RB neurons and dlc interneurons occur with an unusually high probability [30]. Again, this is appropriate to drive a strong contralateral reflex and we might expect that this high contact probability would result from cell recognition. Yet the high probability can be explained by the distribution of dlc dendrites: unlike most spinal neurons, where dendritic fields are very narrow longitudinally, those of dlcs are unusual in being extended along the length of the cord [46]. This gives them repeated chances to make contact with RB axons. We suggest, therefore, that contacts are determined by the geography of the spinal cord, primarily by the dorso-ventral distributions of axons and dendrites.
If the dorso-ventral distribution of axons and dendrites is an important determinant of spinal network connectivity, then what are the factors that control these distributions? Fortunately, this is a very active area of research. Different dorso-ventral distributions of axons and dendrites originate with the specification of soma positions. In the chick and mouse, a large body of work is defining the transcriptional networks that regulate the formation of an ordered dorso-ventral series of longitudinal neuron columns identified by the transcription factors that they express [47, 48, 7, 8, 49]. Fundamentally, around 12 neuron types are arranged in a consistent sequence of columns from dorsal to ventral: sensory, sensory related interneurons, motor related interneurons and mns. The same basic plan is seen in the tadpole spinal cord (Figure 1c,d). Once formed into these columns, neurons are polarized [9] and grow processes in very distinct orientations. In frogs, most grow axons ventrally (with the obvious exception of the sensory RB neurons that grow longitudinally [46]). Growth cones immediately come under the influence of attractive and repulsive chemical gradients that control their direction of growth, for example, whether they turn or grow straight across the ventral surface to the opposite side before turning [1, 50, 4, 38, 51, 52]. In the tadpole all axons eventually grow in a longitudinal direction, starting in a characteristic dorso-ventral region for each neuron type. Meanwhile, dendrites grow from the soma or initial segment of the axon and, like the axons, come to lie in dorso-ventral positions characteristic for each neuron type. In contrast to extensive studies on dendrite development in brain neurons [53], there is little work on the mechanisms determining their growth in spinal neurons. Evidence from zebrafish shows that dendrites play an active role in extending very short distances (approximately 10 μ m) towards longitudinal axons to form en-passant synapses [54].
To test the plausibility of the proposal that synapse formation between different neuron types in the tadpole spinal cord depends on the dorso-ventral distribution of axons and dendrites, we have used two types of modelling. Since axons grow long distances along the cord, they could wander to reach all dorso-ventral positions unless their growth is regulated. We therefore asked what kinds of growth rules were needed to reproduce the patterns of axon distribution found for different neuron types. A simple tendency to turn towards longitudinal growth could not match the real axon distributions or their active turning responses, which change with growth angle. To match the real axons we needed to add active turning towards an attractor line located at different dorso-ventral positions for each neuron type. This attractor models the complex effects of interacting attractive and repellent dorso-ventral chemical gradients that have been proposed to act on axonal growth cones in the spinal cord [4, 1]. With the attractor, our simple model could reproduce real axon distributions and, by doing this, could reproduce the synaptic contact probabilities determined anatomically. (These assume that dendrite distribution is static and passive, which is almost certainly not the case.)
In our second modelling test we asked whether a functional spinal network capable of generating swimming activity could be generated simply on the basis of the synaptic contact probabilities established by our physiological and anatomical data on the different spinal neuron types. It is important to remember that in our network model, the different neuron types are not all alike but each type has their own very particular and characteristic properties [42]. Using these neurons, we show that crude probabilistic contact rules do produce networks that will generate swimming activity while networks where all neurons have the same connection patterns fail. Taken together, the modelling supports the proposal that functional circuits could be produced using simple rules. For example: excitatory dIN axons should grow tailwards, mainly in the ventral 50% of the cord and synapse with 40% to 50% of any dendrites passed; reciprocal inhibitory cINs should cross the cord ventrally, branch on the other side, grow mainly in the ventral 50% of the cord and synapse with 40% to 50% of any dendrites passed. It is important to emphasise that we are not suggesting that chemical recognition does not exist; axons need to recognise dendrites. We are suggesting that detailed cell-to-cell recognition may not be necessary to establish which connections are made in the first, functional pioneer circuits.
Conclusion
In the core, axial parts of the vertebrate nervous system, like the spinal cord and brainstem, neurons, dendrites and longitudinal axons are laid out in a dorso-ventrally ordered array on each side of the body. At early stages in development a major factor influencing primary synapse formation in such regions may be the physical proximity or separation of axons and dendrites. If axons can recognise and contact dendrites, then synapses may form. So, in the frog tadpole spinal cord, dorsally located sensory axons mainly excite the dorsal dendrites emerging from the cell bodies of dorsal sensory pathway neurons (dlcs) but the very ventral central axons of mns will virtually never contact these dendrites, so synapses will not be made. At this early, primary stage of development neurons may need only to be able to distinguish neuronal dendrites from axons and non-neuronal processes. Detailed cellular recognition and other more subtle processes to specify correct connections may, therefore, not be necessary for the formation of primary functional networks during spinal cord development. This lack of specificity could be tested if different types of spinal neurons could be marked and would form synapses in culture. Such recognition processes surely play important roles at later stages of development as connection patterns are refined [55, 19].
Declarations
Acknowledgements
We would like to thank Dr Stephen Eglen for advice, Drs Jon Clarke, Steve Coombes, Marc Holderied, Piers Hemsley and James Poulet for their comments on earlier versions of this paper, Jenny Maxwell and Erin Anderson for technical help, and the Wellcome Trust for financial support. Bart Sautois was a research assistant of the Research Foundation – Flanders (FWO -Vlaanderen). Roman Borisyuk was partly supported by EPSRC grant EP/D036364/1.
Authors' Affiliations
(1)
School of Biological Sciences, University of Bristol, Bristol, UK
(2)
Centre for Theoretical and Computational Neuroscience, University of Plymouth, Plymouth, UK
(3)
Department of Applied Mathematics and Computer Science, Ghent University, Belgium
Copyright
© Li et al.; licensee BioMed Central Ltd. 2007
This article is published under license to BioMed Central Ltd. This is an open access article distributed under the terms of the Creative Commons Attribution License (http://creativecommons.org/licenses/by/2.0), which permits unrestricted use, distribution, and reproduction in any medium, provided the original work is properly cited.