Homeostatic plasticity in neural development
Neural Development
2018
13:9
Received: 9 January 2018
Accepted: 24 April 2018
Published: 1 June 2018
Abstract
Throughout life, neural circuits change their connectivity, especially during development, when neurons frequently extend and retract dendrites and axons, and form and eliminate synapses. In spite of their changing connectivity, neural circuits maintain relatively constant activity levels. Neural circuits achieve functional stability by homeostatic plasticity, which equipoises intrinsic excitability and synaptic strength, balances network excitation and inhibition, and coordinates changes in circuit connectivity. Here, we review how diverse mechanisms of homeostatic plasticity stabilize activity in developing neural circuits.
Keywords
Homeostatic plasticityNeural developmentIntrinsic excitabilitySynaptic strengthExcitation/inhibition ratioPatterned spontaneous activity
Background
Nervous systems face a constant challenge: how to maintain flexibility and stability at the same time. Neural circuits must stay flexible to allow for changes in connectivity and synaptic strength during development and learning. As changes in connectivity push neural circuits away from equilibrium, they need to maintain activity within a working range and avoid extremes of quiescence and saturation. Functional stability is maintained by homeostatic plasticity, which is defined broadly as a set of neuronal changes that restore activity to a setpoint following perturbation [
1
–
3
]. Recent studies have identified diverse homeostatic plasticity mechanisms triggered by a variety of perturbations. These mechanisms regulate dendritic and axonal connectivity of a neuron, as well as its intrinsic excitability (Fig.
1
). In addition to maintaining the activity of individual neurons, homeostatic plasticity can act at a network level to coordinate changes in connectivity and excitability across multiple neurons to stabilize circuit function [
4
] (Fig.
2
). Several recent reviews have covered the function of homeostatic plasticity in the mature nervous system [
5
–
8
]. Here, we focus on homeostatic plasticity in developing circuits.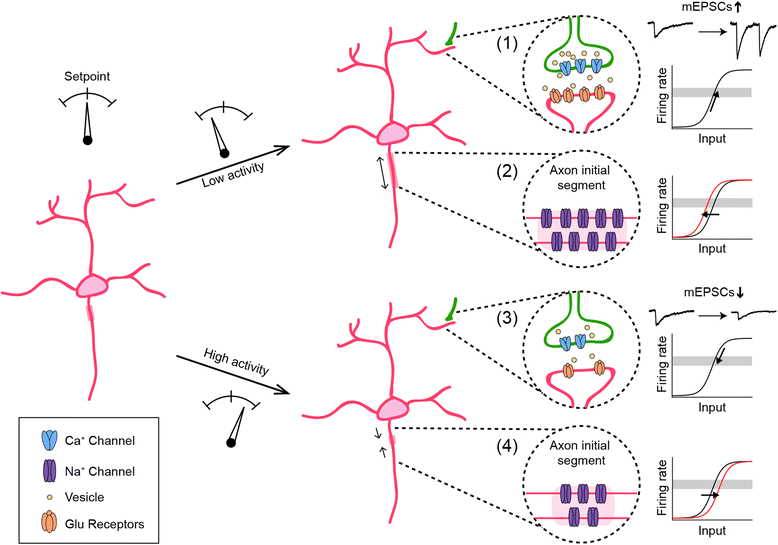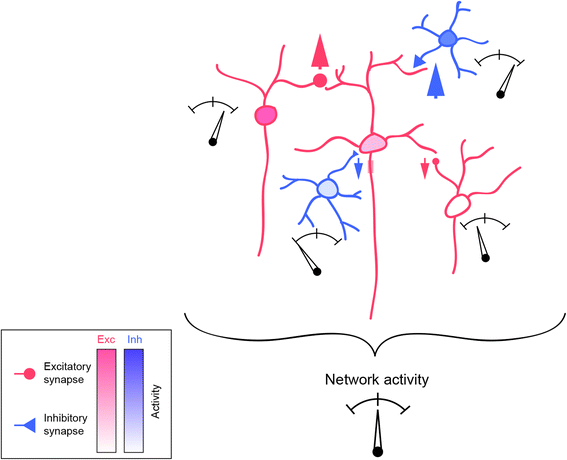 Conclusions
Developing circuits undergo profound changes in connectivity that threaten to destabilize their activity. Recent research has revealed a diverse set of homeostatic plasticity mechanisms, which safeguard activity of developing circuits. Different combinations of these mechanisms are recruited by different perturbations in different neuronal cell types at different stages of development. What signals control the recruitment of specific combinations of mechanisms is unclear and an interesting topic for future studies [41, 55].
Another important and mostly unanswered question is how activity setpoints are determined [2, 106–108]. Recent evidence suggests that this may occur during specific critical periods of development [109, 110]. Altering network activity in wild-type Drosophila during a critical period induces subsequent seizures, whereas correcting abnormal activity in mutant flies during the same period is sufficient to suppress seizures for life. Importantly, in the seizure-prone flies, homeostatic plasticity mechanisms are intact, but working toward the "wrong" setpoints. Insights into critical period timing and determinants of activity setpoints could have significant implications for the treatment of neurodevelopmental diseases including epilepsy and autisms [111–114].
Abbreviations
AIS:

Axon-initial-segment
E/I:

Excitation/Inhibition
mEPSC:

miniature excitatory postsynaptic current
Declarations
Funding
Work of the authors was supported by funding from the National Institutes of Health (NIH EY023441, EY026978, and EY027411).
Availability of data and materials
Data sharing not applicable to this review article.
Authors' contributions
N-WT and DK wrote the manuscript. Both authors read and approved the final manuscript.
Ethics approval and consent to participate
Not applicable.
Competing interests
The authors declare that they have no competing interests.
Publisher's Note
Springer Nature remains neutral with regard to jurisdictional claims in published maps and institutional affiliations.
Open AccessThis article is distributed under the terms of the Creative Commons Attribution 4.0 International License (http://creativecommons.org/licenses/by/4.0/), which permits unrestricted use, distribution, and reproduction in any medium, provided you give appropriate credit to the original author(s) and the source, provide a link to the Creative Commons license, and indicate if changes were made. The Creative Commons Public Domain Dedication waiver (http://creativecommons.org/publicdomain/zero/1.0/) applies to the data made available in this article, unless otherwise stated.
Authors' Affiliations
(1)
Department of Ophthalmology and Visual Sciences, Washington University School of Medicine, Saint Louis, USA
(2)
Graduate Program in Neuroscience, Washington University School of Medicine, Saint Louis, USA
(3)
Department of Neuroscience, Washington University School of Medicine, Saint Louis, USA
(4)
Department of Biomedical Engineering, Washington University School of Medicine, Saint Louis, USA
(5)
Hope Center for Neurological Disorders, Washington University School of Medicine, Saint Louis, USA