Correction to: Rp58 and p27kip1 coordinate cell cycle exit and neuronal migration within the embryonic mouse cerebral cortex
Neural Development
2018
13:1
Received: 9 November 2017
Accepted: 9 November 2017
Published: 11 January 2018
After publication of the original article [1] it was realised that there were errors in figures 2a,b,f,g, which arose as a result of preparing figures from data collected and analysed at the same time as the work reported in [2] (Supplementary Figure 1 of [2]).
An updated Fig.
2
is included with this Correction.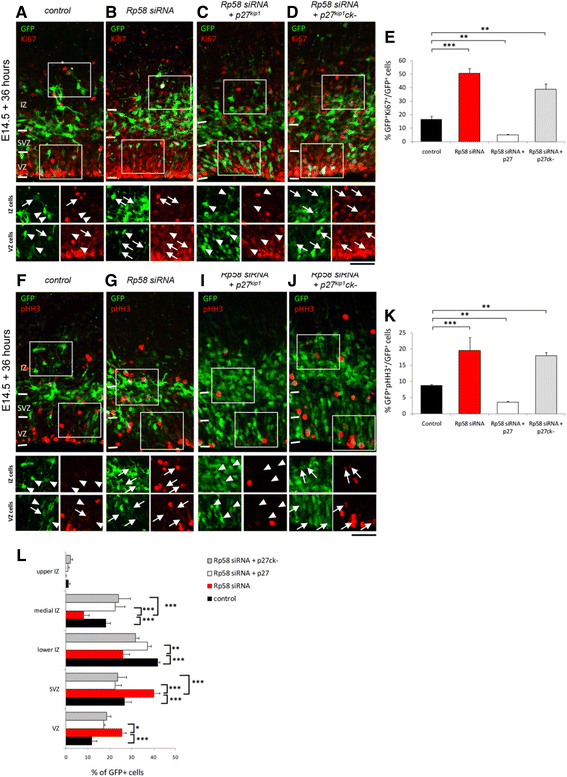 Open AccessThis article is distributed under the terms of the Creative Commons Attribution 4.0 International License (http://creativecommons.org/licenses/by/4.0/), which permits unrestricted use, distribution, and reproduction in any medium, provided you give appropriate credit to the original author(s) and the source, provide a link to the Creative Commons license, and indicate if changes were made. The Creative Commons Public Domain Dedication waiver (http://creativecommons.org/publicdomain/zero/1.0/) applies to the data made available in this article, unless otherwise stated.
(1)
The Harry Perkins Institute of Medical Research, Perth, WA, 6009, Australia
(2)
The Centre for Medical Research, University of Western Australia, Perth, WA, 6009, Australia
(3)
EMBL Australia, The Australian Regenerative Medicine Institute, Monash University, Clayton, VIC, 3800, Australia
(4)
The School of Biomedical Sciences, University of Queensland, Brisbane, 4072, Australia
(5)
Queensland Brain Institute, University of Queensland, Brisbane, 4072, Australia
(6)
Curtin Health Innovation Research Institute, Curtin University, Bentley, 6845, Australia
Clément O, Hemming IA, Gladwyn-Ng IE, Qu Z, Li SS, Piper M, et al. Rp58 and p27kip1 coordinate cell cycle exit and neuronal migration within the embryonic mouse cerebral cortex. Neural Dev. 2017;12:8. https://doi.org/10.1186/s13064-017-0084-3.View ArticlePubMedPubMed CentralGoogle Scholar
Heng JI, Qu Z, Ohtaka-Maruyama C, Okado H, Kasai M, Castro D, et al. The zinc finger transcription factor RP58 negatively regulates Rnd2 for the control of neuronal migration during cortical development. Cereb Cortex. 2015;25(3):806–16. https://doi.org/10.1093/cercor/bht277.View ArticlePubMedGoogle Scholar