Research article
Open Access
Retinoic acid regulates olfactory progenitor cell fate and differentiation
Neural Development
2013
8:13
Received: 6 February 2013
Accepted: 29 May 2013
Published: 5 July 2013
Abstract
Background
In order to fulfill their chemosensory function, olfactory neurons are in direct contact with the external environment and are therefore exposed to environmental aggressive factors. Olfaction is maintained through life because, unlike for other sensory neuroepithelia, olfactory neurons have a unique capacity to regenerate after trauma. The mechanisms that control the ontogenesis and regenerative ability of these neurons are not fully understood. Here, we used various experimental approaches in two model systems (chick and mouse) to assess the contribution of retinoic acid signaling in the induction of the olfactory epithelium, the generation and maintenance of progenitor populations, and the ontogenesis and differentiation of olfactory neurons.
Results
We show that retinoic acid signaling, although dispensable for initial induction of the olfactory placode, plays a key role in neurogenesis within this neuroepithelium. Retinoic acid depletion in the olfactory epithelium, both in chick and mouse models, results in a failure of progenitor cell maintenance and, consequently, differentiation of olfactory neurons is not sustained. Using an explant system, we further show that renewal of olfactory neurons is hindered if the olfactory epithelium is unable to synthesize retinoic acid.
Conclusions
Our data show that retinoic acid is not a simple placodal inductive signal, but rather controls olfactory neuronal production by regulating the fate of olfactory progenitor cells. Retinaldehyde dehydrogenase 3 (RALDH3) is the key enzyme required to generate retinoic acid within the olfactory epithelium.
Keywords
Olfactory neuronsNeuronal differentiationRALDHRetinoid signalingSensory systemsStem cells
Background
To fulfill their chemosensory role, olfactory neurons contact the external environment, making them prone to damage. The olfactory epithelium (OE) is able to replace damaged olfactory neurons throughout life. This epithelium derives from the olfactory placode (OP), found within the non-neural ectoderm at the rostral tip of the embryo. It comprises olfactory receptor neurons (ORNs) and non-neuronal subtypes, such as sustentacular cells and their progenitors (for a scheme of the OE, see Additional file 1: Figure S1). ORNs derive from olfactory stem cells by a multistep process involving precursors expressing the basic helix-loop-helix factor Ascl1, whose mutation results in a failure of olfactory neurogenesis. Ascl1 is required for induction of the atonal-related gene Neurogenin1 (Neurog1) in immediate neuronal precursors (INPs), which then differentiate into ORNs expressing β-III-tubulin [1]. The OE of Ascl1- null mouse mutants contains excessive numbers of precursors expressing Sox2 and Ascl1[2], indicating that Ascl1 loss-of-function prevents their transition into more differentiated cell types.
While the identity of the olfactory stem cell upstream to the Ascl1-expressing progenitor is unclear, a cell type co-expressing Sox2 and Pax6 is a good candidate. These factors are typically associated with multipotent cell types in developing neuroepithelia, and in the OE are expressed in a subset of basal cells that do not express Ascl1 [3]. Acute OE damage by methyl bromide-induced lesion or by olfactory bulbectomy, causes Pax6 upregulation before Ascl1 upregulation [4]. The mechanisms controlling the transition between the different cell states are poorly understood, although computational modeling suggests that secreted factors exert exquisite feedback control on different cell populations to ensure a rapid and regulatable response to injury [3]. An interplay between the Tgfβ ligand GDF11, the activin-binding protein follistatin, and activin/inhibinβB, has been described as regulating the balance between stem/progenitor cells and INPs, and possibly the choice between neuronal and sustentacular cell fates [5].
Retinoic acid (RA), a metabolite of vitamin A (retinol), is a signaling molecule involved in various developmental processes (refs. [6–8] for reviews). It is synthesized by cell populations expressing one of three retinaldehyde dehydrogenases (RALDH1, 2, 3, whose corresponding genes are also known as Aldh1a1-a3) and, by acting as a ligand for nuclear receptors, stimulates the transcriptional activity of target genes ([9] for a review). Experiments involving murine OE-mesenchymal co-cultures implicated RA as one of the signals involved in OE patterning and/or differentiation [10, 11]. However, it is unclear if RA is merely an inductive signal or a neuronal differentiation factor, and/or to what extent RA signaling affects olfactory neurogenesis. Here, we show that retinoid signaling is not required for induction of the OP, but it is a key factor regulating the progression of olfactory neural progenitors into more committed precursors. RA depletion using pharmacological inhibition, or mutation of its synthesizing enzyme RALDH3, results in a failure of progenitor maintenance, and this depletion leads to a diminished capacity of olfactory precursor cells to renew and differentiate into ORNs.
Conclusions
The complex molecular and cellular interactions between the olfactory neuroepithelium and the underlying tissues (telencephalon and neural crest derived mesenchyme) make it difficult to dissect the specific processes and molecular interactions regulating cell fate. ORNs have the unique capacity to regenerate throughout life, while in other parts of the nervous system the neuronal regenerative capacity declines over time [
34
]. Our data highlight the role of RA in the process of neuronal generation and renewal within the OE. We showed that RALDH3 is the key enzyme generating RA to maintain the olfactory progenitor pool and control their differentiation potential. Our experiments indicate that RA is not involved in early induction of the OE, but is necessary for the regulation of intermediate cell populations that lead to fully differentiated ORNs. One target population is likely to be the pool of Pax6+ stem cell-like progenitors. This population is diminished in the OE of RALDH3 deficient mice and, in the absence of Pax6+ progenitor cells, Ascl+ and Neurog1+ neuronal precursors cannot be renewed. We thus propose a model in which RA signaling is required to stably maintain the slowly proliferating, Pax6+ stem/progenitor population and regulate their progression towards more committed olfactory neuronal precursors (Figure
5
). In conditions of RA deficiency, the stem/progenitor cells rapidly engage into the neurogenic pathway, precociously giving rise to differentiating neurons. The transient increase in cell proliferation, observed during early stages of olfactory neurogenesis (E10.5-12.5) in
Raldh3
−/−
mutants, could be interpreted as a cellular attempt to fill in the diminished progenitor population. However, the pool of stem cells cannot be maintained over time, eventually leading to a depletion of the entire neuronal lineage at the late developmental stages, and an inability of the OE to (re)generate new neurons.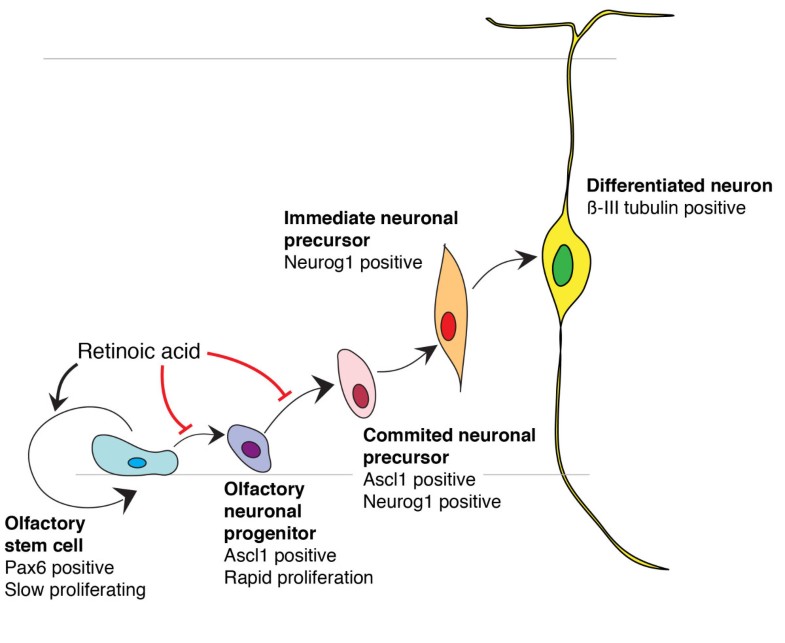 Another molecular pathway regulating the differentiation of olfactory progenitor cells is the Notch pathway. Recent data from the Gunhaga laboratory [35] demonstrated that an inhibition of Notch signaling in chick results in a decreased proliferation and an increased differentiation within the developing OE. We analyzed expression of Notch pathway genes (Notch1 and 2, Dll1, Hes5) in the developing OE, and observed no difference in the developing OE of wild-type and Raldh3−/− embryos at E14.5 and E17.5. These observations suggest that the population of Hes5+ progenitor cells, which is Notch-dependent and is distinct from the Ascl1+ population [36], might not be altered by RA deficiency. In chick, RA has been shown to repress the formation of a neuroendocrine population (the gonadotrophin-releasing hormone or GnRH-1 neurons) arising in the early OP [37]. It will be interesting to see if this neuroendocrine population is affected in the Raldh3−/− murine model.
Our data contribute to a better understanding of the molecular mechanisms that control olfactory neurogenesis, and indicate that RA is among the first signals to act in the process of maintenance and differentiation of the olfactory common progenitor. They also support the idea that retinoid signaling could be one of the components explaining the unique regenerative ability of the ORNs. RA has long been implicated in regenerative processes; for instance, it is able to re-specify the blastema of amphibian regenerating limbs [38], and it is among the signals critical for zebrafish heart regeneration [39]. It is thought that the lack of regenerative capacity of most mammalian tissues may result from an evolutionary "silencing" or loss of function, in adult stem/progenitor cell populations, of key signals operating during ontogenesis of these same populations (e.g., [40]). The observation that RALDH3 is specifically present in a small population of adult olfactory basal cells contributing to the neuronal lineage after chemical lesion [26], leads to the intriguing possibility that RA signaling might remain functional in olfactory stem cells throughout life, and may therefore participate in the evolutionarily conserved regenerative ability of the OE. Generation of murine models allowing to selectively ablate RALDH3 in adult olfactory stem cells will be critical to validate this hypothesis.
Abbreviations
INP:

Immediate neuronal precursor
E:

Embryonic day
HH:

Hamburger-Hamilton stage
OE:

Olfactory epithelium
OP:

Olfactory placode
ORN:

Olfactory receptor neuron
RA:

Retinoic acid.
Declarations
Acknowledgments
We thank B. Schuhbaur and Y. Kondoh for technical assistance, and M. Teraoka, T. Kita, and A. Honda for scientific discussions. This work was supported by the Japanese Society for the Promotion of Science (JSPS) long-term fellowships (to MP), intramural funding from RIKEN Center of Developmental Biology (to RKL), JSPS Grant-in-Aid (to MP), grants from Agence Nationale de la Recherche (ANR) and Fondation pour la Recherche Médicale (FRM) and institutional funding from CNRS, INSERM, and Université de Strasbourg (to PD). The funding bodies played no role in the design or the analysis of the data, in the writing of the manuscript, or the decision to submit it for publication.
Authors' Affiliations
(1)
Laboratory for Sensory Development, RIKEN Center for Developmental Biology, Kobe, Japan
(2)
Institut de Genitique et de Biologie Moleculaire et Cellulaire (IGBMC), UMR 7104 CNRS, U 964 INSERM, Universite de Strasbourg, France
Copyright
© Paschaki et al.; licensee BioMed Central Ltd. 2013
This article is published under license to BioMed Central Ltd. This is an Open Access article distributed under the terms of the Creative Commons Attribution License (http://creativecommons.org/licenses/by/2.0), which permits unrestricted use, distribution, and reproduction in any medium, provided the original work is properly cited.