Research Article
Open Access
Remodeling of inhibitory synaptic connections in developing ferret visual cortex
Neural Development
2010
5:5
Received: 2 July 2009
Accepted: 1 February 2010
Published: 1 February 2010
Abstract
Background
In the visual cortex, as in many other regions of the developing brain, excitatory synaptic connections undergo substantial remodeling during development. While evidence suggests that local inhibitory synapses may behave similarly, the extent and mechanisms that mediate remodeling of inhibitory connections are not well understood.
Results
Using scanning laser photostimulation in slices of developing ferret visual cortex, we assessed the overall patterns of developing inhibitory and excitatory synaptic connections converging onto individual neurons. Inhibitory synaptic inputs onto pyramidal neurons in cortical layers 2 and 3 were already present as early as postnatal day 20, well before eye opening, and originated from regions close to the recorded neurons. During the ensuing 2 weeks, the numbers of synaptic inputs increased, with the numbers of inhibitory (and excitatory) synaptic inputs peaking near the time of eye opening. The pattern of inhibitory inputs refined rapidly prior to the refinement of excitatory inputs. By uncaging the neurotransmtter GABA in brain slices from animals of different ages, we find that this rapid refinement correlated with a loss of excitatory activity by GABA.
Conclusion
Inhibitory synapses, like excitatory synapses, undergo significant postnatal remodeling. The time course of the remodeling of inhibitory connections correlates with the emergence of orientation tuning in the visual cortex, implicating these rearrangements in the genesis of adult cortical response properties.
Keywords
Visual CortexBrain SliceSynaptic InputExcitatory InputInhibitory Input
Background
Inhibitory circuitry in the cortex is generated through a diverse array of specific types of inhibitory neurons. Local inhibitory interactions target specific regions of neurons and act in particular layers of cortex [1]. Generation of these specific connections relies on molecular cues and neuronal activity [2, 3]. Importantly, the emergence of the adult pattern of GABAergic connections has been shown to correlate with periods of cortical plasticity and the development of mature cortical response properties [4]. However, less is known about the development of the inhibitory inputs onto excitatory neurons within cortical layers.
Pyramidal neurons form roughly 80% of neurons in layers 2/3 and 5 and send long axon collaterals horizontally to interconnect functionally similar domains. During development of layers 2 and 3 of primary visual cortex, an initially crude pattern of horizontal connections gives rise to a lattice of intrinsic excitatory connections that specifically links iso-orientation columns [5–9]. The development of excitatory axonal projections involves both local axonal branching and retraction of existing collaterals; these events are at least partially regulated by neuronal activity [9–12] and result in a period of exuberant synaptic inputs that are refined to generate the mature pattern of connectivity. Once the brain matures, the refined long-range horizontal connections link regions with similar response properties likely mediating extra-receptive field effects on unit responses [13].
Inhibitory interneurons in layers 2 and 3 comprise a diverse class of cells with specific patterns of local axonal arborizations and connections [3, 14, 15]. Anatomical evidence suggests that development of the connections of at least one class of interneurons - large basket cells - may involve elaboration and retraction of their axonal processes [6, 7, 16, 17]. While mapping experiments suggest that inhibitory connections undergo refinement [18], how the mature pattern of inhibitory inputs made onto excitatory cells within visual cortex emerges is not well understood.
One mechanism that may contribute to the formation of the mature pattern of inhibitory inputs is the ability of gamma-aminobutyric acid (GABA) to act as an excitatory neurotransmitter early in development [19]. In a number of systems the excitatory activity of GABA appears to be a critical component for activity-dependent development of the mature pattern of inhibitory connections. However, the role of GABA excitation in the maturation of intralaminar cortical inhibitory connections is not well described.
To examine the mechanisms underlying the development and rearrangement of functional inhibitory synaptic connections, we used scanning laser photostimulation in tangential brain slices of ferret visual cortex to map the patterns of inhibitory and excitatory inputs within layer 2/3 onto single neurons at different times during development. By distinguishing excitatory and inhibitory inputs, we find that both types of local connections undergo developmental remodeling. Refinement of inhibitory connections to a mature pattern occurs before the refinement of excitatory connections and is correlated with the timing of the emergence of direction selectivity. Building on findings that remodeling of GABAergic connectivity may, in part, rely on GABA acting as an excitatory neurotransmitter, we used photostimulation to uncage GABA and explore when during development it acted as an excitatory transmitter. Consistent with previous reports in many developing systems, during early development GABA uncaging causes excitation. Interestingly, the change from excitatory to inhibitory transmitter by GABA correlates with a period of rapid refinement in inhibitory inputs. Taken together, these findings provide a detailed description of the maturation of excitatory and inhibitory inputs in the super granular layers of ferret visual cortex.
Results
A total of 76 cells, at different postnatal ages, were analyzed using glutamate uncaging and photostimulation (Table
1
). Here the characteristics of the maps of synaptic inputs onto these neurons are compared. Inhibitory and excitatory currents were distinguished by recording from neurons at different holding potentials. An experiment typically consisted of photostimulating the same array of locations surrounding the recorded neuron at two different holding potentials. At -65 mV holding potential inhibitory inputs were small due to the weak driving force for chloride ions, and generated downward deflections of the recording trace. At -20 mV holding potential (range -30 mV to -10 mV) inhibitory inputs reversed and produced upward deflections, but excitatory currents still produced small downward deflections of the trace (Figure
1A
). Maps of the locations of evoked synaptic currents were generated to provide a clear representation of the pattern of synaptic inputs to each recorded neuron (Figure
1B-D
). Photostimulation mapping of the inputs to single neurons at -65 mV and -20 mV holding potentials revealed distinct patterns of inputs (Figure
2
). Occasionally, single passes were made at -20 mV, a potential at which inhibitory and excitatory currents were detectable simultaneously. At all ages, the size of the area stimulated and the actual number of sites stimulated per cell were comparable (Table
1
).
Table 1
Summary of the data set on which this report is based
| Group | N | Stimulated sites | Area (mm2) | EPSCs | IPSCs |
| --- | --- | --- | --- | --- | --- |
| P20 to P22 | 7 | 921.3 ± 168.0 | 1.41 ± 0.28 | 185.4 ± 40.6 | 136.7 ± 6.7 |
| P30 to P35 | 9 | 1,030.2 ± 155.3 | 1.78 ± 0.19 | 363.7 ± 69.6 | 338.0 ± 68.3 |
| P36 to P40 | 19 | 1,133.3 ± 115.4 | 1.81 ± 0.29 | 278.4 ± 45.8 | 213.0 ± 29.7 |
| Mature | 29 | 920.3 ± 137.9 | 1.47 ± 0.24 | 113.2 ± 14.1 | 76.8 ± 12.5 |
| Total | 64 | 1,001 ± 49.1 | 1.61 ± 0.12 | 235.2 ± 42.5 | 191.1 ± 29.3 |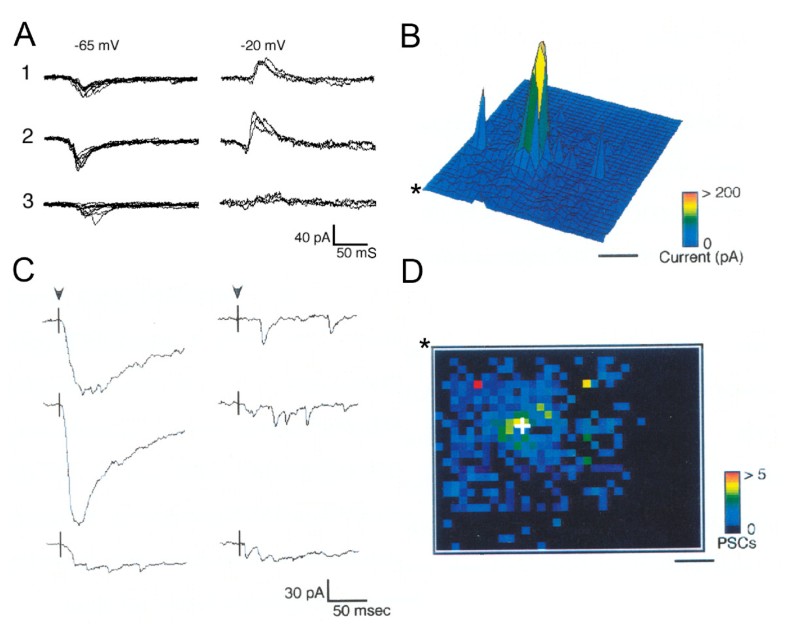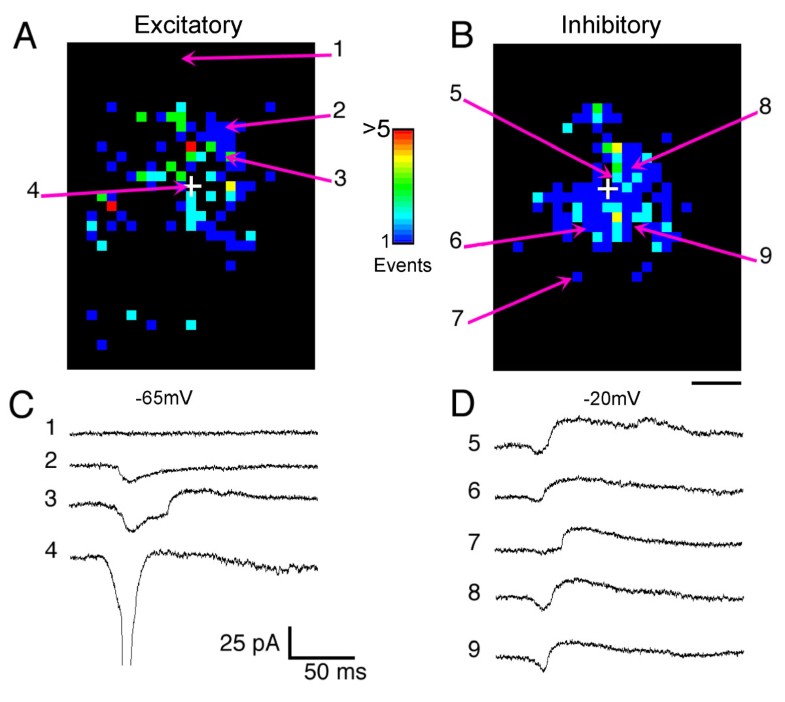 Discussion
Using a functional assay for the organization of synaptic inputs, we found that both inhibitory and excitatory synaptic currents were present as early as P20 in layers 2 and 3 of ferret visual cortex. Both excitatory and inhibitory inputs were initially sparse, but their numbers increased steadily to reach a maximum number and spatial extent by P30 to P35. The number and dispersion of sites generating inhibitory inputs quickly refined to the mature pattern, indicating that inhibitory circuits, like excitatory ones, undergo a period of remodeling during which some connections are functionally lost. The data also suggest that the refinement of inhibitory connections precedes the refinement of excitatory connections, but further work is needed to show this definitively. In the case of inhibitory connections, most of the loss is from sites distant from the neuronal cell body, implying that the region of inhibitory influences becomes increasingly focused as visual behavior begins. Finally, the timing of refinement of inhibitory inputs correlates with a switch in the activity of GABA from excitatory to inhibitory, suggesting a potential link between the ability of GABA to act as an excitatory neurotransmitter in vitro and changes in and the rapid refinement of inhibitory inputs observed.
We focused on understanding how inhibitory and excitatory inputs develop in the simplified ferret brain slice system. By making tangential slices through the superficial layers of visual cortex, we examined the development of these inputs onto pyramidal cells. By leaving intralaminar and local connections intact, but removing interlaminar connections, we could focus on the emergence of the pattern of inputs just within layers 2/3. The main sources of inhibition in layers 2/3 are basket and chandelier type neurons and inhibitory neuron axons are typically restricted to a single layer [26–28]. Therefore, our maps are likely to reflect the pattern of connections made by these two classes of neurons. Other prominent cells types, such as double bouquet cells, typically have arbors in layer 1 [27], and so their inputs are unlikely to be detected in our mapping approach. Thus, our data likely reflect the emergence and maturation of intralaminar connections between basket, chandelier and pyramidal neurons. Interestingly, our data provide evidence for both longer range and local inhibitory inputs, suggesting that connections necessary for both feedback models of orientation selectivity and lateral connectivity models may exist [29, 30].
Our results are consistent with reports that indicate inhibitory connections are formed just before or as excitatory connections begin to develop [18, 19, 24, 25]. Immunocytochemical examination of glutamate decarboxylase (GAD) and other markers of inhibitory neurons in ferret visual cortex indicate that they are present throughout the period examined in our studies [31, 32], and anatomical studies of nonpyramidal neurons in the cat indicate that extensive axonal arbors are present at birth [33]. The data are also broadly consistent with other functional mapping experiments that have mapped the pattern of inhibitory connections in cortex [18]. However, by mapping both excitatory and inhibitory connections onto the same neurons during development, our data provide new information regarding how the patterns of excitatory and inhibitory inputs emerge as neurons mature. In addition, this study begins to examine potential mechanisms that could mediate the refinement of inhibitory connections using caged GABA. Taken together, our work demonstrates that the mature patterns of inhibitory and excitatory inputs onto single neurons emerge through processes that have similar steps, but have significant differences in timing, suggesting the mechanisms underlying the development of excitatory and inhibitory connections may rely on similar but distinct mechanisms.
Loss of synaptic connections
The substantial reduction in the number of physiologically observed synaptic inputs seems, at first glance, inconsistent with the well-documented increase in the number of anatomically observed synaptic contacts during development [34–37]. Factors such as decreasing cell density, decreased probability of synaptic transmission, or changes in glutamate receptor composition that have been observed during development might contribute to the observed change in evoked inputs. However, it is also likely that electron-microscopic identification of synaptic contacts in developing tissue underestimates the number of functional contacts present. Several lines of evidence are consistent with this possibility. At the neuromuscular junction and in the frog tectum, for example, functional synaptic contacts can form rapidly without the obvious presence of morphologically identifiable pre- or postsynaptic elements [38, 39]. In the developing lateral geniculate nucleus, functional synapses are easily detectable, but are difficult to identify using electron microscopy [40]. In the developing tectum, contacts often form transiently for short durations [41–43]. Based on this evidence, it is likely that the neuropil of the developing cortex is composed mostly of such immature synapses, which can form and break rapidly. The widespread distribution of synaptic vesicle proteins and release machinery in neonatal animals [44], compared with their exclusive localization in synaptic boutons in the adult, are consistent with the idea that developing synapses may be both transitory and difficult to discern morphologically. Consistent with this possibility, evoked inhibitory inputs strengthen as the mature pattern of connectivity emerges [18].
Remodeling of inhibitory connections
Our experiments indicate that during development inhibitory connections in striate cortex undergo a sequence of events similar to that of excitatory connections: they are initially sparse, undergo a period of rapid elaboration, and finally refine to their adult pattern. In systems in which significant remodeling of excitatory projections occurs, neuronal activity has been implicated as a driving force in the process (reviewed in [45, 46]). There are now numerous examples of remodeling of inhibitory inputs, and evidence for the role of both activity-dependent and -independent mechanisms in these events [3, 19]. In our study the potential role of ketones, which may influence the response of immature neurons to GABA, was not examined [47]. However, the data indicated that a rapid refinement of inhibitory inputs occurs as the response of neurons in brain slice to uncaged GABA shifts from excitatory to inhibitory, suggesting a possible role for neuronal activity or neuronal metabolism in the change in patterns of inhibitory connections.
Inhibitory connections and the emergence of response properties
Emergence of the adult pattern of inhibitory connections coincides closely with the appearance of the mature map of orientation selectivity [48, 49]. Using intrinsic signal imaging and single-unit recordings, Chapman et al. [49] first resolved the orientation map between P30 and P33. This roughly corresponds with the reduction, between P35 and P40, in the percentage of sites giving rise to inhibitory inputs. Achievement of the adult pattern of functional long-range excitatory connections after P41 also coincides with the time that the map of orientation attains its adult strength. The correlation between the refinement of inhibitory and excitatory connections and the formation of the adult pattern of orientation-selective regions suggests a potential role of intrinsic circuitry in the generation of this pattern. In light of several studies that suggest that local circuits are involved in generating orientation selectivity [13], our results imply that there may be a relationship between the emergence of the map of orientation selectivity and the patterns of inhibitory and excitatory synaptic connectivity within the visual cortex.
Abbreviations
ACSF:

artificial cerebrospinal fluid
EPSC:

excitatory post-synaptic current
GABA:

gamma-aminobutyric acid
IPSC:

inhibitory post-synaptic current
P:

postnatal day
PSC:

post-synaptic current.
Declarations
Acknowledgements
Much of this work was undertaken in the laboratory of Dr Lawrence C Katz. Before his untimely death, Dr Katz gave his permission for this work to be published as a single author paper. While Larry created the intellectual and physical environment that enabled these experiments to be accomplished, he felt that given our relative contributions to the work, it was more appropriate that this paper be single author. However, I am certain that without his guidance and advice, I would not have been able to accomplish these experiments, or succeed as I have. Thank you, Larry, for providing a place for science and scientists to thrive. I would also like to thank Traci Baird, Dr Mark Nolt and Dr Matthew Kayser for helpful comments and encouragement. My work is supported by the Whitehall Foundation, the Dana Foundation, and by the NIH.
Authors' Affiliations
(1)
Department of Neuroscience, BRB II/III rm 1114, University of Pennsylvania Medical School, Philadelphia, USA
Copyright
© Dalva; licensee BioMed Central Ltd. 2010
This article is published under license to BioMed Central Ltd. This is an Open Access article distributed under the terms of the Creative Commons Attribution License (http://creativecommons.org/licenses/by/2.0), which permits unrestricted use, distribution, and reproduction in any medium, provided the original work is properly cited.