Research article
Open Access
Brain asymmetry is encoded at the level of axon terminal morphology
Neural Development
2008
3:9
Received: 29 February 2008
Accepted: 31 March 2008
Published: 31 March 2008
Abstract
Background
Functional lateralization is a conserved feature of the central nervous system (CNS). However, underlying left-right asymmetries within neural circuitry and the mechanisms by which they develop are poorly described.
Results
In this study, we use focal electroporation to examine the morphology and connectivity of individual neurons of the lateralized habenular nuclei. Habenular projection neurons on both sides of the brain share a stereotypical unipolar morphology and elaborate remarkable spiraling terminal arbors in their target interpeduncular nucleus, a morphology unlike that of any other class of neuron described to date. There are two quite distinct sub-types of axon arbor that differ both in branching morphology and in their localization within the target nucleus. Critically, both arbor morphologies are elaborated by both left and right-sided neurons, but at greatly differing frequencies. We show that these differences in cell type composition account for the gross connectional asymmetry displayed by the left and right habenulae. Analysis of the morphology and projections of individual post-synaptic neurons suggests that the target nucleus has the capacity to either integrate left and right inputs or to handle them independently, potentially relaying information from the left and right habenulae within distinct downstream pathways, thus preserving left-right coding. Furthermore, we find that signaling from the unilateral, left-sided parapineal nucleus is necessary for both left and right axons to develop arbors with appropriate morphology and targeting. However, following parapineal ablation, left and right habenular neurons continue to elaborate arbors with distinct, lateralized morphologies.
Conclusion
By taking the analysis of asymmetric neural circuitry to the level of single cells, we have resolved left-right differences in circuit microarchitecture and show that lateralization can be recognized at the level of the morphology and connectivity of single projection neuron axons. Crucially, the same circuitry components are specified on both sides of the brain, but differences in the ratios of different neuronal sub-types results in a lateralized neural architecture and gross connectional asymmetry. Although signaling from the parapineal is essential for the development of normal lateralization, additional factors clearly act during development to confer left-right identity upon neurons in this highly conserved circuit.
Keywords
Projection NeuronAxon DensityHabenular NucleusTerminal ArborFasciculus Retroflexus
Background
The left (L) and right (R) sides of the central nervous system (CNS) display functional asymmetries throughout the animal kingdom [1–3]. There is evidence that functional lateralization increases cognitive performance as well as having important consequences for social behaviors within populations and for interactions between species [4]. At the neuroanatomical level, asymmetries have been described in the shape and size of comparible regions on the R and L sides of the brain, in subnuclear and cytoarchitectonic organization of particular nuclei, as well as at the level of neurotransmitter expression and gross connectivity patterns [5, 6]. However, little is currently known about lateralization at the level of individual neurons with respect to the configuration of functional circuits that is expected to underlie LR differences in neural processing. A probable reason for this is that such asymmetries are likely to be very subtle, encoded at the level of dendrite [7] or axon morphology and/or connectivity and/or at the level of synaptic organization [8].
The telencephalo-habenulo-interpeduncular system is an emerging model for studying brain asymmetries and their development [
6
,
9
]. The bilateral habenular nuclei, located in the diencephalic epithalamus, are part of this evolutionarily conserved conduction system. These nuclei receive afferent inputs from the basal telencephalon and diencephalon and project efferent axons through the fasciculus retroflexus (FR) to an unpaired midline target, the interpeduncular nucleus (IPN) of the ventral midbrain [
10
]. The epithalamus also contains the pineal complex, which in zebrafish comprises two photoreceptive nuclei, the pineal and parapineal (Figure
1
).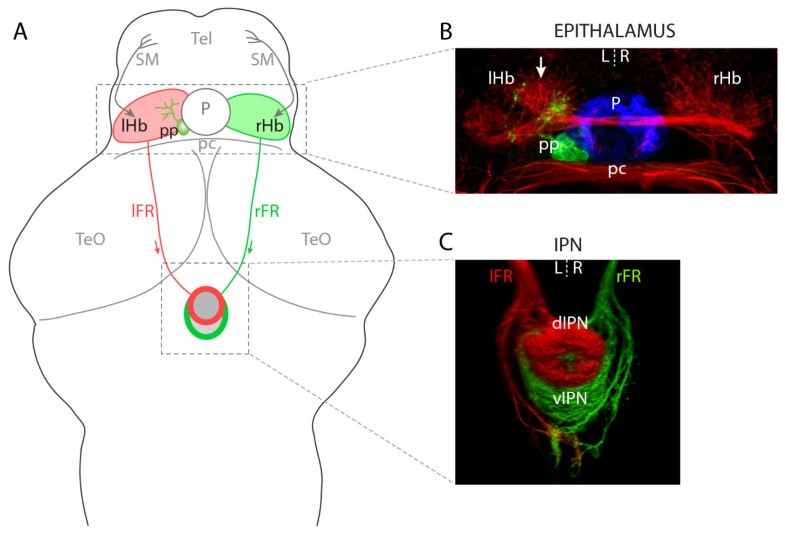 Epithalamic asymmetries are present throughout the vertebrate lineage [11] and are especially conspicuous in anamniotes. In larval zebrafish, the parapineal organ has a bilateral origin, but parapineal precursors migrate from the antero-dorsal epithalamus to the L side of the dorsal midline and contemporaneously extend efferent axons that exclusively innervate the L habenula [12, 13]. The L and R habenulae differ in the extent and organization of their neuropil and in the expression of various genes [12–15]. Furthermore, asymmetry extends to the efferent connectivity between the habenulae and the IPN. Habenular axons innervate the IPN in a laterotopic manner wherein L and R terminals are segregated along the dorso-ventral (DV) axis of the target [15, 16].
In this study, we have used focal electroporation to examine individual pre- and post-synaptic neurons within the habenulo-interpeduncular tract, enabling us to resolve LR asymmetry in circuit microarchitecture. Our results uncover a fundamental aspect of CNS lateralization that serves to differentiate functional circuitry on the L and R sides of the brain. Additionally, the study extents current understanding of how brain asymmetry develops.
Discussion
In this study, we optimized a focal electroporation method that enabled us to resolve how lateralization of the habenulo-interpeduncular circuit is encoded at the level of single neurons. Four principal findings resulted from this. First, all habenular neurons, on both L and R sides, display a stereotypical unipolar morphology and their axons cross the ventral midline multiple times to establish bilateral connectivity. Second, two very distinct axon arbor morphologies are apparent, having lateralized origins and differential target connectivity; this underlies the laterotopic efferent connectivity of the habenulae. Third, IPN neurons display diverse morphologies that suggest lateralized inputs may either be integrated or maintained as distinct circuits, and are relayed to diverse downstream nuclei. Fourth, the unilateral parapineal is essential for the development of both L and R habenular axon terminals with appropriate morphology and connectivity; however, the parapineal is not a binary determinant of LR identity, indicating that additional developmental mechanisms are involved in the lateralization of this circuit.
Conclusion
Focal electroporation has enabled us to examine the organization of lateralized neural circuitry at single-cell resolution. We find that two distinct sub-types of projection neuron – that differ in axonal morphology and connectivity – are specified in both left and right habenulae, but that conspicuous differences in their relative ratios result in the major asymmetry in habenular efferent connectivity. This strategy of utilizing the same circuitry components on both sides but adjusting cell-type compositions so as to produce unique, asymmetric, circuit architectures is likely to account for neural asymmetries in other sites in the CNS in different vertebrate species. Furthermore, the morphologies of single post-synaptic neurons suggest lateralized habenular inputs may either be integrated within the IPN or maintained as largely independent circuits. These analyses of the microarchitecture of asymmetric neural tissue are likely to represent an important step towards understanding the basis for lateralization of neural processing and cognition.
Materials and methods
Zebrafish lines
Embryos and larvae were obtained by natural spawning from wild-type, Tg(fox D3:GFP) [12, 30], Tg(flh:eGFP); Tg(foxD3:GFP) [12], Tg(h2afz-GFP) [31], or Tg(ET16:GFP) fish (a gift from Dr Vladimir Korzh). The ET16 enhancer trap line carries a Tol2-GFP insertion and labels a subset of habenular neurons [32, 33]. Embryos were reared and staged according to standard procedures [34] and occasionally 0.002% phenylthiourea was added to the fish water from 24 hpf to inhibit pigment formation.
Dye labeling
Carbocyanine dye labeling of habenular efferent axons was performed as described previously [16].
Laser ablation
Laser ablation of parapineal precursors was performed at 24–28 hpf in Tg(flh:eGFP); Tg(foxD3:GFP) transgenic embryos as described previously [12]. Larvae were subsequently examined by laser-scanning confocal microscopy at 3 or 4 dpf to determine if any parapineal cells remained. Larvae lacking all parapineal cells were classed as 'ablated' whereas those retaining one or more parapineal cell(s) were classed as 'failed ablated'.
Focal electroporation
The electroporation technique was adapted from [35] to enable the efficient transfer of DNA to single cells or small group of cells in embryonic zebrafish CNS. Embryos at 48–72 hpf were mounted in 2% low melting point agarose (Sigma-Aldrich, St Louis, MO, USA) and using a microsurgical blade, a small chamber of agarose was cut out to expose the dorsal diencephalons/mesencephalon. Micropipettes with a tip diameter of 1–2 μm were pulled on a P-87 micropipette puller (Sutter Instrument Company, CA, USA) using AlSi glass capillaries containing a filament. Micropipettes were filled with a solution containing purified plasmid DNA resuspended in H2O at a concentration of 1 μg/μl. For most habenular neuron electroporations we used pCS2-GAP43-GFP (a gift from Dr E Amaya). GFP synthesized from this construct is localized to the cell membrane by virtue of two amino-terminal palmitoylation signals from the GAP43 protein. To visualize presynaptic terminals, we used a 1:1 mixture of pCS2-GAL4 plasmid DNA (a gift from Dr Masahiko Hibi) and pCS2-Syp:GFP-DSR [17]. This latter construct encodes both cytoplasmic DsRed fluorescent protein and a Syp-GFP fusion protein, driven from separate UAS elements. For IPN electroporations we used pCS2-lyn-Cherry, which encodes a membrane-targetted Cherry fluorescent protein (a kind gift from Henry Roehl). Micropipettes were guided into either the L or R habenula or the IPN using an MX3000 Huxley-style micromanipulator (Soma Scientific Instruments, Irvine, CA, USA) under ×40 water-immersion DIC optics (Axioskop 2 FS microscope, Carl Zeiss). The following stimulation parameters were used: 1–2 s long trains of 2 ms square pulses at 200 Hz and a potential difference of 30 V. Trains were delivered 3–5 times with approximately 0.5 s interval between trains. Pulses were generated with a Grass SD9 stimulator (Grass-Telefactor, West Warwick, RI, USA). After electroporation, embryos were cut out from the agarose and returned to embryo medium.
Whole mount in situ hybridization and immunostaining
In situ hybridization, antibody staining and histological sectioning were performed according to standard methods [36]. For antibody stainings, mouse anti-acetylated tubulin (T6793; Sigma) and rabbit anti-GFP (TP401; Torrey Pines Biolabs, San Diego, CA, USA) were used at 1:1,000 dilutions and rabbit anti-DsRed (632496; ClonTech, Palo Alta, CA, USA) was used at 1:600.
Microscopy and image manipulation
Fluorescent labeling was imaged by confocal laser-scanning microscopy (Leica SP2) using ×40 and ×63 water-immersion objective lenses. z-stacks were typically acquired at 1–2 μm intervals for epithalamic labeling and fluorescent dye-labeling of habenular axons or 0.5–1 μm intervals for imaging axonal arbors or IPN neurons labeled by electroporation. In some cases, z-stacks were deconvolved using Huygen's Essential software (Scientific Volume Imaging, Hilversum, The Netherlands). Three-dimensional projections were generated from the stack of images using Volocity software (Improvision, Coventry, UK).
In situ hybridization staining and plastic sections were photographed using a Jentopix C14 digital camera attached to a Nikon Eclipse E1000 compound microscope. For presentation, image manipulation was performed using Photoshop CS2 (Adobe) software.
Morphometric analyses
Radial distribution of neurites
To quantify the distribution of neurite branches from the center to periphery of each terminal arbor, we developed a method similar to Sholl analysis. Three-dimensional reconstructions of each arbor were orientated such that the base of the arbor lay on a flat plane and a two-dimensional image of the reconstruction, parallel to this plane, was used for further analysis. The incoming axon was cropped where it extended beyond the maximum width and length of the arbor. Next, the image was thresholded and the convex hull method was used to define the arbor perimeter (ImageJ software, US National Institutes of Health, Bethesda, Maryland, USA; Hull and Circle plug-in by A Karperien and TR Roy). Using custom-written MATLAB software (The MathWorks, Inc., Natick, MA, USA), a series of 10 equally spaced concentric shells were defined, centered upon the centroid of the convex hull (see Figure 3g, for example). The number of pixels (representing axon signal) in each shell was taken as a measure of axon density. This generated a plot of cumulative fraction of axon density versus radius, for each arbor. This method is resistant to differences in the absolute area covered by the arbor and the total axonal length. Because we analyzed two-dimensional images, our method will underestimate axon density where axon segments are aligned above or below one another. This occurs rarely for L-typical arbors but is more common at the perimeter of R-typical arbors. Thus, although our method detects a greater peripheral localization of axonal length in R-typical arbors, if anything this difference between the arbor sub-types is likely to have been underestimated.
To describe the distribution profiles for the different sub-types of arbor (L-typical, R-typical and Ab-L, Ab-R) non-linear regression was used to fit fourth order polynomial models to the raw data with the y-intersect constrained to zero (at 0% radius the cumulative fraction of axon density must be zero). To compare the curves for the different arbor sub-types, we used the AIC method [37, 38]. Briefly, we used the AIC method to compare two models; an AICc score is computed for a 'global' model that treats all the data from two arbor sub-types as a single data set and for a second model with individual curves fit to each data set. A large difference in the AICc scores, ΔAICc, indicates there is a high probability of the model with the lower AICc score being correct. If this is the model with separate fits for the two arbor sub-types it follows that the sub-types can be considered distinct. In the Results text we report ΔAICc and the probability that the 'individual' model, with separate polynomial fits for the two arbor sub-types, is correct.
Width/length ratio
The maximum length (measured along the AP axis) and maximum width (measured perpendicular to the AP and DV axes) were measured (Volocity, Improvision). Width/Length ratios were compared using one-way ANOVA with Tukey's post-tests for pair-wise comparisons of arbor sub-types.
Depth
The depth over which each axon elaborated its terminal arbor was measured in YZ projections made using Volocity software. For L-typical arbors located in the dIPN, depth was measured parallel to the DV axis of the brain. Because the neuropil domain of the vIPN is inclined relative to the DV axis, accurate depth measurements for ventrally located R-typical, Ab-L and Ab-R arbors were made perpendicular to the plane of the vIPN neuropil domain. Depths were compared using one-way ANOVA with Tukey's post-tests for pair-wise comparisons of arbor sub-types.
Branching
The number of branch points was counted by hand in three-dimensional reconstructions of axonal arbors. Branch points giving rise to small filopodial extensions (less than 5 μm in length) were excluded from the analysis. Average numbers of branch points were compared by one-way ANOVA with Tukey's post-tests for pair-wise comparisons of arbor sub-types.
Statistics
All statistical comparisons, nonlinear regression and comparison of curves using the AIC method were performed using Prism 4 (GraphPad Software Inc., San Diego, CA, USA).
Abbreviations
AIC:

Akaike's Information Criterion
AP:

anterio-posterior
CNS:

central nervous system
dIPN:

dorsal IPN
dpf:

days post-fertilization
DV:

dorso-ventral
FR:

fasciculus retroflexus
GFP:

green fluorescent protein
hpf:

hours post-fertilization
IPN:

interpeduncular nucleus
L:

left
R:

right
RFP:

red fluorescent protein
Syp-GFP:

Synaptophysin-GFP
vIPN:

ventral IPN.
Declarations
Acknowledgements
We thank members of our groups for helpful discussions, Henry Roehl for a lyn-Cherry construct, Myriam Roussigne and Patrick Blader for sharing data prior to publication, Vladimir Korzh and other colleagues for transgenic lines, Tiago Branco for MATLAB programming, colleagues in the field for reagents and Fish Facility personnel for care of the fish. This study was supported by programme grant support from the Wellcome Trust, project grant support from MRC and BBSRC and a European Communities grant entitled 'Evolution and Development of Cognitive, Behavioural and Neural Lateralisation' to SW and a Wellcome Trust studentship to IB.
Authors' Affiliations
(1)
Department of Cell and Developmental Biology, UCL, Gower St, London, UK
(2)
Department of Veterinary Basic Sciences, Royal Veterinary College, Royal College St, London, UK
Copyright
© Bianco et al.; licensee BioMed Central Ltd. 2008
This article is published under license to BioMed Central Ltd. This is an open access article distributed under the terms of the Creative Commons Attribution License (http://creativecommons.org/licenses/by/2.0), which permits unrestricted use, distribution, and reproduction in any medium, provided the original work is properly cited.