Research article
Open Access
Lateral motor column axons execute a ternary trajectory choice between limb and body tissues
Neural Development
2007
2:13
Received: 12 January 2007
Accepted: 02 July 2007
Published: 02 July 2007
Abstract
Background
Neuronal topographic map formation requires appropriate selection of axonal trajectories at intermediate choice points prior to target innervation. Axons of neurons in the spinal cord lateral motor column (LMC), as defined by a transcription factor code, are thought to innervate limb target tissues exclusively. Axons of the medial and lateral LMC divisions appear to execute a binary decision at the base of the limb as they choose between ventral and dorsal limb trajectories. The cellular logic that guides motor axon trajectory choices into non-limb tissues such as the ventral flank remains unclear.
Results
We determined the spinal cord motor column origin of motor nerves that innervate ventral flank tissues at hindlimb level. We found unexpectedly that a subset of medial LMC axons innervates ventral non-limb mesenchyme at hindlimb level, rather than entering ventral limb mesenchyme. We also found that in a conditional BmprIa mutant where all ventral hindlimb mesenchyme is converted to a dorsal identity, all medial LMC axons are redirected into the ventral flank, while lateral LMC axons innervate the bidorsal limb.
Conclusion
We have found that medial LMC neurons innervate both ventral flank and limb targets. While normally only a subset of medial LMC axons innervate the flank, all are capable of doing so. Furthermore, LMC axons execute a ternary, rather than binary, choice at the base of the limb between ventral flank, ventral limb and dorsal limb trajectories. When making this choice, medial and lateral LMC axons exhibit different and asymmetric relative preferences for these three trajectories. These data redefine the LMC as a motor column that innervates both limb and body tissues.
Keywords
Motor NeuronMutant EmbryoMotor AxonRetrograde LabelGenitofemoral Nerve
Background
The precision of neural circuits requires stereotypic patterns of neuronal connectivity, which are often organized as topographic maps. Studies of how the point-to-point connections between spinal cord motor neurons and their targets are generated have revealed much about how such maps are constructed [1–3]. One principle to emerge from these studies is that functionally related neurons extend axons along shared trajectories that are precisely and accurately subdivided at intermediate choice points [4, 5]. Deciphering the logic underlying these trajectory choices is thus critical to understanding how these connectivity patterns are established.
The overall map between motor neurons and their peripheral targets is well described [3, 6–8]. The motor neurons are organized mediolaterally into medial and lateral motor columns (MMC and LMC) and their divisions. Medial MMC neurons innervate dorsal axial muscles. At thoracic levels, lateral MMC neurons innervate ventral body wall muscles, and autonomic motor neurons of the intermediolateral column (IML, column of Terni in birds) innervate sympathetic postganglionic neurons. At limb levels, lateral LMC neurons innervate dorsal limb muscles while medial LMC neurons innervate ventral limb muscles. The motor columns are further subdivided into pools, and each motor pool innervates an individual muscle [3]. These descriptions are generally accurate, although possibly incomplete, as the identity of motor neurons that innervate many muscles, particularly outside of the limb, has not been examined in detail.
Current models suggest that shared intrinsic properties of neurons in a columnar division guide common trajectory decisions required of all axons projecting from that division [3]. With the exception of some cervical motor populations, all motor axons exit the ventral root of the spinal cord along a ventrolateral trajectory. Divisional populations deviate from this shared path at progressively more distal choice points. At limb axial levels the final divisional decision is made in the motor plexus at the base of the limb, where LMC axons assume trajectories into either dorsal or ventral limb mesenchyme.
The discovery that combinations of LIM homeodomain transcription factors identify motor neurons within columnar divisions led to the idea that the columnar identity of a motor neuron as defined by this transcription factor code is predictive of its axonal trajectory [3, 9]. Consistent with this, neurons whose cell bodies are misplaced within morphological columns relative to their axonal trajectories nonetheless express columnar transcription factors appropriate to their trajectories [9]. Gain and loss of function genetic experiments demonstrate that these transcription factors impose specific pathfinding behaviors on motor axons [10, 11], and do so largely by regulating expression of axon guidance receptors [12, 13].
Experiments designed to test how trajectories into limb mesenchyme are chosen by axons of LMC neurons have invariably found both medial and lateral LMC axons entering the limb. This is the case for limbs that are surgically truncated, rotated or duplicated along the dorsal-ventral axis [4, 14–17]; for mutants in which limb mesenchymal dorsoventral identity or guidance cue expression is altered [11, 18–20]; for mutants in which LMC axonal guidance receptor expression is altered [12, 19–22]; and for embryos in which spontaneous neural activity is inhibited [23]. These results, in combination with descriptions of the neuromuscular topographic map [6–8], have led to the idea that at the base of the limb, LMC axons have only two options: they make a binary choice between trajectories into either dorsal or ventral limb mesenchyme [3, 24–26].
The contributions of both intrinsic properties of LMC motor neurons and extrinsic guidance cues to this trajectory choice have been further defined. Surgical experiments demonstrate that the choice is active, and is regulated locally by signals generated at the choice point [4, 14–16]. Molecular genetic experiments have identified primarily [12, 18, 19, 27, 28], but not exclusively [20], repulsive ligand:receptor combinations that influence this choice. The emerging model is that the LIM homeodomain code imparts selective insensitivity to peripheral guidance cues until axons arrive at the base of the limb [3, 13]. Differential sensitivity to guidance cues reflecting limb dorsoventral pattern then guides medial and lateral LMC axons as they choose between dorsal and ventral limb trajectories [11, 12, 18–20, 28].
While appealing, it is not clear if this model can account for the selection of trajectories by all motor axons that reach the base of the limb. Several nerves (iliohypogastric, ilioinguinal and genitofemoral) that project from the most rostral lumbar segments (L1–L2) of the spinal cord innervate lateral abdominal body wall (external oblique, internal oblique and transverse) and genital (cremaster) muscles [29, 30]. The motor axons that ultimately form these nerves extend through the plexus into ventral flank mesenchyme. These trajectories are not typical of medial MMC, IML, medial LMC or lateral LMC axons, which are all present at this axial level.
We investigated the columnar identity of the ventral flank nerves and found that they originate within the medial LMC. This result indicates there is a third trajectory, in addition to the limb trajectories, available to LMC axons, one that binary choice models do not accommodate. To investigate how peripheral cues influence LMC axon trajectory decisions, we removed the ventral limb mesenchyme using a conditional bone morphogenetic protein receptor Ia genetic model (BmprIaflox/-) [31], in which all hindlimb mesenchyme has a dorsal identity. When medial LMC axons are confronted with this bidorsal limb mesenchyme, they do not enter the limb, and are redirected into the ventral flank. In contrast, lateral LMC axons enter the bidorsal hindlimb and populate both dorsal and ventral nerve branches. Our results show that motor axons have a ternary, not binary, choice of trajectories at the base of the hindlimb, and reveal that medial and lateral LMC axons have different and asymmetric preferences for trajectories that enter ventral flank, ventral limb or dorsal limb mesenchyme. Our findings redefine LMC columnar identity as predictive of trajectories that include both body and limb tissues.
Discussion
We investigated the relationship between the columnar identity of motor neurons, as defined by a transcription factor code, and the projection decisions made by their axons as they reach the base of the limb. We found that the ventral flank mesenchyme is innervated by neurons of the medial division of the lateral motor column, which were previously thought to project only into the limb mesenchyme. We also found that while axons of lateral LMC neurons enter the
BmprIa
flox/-
bidorsal limb mesenchyme and assume both dorsal and ventral trajectories, those of medial LMC neurons do not enter the limb mesenchyme, and are directed into the ventral flank mesenchyme (Figure
10a
). These results support the idea that at hindlimb levels LMC axons project to both flank and limb tissues, and while doing so they normally choose between three, not two, mesenchymal trajectories: into ventral flank, into ventral limb, or into dorsal limb. Our data also provide evidence that the relative preference for each trajectory differs significantly between medial LMC axons and lateral LMC axons. We discuss these ideas in the context of previous studies investigating the logic that underlies these projection decisions.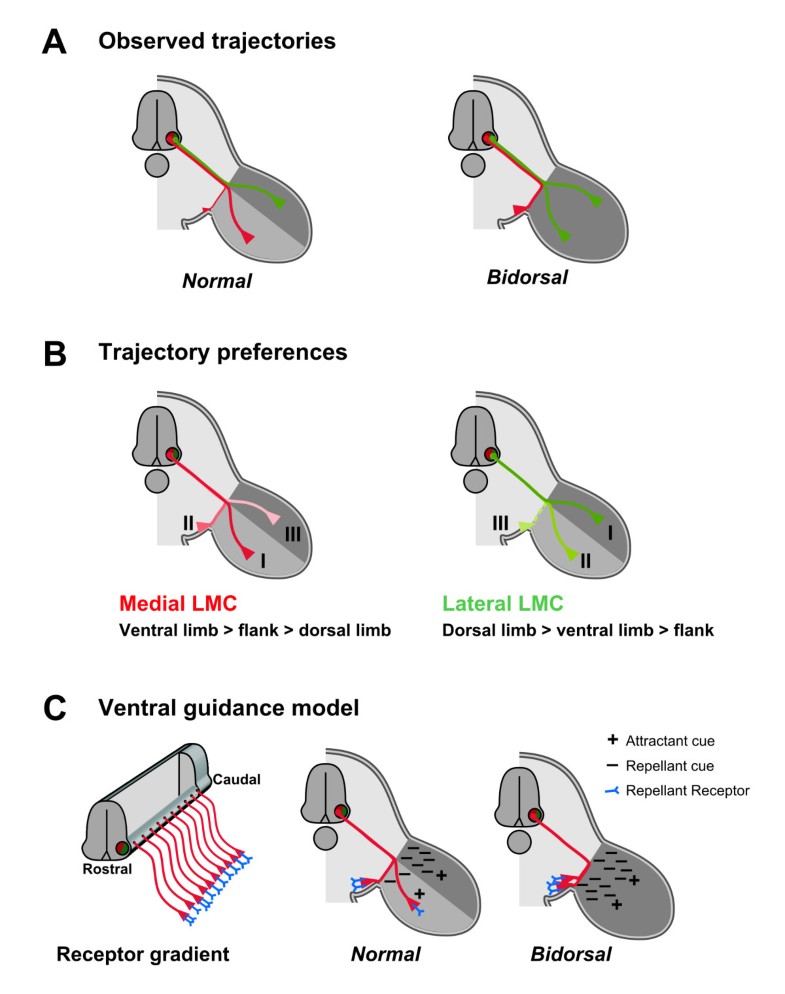 Conclusion
We found that neurons of the LMC, long thought to innervate only limb tissues, actually innervate tissues beyond the limb, such as the ventral flank. To select appropriate trajectories, LMC axons execute a three-way choice between ventral flank, ventral limb and dorsal limb targets. These findings provide new insights into the cellular logic used in guiding trajectory decisions, uncover a novel function for the LMC and illuminate the relationship between LMC axons and those of other motor columns.
Declarations
Acknowledgements
We thank Bryan Crenshaw and Thomas Jessell for mice, Jeremy Dasen, Susan Brenner-Morton and Thomas Jessell for antibodies, Tyler Cutforth for EphA4-AP reagent, and Jonathan Licht and Randy Johnson for RNA in situ probe templates. We thank Amy Daniel and Jason Wu for technical support. We thank Thomas Jessell, Artur Kania, Julia Kaltschmidt, Bryan Crenshaw, Susan Brenner-Morton and members of the Laufer and Jessell Labs for insightful discussions and advice. We thank Daniel Vasiliauskas, Lori Zeltser, Oliver Hobert, Zaven Kaprielian, Thomas Jessell, Artur Kania and Julia Kaltschmidt for critical comments on the manuscript. EL acknowledges support from the NIH, the Muscular Dystrophy Association, the New York State Spinal Cord Injury Research Program and the Howard Hughes Medical Institute Research Resource Program for Medical Schools. The funding bodies were not involved in study conception, design or execution, or the decision to submit the manuscript for publication.
Authors' Affiliations
(1)
Department of Genetics and Development, Columbia University, New York, USA
(2)
Department of Biochemistry and Molecular Biophysics, Columbia University, New York, USA
Copyright
© Luria and Laufer; licensee BioMed Central Ltd. 2007
This article is published under license to BioMed Central Ltd. This is an open access article distributed under the terms of the Creative Commons Attribution License (http://creativecommons.org/licenses/by/2.0), which permits unrestricted use, distribution, and reproduction in any medium, provided the original work is properly cited.